It has been nearly three and a half years since Fannie Mae (OTCQB:FNMA) and Freddie Mac (OTCQB:FMCC) (the GSEs) were put into Conservatorship and not much is changed. That is, except for the fact that Fannie Mae recently reported a 1st quarter profit and Freddie Mac nearly broke even with the exception of a $19 million shortfall after the government's $1.8 billion dividend payment (they paid the government $1.79 Billion on $1.8 Billion owed). It is quite extraordinary that the GSEs are able to make a 10% dividend payment at all. They were the only institutions that have been charged such ridiculously high rates on their capital infusions.
images)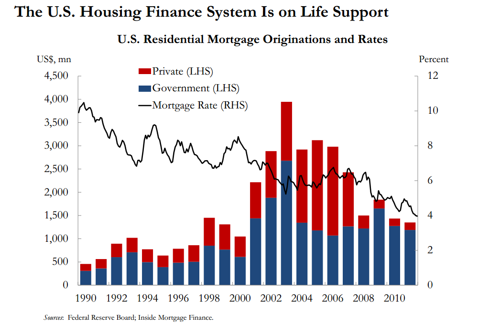 What is missing now is a clear plan to exit government control, despite the fact that Jim Millstein, the architect of the AIG bailout (NYSE:AIG), recently proposed nearly the same structure of reform for Fannie and Freddie. If you doubt the validity of this type of restructuring, I point you to the fact that the government will soon be free of their investment in AIG. They may even earn a small profit.
So what has the Treasury proposed (Millstein used to work there)? So far, we have a few short white papers and a couple of speeches, with three vague options. Here is the most recent mention of these options for changing the housing market's structure.
Option 1 -- where the majority of the housing finance market is supported by private capital and the only government involvement would be limited to FHA and other programs narrowly targeted to creditworthy lower- and moderate- income borrowers.

Option 2 - which builds on Option 1, with a guarantee mechanism to scale up during times of crisis as a backstop to ensure continuing access to credit during periods of market stress; this counter cyclical guarantee would be in addition to FHA's role and other targeted programs available at all times for lower- and moderate-income households.

And Option 3 - where catastrophic Federal Government insurance would stand behind significant private capital for a targeted set of mortgages; this federal role would also be in addition to FHA's role and targeted programs for lower- and moderate-income households.
As an outsider, Millstein's proposal isn't the Treasury's plan. Though, they may adopt it. When looking at option 3 above, Millstein's approach seems to most clearly represent the implementation structure for forming a federal government mortgage insurance organization. He calls it the "Federal Mortgage Insurance Corporation (FMIC)".
There are five objectives of his plan, and here they are:
1. Protect the economy

2. Fulfill the government's promise to holders of Fannie and Freddie MBS and debt securities

3. Provide an explicit, appropriately-priced government backstop for qualified mortgage products, not entities

4. Ensure adequate private capital

5. Get the taxpayers' money back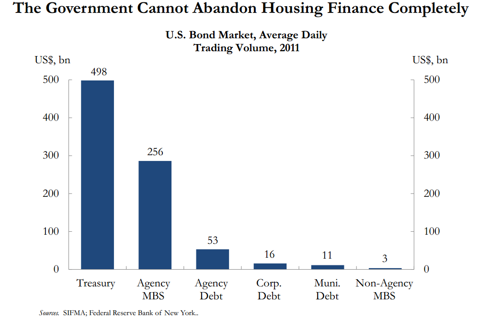 Millstein's plan also includes nine steps to restructuring the GSEs. The two most important pieces to make this plan work are:
Increase the Guarantee Fees. If you followed the payroll tax debate in Congress, you know that this step in restructuring is already happening. Additional increases are being debated to fund subsidized student loan rates. Currently, the fees are being sent directly to the Treasury. However, if the restructuring plan is enacted, these will simply be retained, which would increase the capital base and provide a consistent stream of earnings to drive value to each company's common stock.
Eliminate the dividends on the Treasury's Preferred Stock. The 10% rate is siphoning billions of dollars out of the capital cushion that should be retained as earnings. Additionally, Millstein supports conversion of the preferred to non-cumulative preferred stock. In the case of AIG, the preferred stock was partially converted into common stock. Common stock is more easily liquidated in the market.
If this plan is enacted, many believe that Fannie and Freddie will soon be private companies repaying taxpayers for nearly every penny they owe. Most importantly, the impact on the mortgage market should be minimal, which is highly important given the fact that home ownership is valued broadly throughout the United States.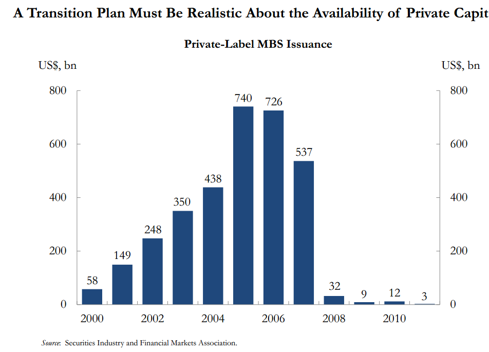 Disclosure: I am long OTCQB:FNMA, OTCQB:FMCC.
Additional disclosure: HOLDINGS: FMCKI,FMCKP,FMCCO,FMCKJ,FMCKK,FNMAL,FNMAO,FMCCL,FMCCS,FMCCP,FMCCT,FMCCK