On March 6, after the close of trading Midway Games Inc. (MWY) announced its 4Q`07 financial results (see conference call transcript). Despite an extremely favorable sales environment for videogame software during the holidays, and the fact Midway was in the market with an array of new titles, the overall scope of the quarterly report was inadequate. On a non-GAAP basis, the company reported a loss per share of $0.25 (consensus loss per share $0.22). Net revenues declined 19.91% year over year to $77.6 million (consensus $80.8 million).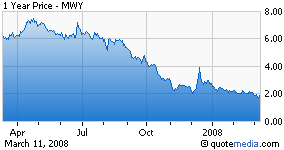 Management indicated Unreal Tournament 3 released for the PC worldwide and on Sony's (NYSE:SNE) Playstation 3 in North America has shipped over 1.0 million units to date. This was somewhat disappointing in our view given generally favorable reviews of this new installment. More worrisome, perhaps, was the steep 62.0% year over year decline in cash and cash equivalents and 276.0% increase in accounts payable. In fact, it appeared the company's poor cash position led to its decision to terminate a $30.0 million credit facility with Wells Fargo (NYSE:WFC) and enter into a new one totaling $90.0 million with National Amusements Inc. (majority Midway stockholder). The proceeds are intended to be used for working capital, capital expenditures, and other general corporate purpose needs. Management issued 1Q`08 net revenue guidance of $28.0 million ($30.2 million consensus) and a non-GAAP loss per share expectation of $0.22 (consensus loss per share $0.17).
For observers of our assessments of Midway, it's all but glaringly apparent that we have long been bears on the stock. Suffice it to say, this bias has worked out masterfully as the stock has trended lower for the better part of two years. Our analysis has come with a heavy heart, however, as Midway Games essentially enjoyed a leadership position in the videogame arena dating back to the 1980s. In fact, this analyst and avid gamer keenly remembers many late nights playing NBA Jam on the original Sega game console with family and friends. The fun did not stop there as trips to the local arcade yielded many friendly fights as to who would sit behind the driver's wheel for Cruis'n.
Having pointed out such fond memories, it's time to face present day reality as it pertains to Midway. The company is bleeding cash plain and simple, and most other trends on the balance sheet are troubling. The company is predominately financing its operations through debt, is running an accumulated deficit in the shareholder's equity account brought on by years of net losses, and is racking up significant costs per quarter to remain competitive. Although we are encouraged by an open world genre game such as This is Vegas, in our opinion it won't move the needle enough for Midway to generate strong financial returns. Competition is intensifying in the market for videogame software dollars, and it's becoming increasingly clear that only the strong will survive the current console cycle. Given our bleak assumptions, we are reiterating our underweight recommendation on the stock.
Written by Brian Sozzi, a Research Analyst for Wall Street Strategies (www.wstreet.com) specializing in the apparel/hardline goods sectors of the retail industry.
Disclosure: none