Mindray (NYSE:MR) continued its U.S market expansion yesterday, as it agreed to buy the Patient Monitoring business of DataScope (Nasdaq: DSCP) for $202 m (see this Reuters news). My gut feeling is that this is a fair deal. Mindray paid about 1.25 times sales revenue for the unit. Accoding to Reuters:
The (DataScope) unit had total revenues of $161.3 million in calendar year 2007, approximately the same as those generated from Mindray's home China market.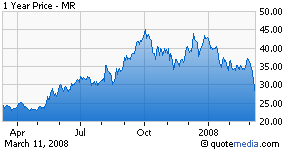 Of course the main motivation for this acqusition is not the sales revenue, but the distribution channel and sales people. I belive there is some effiency to be leverged here. A China based R&D + manufacturing, now plus this US based sales, a win-win receipe for Mindray in the U.S and continued growth in EU? But we should note there is integration risk, because Mindray has grown itself organically up to this point, i.e., management has not got those kind of experience before.
Separately, I liked U.S blogger Dana Blankenhorn's comment about this buy (Here come the Chinese). Yeah, the dollar and the US equity is cheap (relative to RMB), why not use that people's money [RMB] to buy into some solid U.S business at this time?
Appendix (Briefing.com March 5, 2008):
5:15PM Mindray Medical misses by $0.01, beats on revs; guides FY08 revs below consensus (MR) 34.49 -0.88 : Reports Q4 (Dec) GAAP earnings of $0.19 per share, $0.01 worse than the First Call consensus of $0.20. Co issues downside guidance for FY08, sees revenue guidance to be in the range of RMB 3,120 mln to RMB 3,170 ml, representing annual growth of 40-42% over full FY07 which equates to $428.12-434.24 mln vs. $457.67 mln consensus. The co also maintains its full-year 2008 non-GAAP net income guidance range of RMB940 million to RMB954 million, representing annual growth of 40% to 42% over full fiscal year 2007.
My take: obviously Briefing screwed up the exchange rate here.