To an experienced trader, one look at this 1-minute daily chart and you know exactly what happened.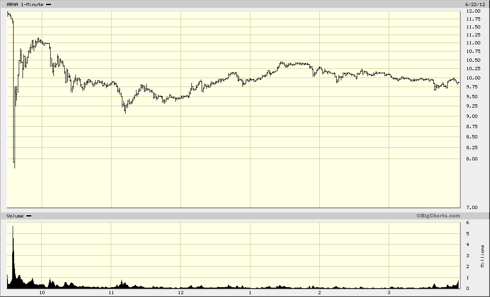 To those who aren't as experienced, some narrative may be required.
Anticipation surrounding the FDA's decision on Arena Pharmaceutical's (NASDAQ:ARNA) anti-obesity drug, Lorcaserin, continues to build. With a decision due on or around June 27, an announcement could come at any moment. In fact a decision may have been released by the time this article is published.
If approved, Lorcaserin will be the first novel drug to treat obesity in over a decade. While obesity meds have had a troubled past, many people hope the approval of Lorcaserin will spur the genesis of a new, safer FenPhen - a drug which sold 17 million prescriptions in its peak year. So it's no wonder that trading in ARNA stock has been exceptionally volatile. Now consider that at last reporting ARNA had over 39 million shares short and 300,000 open call contracts at the $12 strike or lower and you get an idea of what is at stake.
Ever since the FDA's Advisory Panel voted to recommend approval, ARNA's share price has been on a tear. ARNA rallied up almost 400% from the low $3s to the high $11s - until Friday June 22, that is.
Friday started out like any other recent day of trading. The price was up sharply in the pre-market, and during the first five minutes of regular market trading it looked like it would be another banner day for ARNA longs as the stock hit a new 52 week high. Then came minute number six.
As you can see in the chart, at 9:36 market time trading volume spiked to three million shares and the price plummeted from nearly $12 to under $8. Since there was no bad news to explain the surge in sell side volume, this price action strongly suggests that a bear raid took place.
Six minutes after the market opened, a trader or group of traders dumped "at market" a block of shares large enough to clear out any and all existing bids above $8. The bear raiders didn't necessarily need to sell a whole lot of shares to succeed. After they dumped "at market" and as the price declined sharply, any standing sell stop orders in that range were harvested, triggering a cascade of additional sell-side volume. You can see that at 9:37 an additional six million shares traded at or near the low of the day. That's almost nine million shares in under two minutes. I believe most of these trades were triggered sell stops and other panicked longs who sold their shares at market out of the fear that bad news had been announced.
The bear raid was successful because with an FDA decision pending at any moment, market participants are unwilling to absorb a large sudden block of shares sold "at market". If news of an FDA rejection is announced the stock will fall. Nobody is waiting on the bid for someone to sell them a large block of shares for fear they might get stuck on the wrong side of that news. Nobody except the shorts that is, who were there to buy up all the harvested stops and panic sales.
Over the next three minutes the price bounced around, and in just five short minutes a total of over 20 million shares changed hands - 1/3 of the entire day's volume. By 9:40 the price stabilized around $10 where it stayed range-bound for the rest of the day. But the damage was done. Thousands of investors had millions of shares removed from their accounts to cover shorts.
Thousands of other investors were spooked out of the market for ARNA for good. The Thursday before the bear raid tens of millions of shares changed hands at over $11 a share. On Friday, without any additional news, the stock had trouble holding onto $10. The bear raid alone may have been responsible for a 20% haircut and the inability of the stock to recover to even the previous day's low.
Whether investors willingly sold into the market out of fear, or had their sell stops triggered, I believe this bear raid is a form of manipulation that is detrimental to a free market intended to spur economic growth and capital formation. Developmental biotech stocks are particularly susceptible to this type of manipulative gamesmanship. Since most developmental drug companies fail to get approval, they attract large numbers of short sellers. The short sellers drive the prices down and starve these companies of capital, raising the cost of developing new drugs.
But in the few cases where the short sellers make the wrong bet, they stand to lose a lot of money. They suppress the price so far out of equilibrium that if the drug turns out to be effective or gains approval the price ricochets in dramatic fashion. Thankfully for the shorts they have manipulative techniques like the bear raid at their disposal to dislodge shares from the hands of longs. This is why many experienced biotech investors advise to never set market-sell stop-losses when facing a binary event. When the binary event occurs, such as news about a drug's clinical trial or FDA approval, the price of the stock will either rise or fall violently. Biotech investors have the option to take profits or cut losses along the way as they see fit, and to take risk they believe tolerable. But if they put their shares at market sell stop order, they should expect to lose their shares in an act of stop harvest manipulation, often at prices far below fair market value.
While some may suggest that the bear raid that occurred Friday is an overall positive hint for ARNA longs - after all, if the shorts had conviction in their short position they would not find the need to use such brute force techniques to neutralize their short holdings - this doesn't address to the question of whether such manipulation is fair to main street investors. Whether investors lost shares in the bear raid, used the bear raid as a chance to buy shares, or sat through it, the bear raid distorts the natural price discover mechanisms, and underscores the fact that we do not have a free, fair and transparent market in which the best and brightest companies and ideas can seek to raise capital. Is it just a coincidence that the number of IPOs continues to shrink year after year? Or that there hasn't been an IPO since the Facebook (NASDAQ:FB) debacle? I believe the more people see what kind of market we really have, the less likely they are to participate in it. And that is bad for everyone. Except the shorts.
Disclosure: I am long ARNA.
Additional disclosure: This is commentary only and not to be construed as investment advice. I may trade shares or options in ARNA at any time.