Chinese Mask
China's Shanghai Composite Index fell to its lowest level since the start of the year, a decline of almost 15%, as Citigroup Inc. (NYSE:C) cut the growth forecast for China. The rationale behind the decision was that the debt crisis in Europe would continue to have an impact on China, by reducing the demand for its exports. Citigroup has also predicted that the Chinese economy will contract in the second quarter, and will only grow by 7.8% compared to the previous quarter's 8.1%.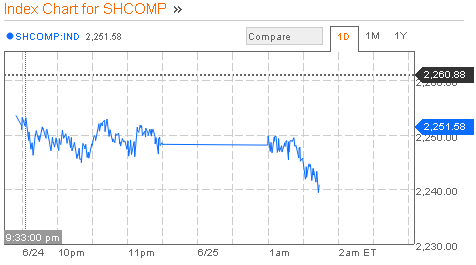 A purchasing manager index, prepared by the HSBC, revealed that China's manufacturing activity dropped to 48.1 in June from 48.4 in May. The manufacturing PMI is a very important indicator of economic health, as businesses react quickly to various market factors. The index has followed a downward trend in the recent past, suggesting that the Chinese economy is undergoing a contraction. The primary reason for this downward trend is the decrease in export orders.
It is widely rumored that China tends to smooth out quarterly growth figures, and has done so historically, under-reporting growth during booms and overstating growth during periods of economic turmoil. Rumors also abound, which claim that various Chinese officials are involved in misstating certain key economic statistics. There is increasingly less demand for electricity (see graph below) and as a result, there is a record breaking build-up of coal inventories at the country's storage areas. Certain power sector executives have said that there is an increasing pressure on them by government officials to report usage declines as zero change. Electricity consumption is a good proxy for economic activity, particularly for people who are skeptical of the Chinese data. The provinces of Shandong and Jiangsu, which are major players in China's industry, witnessed a 10% drop in electricity consumption in May compared to the previous year, but conflicting statements have come from various government officials, stressing that electricity consumption has been flat or slightly rising. This contradiction can be seen in the following graph, which shows the drop in electricity consumption since 2010.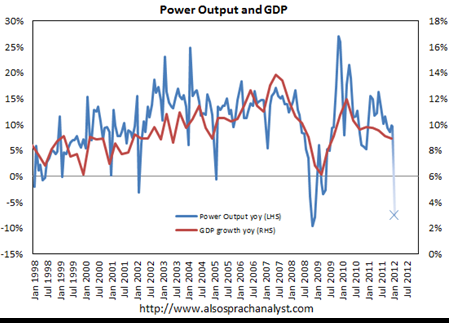 Even though China's electricity production from coal has risen recently, there are reports that coal inventories in the Guangdong grid have risen to record levels. Furthermore, Qinhuangdao, which is the largest port in China, has a coal inventory of 9.4 billion tons, meaning it is rapidly approaching its maximum warehousing capacity. The following graph is an illustration of the buildup in coal inventory seen at the Qinhuangdao port.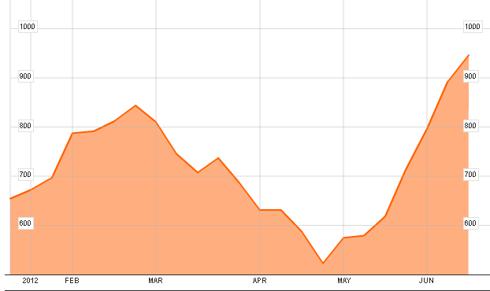 Despite the National Bureau of Statistics' denial, various economists and top executives in China believe that the Chinese government doesn't want to see negative numbers being reported, and that by overstating some indicators, they plan on inflating certain key measures of economic activity.
It seems like economic growth in China is slowing, and with export orders falling from Europe, China's biggest buyer, it is not good news for the whole world. China's recent cut in its deposit and lending rates, along with the securities regulator's steps to further open its capital markets to foreign investors, point to a struggling Chinese economy. However, the aforementioned steps could spur growth in the medium-to-long term.
Investors can use the Chinese ETF (NYSEARCA:FXI) to capitalize from the slowing Chinese economy. The Oil ETF (NYSEARCA:USO) can be sold short as its a function of Chinese GDP growth.
Disclosure: I have no positions in any stocks mentioned, and no plans to initiate any positions within the next 72 hours.