Debby is the first tropical storm of 2012 and it has already shut in almost a quarter of Gulf of Mexico oil and natural gas production. US Natural Gas (NYSEARCA:UNG) is already up 2.7% today and is likely to keep rising as Debby continues to disrupt prime oil and natural gas production areas. The Gulf accounts for 20% of all US oil production and 6% of natural gas output.
As investors we have to be thinking about how to profit from Debby. Where there is uncertainty and fear, there is profit potential. The rigs in the gulf take a few days to evacuate and a few days to restart, so the rigs will be down for at least 4 days. The tanks have not been filled with salt water so the rig owners do not believe that Debby will have long lasting destructive effects on rig production. As soon as it is safe to operate again, the rigs will turn right back on. Debby will be a minor disruption, so take advantage of the swing in natural gas prices. Buy it now, and sell in a few days.
Remember, foresight is the father of insight.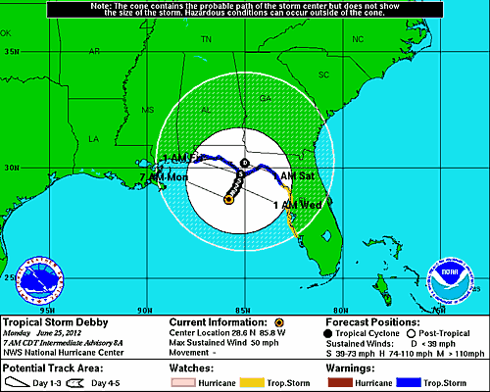 Disclosure: I have no positions in any stocks mentioned, and no plans to initiate any positions within the next 72 hours.