Unlike the collapse at the beginning of the decade, this time round the tech stocks sector is merely a "guest actor" in the dramatic landslide now sweeping through the financial sector. The one thing that both events have in common is greed since, like today, it was the financial sector back then which sent markets raging out of control and encouraged risk taking that lacked any economic rationale. Guest actor or not, as the Nasdaq indices show, tech stocks have taken a hammering way in excess of what they deserve on the basis of a recession, no matter how severe or mild.
With each morning that passes, we find ourselves with more tech stocks at prices which appear to be bargains, and our key problem, as investors, is to decide which ones to buy since prices could fall even further, and as is known, the sages on Wall Street do not advise anyone to try and catch a falling knife. I have written extensively in the past about giants in the tech sector which so far have reported no slowdown in their businesses. I also wrote about the small electronic payment solutions developer Fundtech (NASDAQ:FNDT), which despite working with the banks, isn't seeing any recession in its business either, quite the contrary.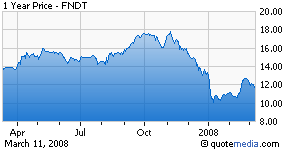 Fundtech's controlling shareholder, IDB Holding Corp. Ltd. subsidiary Clal Industries and Investments is now making wise use of the share's current low, and has announced a large tender offer to purchase at $12.50 per Fundtech share, substantially lower than its price on the open market last year. I suspect that this offer is aimed principally at the large institutional investor with a stake in Fundtech, J. Carlo Cannell, who now holds about 2 million shares.
In addition to Fundtech, I also hold another nice little software company in my portfolio, tracked by "Globes", called ClickSoftware Technologies Ltd. (NASDAQ:CKSW) and the other day I paid it a visit to see how it is faring in these troubling times. As with Fundtech, I didn't hear of any slowdown here either.
ClickSoftware founder, chairman and CEO Prof. Moshe BenBassat, whose family holds one fifth of the company, refused, quite rightly, to comment on the first quarter results. He did acknowledge, however, that with deferred revenue plus an orders backlog of $20.4 million as of the end of December, he felt comfortable about the full-year guidance he issued six weeks ago, for sales of $48-50 million in 2008, representing 20-25% growth.
ClickSoftware began trading Monday morning with a market cap of $80 million, $25 million in cash, and no debts. The company is profitable, and has been generating cash almost every quarter in recent years. The current guidance, as mentioned above, expects sales to reach $50 million in 2008. I don't think that an investment in a share like this, which tumbled from last year's $7 high to its current price of $2.85, could be classed as risky to the point of "catching a falling knife."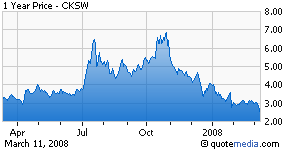 ClickSoftware specializes in a most interesting niche - mobile workforce optimization solutions for large companies, and in my view, it makes financial sense to invest in software like this, particularly now in an era of belt tightening as a result of fears of a recession and spiraling oil prices. Over the years, ClickSoftware had the prescience to adapt its solutions to all the new technologies as they developed, such as, for example, cellular communications, and GPS tracking devices.
Most of its sales are to Europe and North America equally, and among its customers are giant companies with tens of thousands of service personnel in energy and telephony services, two sectors which account for 70% of its sales. Part of ClickSoftware's sales are made through major companies such as Microsoft Corp. (NASDAQ:MSFT), SAP AG (NYSE:SAP), IBM Corp. (NYSE:IBM), or Accenture Ltd. (CAN), which integrate ClickSoftware's solutions when winning giant projects.
At one time, when the stock markets were hot, any small company making an announcement which was somehow connected to the upcoming Olympic Games in Beijing would then see its share skyrocket. ClickSoftware made such an announcement a month ago, when it said it won the project to manage the field activities of hundreds of telecommunication technicians during the 2008 Olympic Games together with a local partner, but that didn't help its share price. One need hardly explain the potential this could have for the company in China, if the people using the software while the games are in progress are happy with its performance.
Sigma returns
Talking of falling knives, I am off to catch one myself, despite the advice of Wall Street's elders and with just one day before the company in question unveils its results. I am returning multimedia processor company Sigma Designs Inc. (NASDAQ:SIGM) to my portfolio at $26, after dropping it exactly three months ago at a price of $70.
The recent split was entirely the market's doing, and did not originate within the company itself. My assessment back then was that it would undergo a strong sell-off but I never envisaged a collapse on this scale, and as of present, I am still at a loss to understand what triggered it, save for a rumor about a minor slowdown in the April quarter at one of Sigma's large customers, IPTV set-top box manufacturer Motorola Inc. (MOT).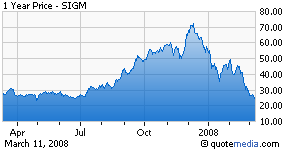 On Wednesday Sigma will unveil its results for the quarter ended January, the final quarter in its fiscal years, and you won't find many technology companies reporting earnings per share of $0.83 - not full-year but quarterly - while their stocks are traded at $26. Either the sellers and short traders, who battered the share mercilessly, know something serious which the market is unaware of as of yet, or this amounts to a great opportunity.
Even if the company does lower its guidance slightly for the April quarter because of the temporary hiatus in orders from Motorola, it does not seem right to me that a company in a strong growth sector like Sigma's - chips for the IPTV market and DVD players using the new Blu-ray disc format - should be a traded at multiple of 10 on 2009 earnings.
Published originally by Globes [online], Israel business news - www.globes.co.il
© Copyright of Globes Publisher Itonut (1983) Ltd. 2006. Republished on Seeking Alpha with full permission.