Much has been said about the influence of the Hispanic vote in the contentious presidential primaries. However, battling for Hispanics is nothing new to financial services marketers; they've been vying for the attention and a larger share of wallet from this important segment for a long time.
Most major brands offer bilingual websites, for example GEICO and Bank of America, as well as specialized products and services, some of which have become controversial. But which marketers are best at bringing Hispanics to their company's website to shop for new products – regardless of whether those products are credit cards, auto insurance policies, or home equity loans?
Let's take a look.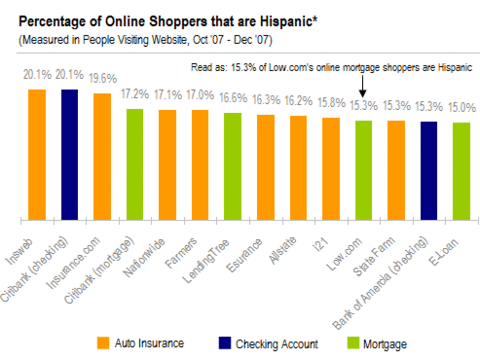 *This graph charts the percentage of a site's online shoppers (it excludes people logging into their accounts and just looks at people shopping for a new product) that are Hispanic. I've included only the top performing sites in this chart. There are a whole host of financial services sites that have a much lower percentage of Hispanic visitors to their websites, but they couldn't fit on the graph.
Based on this data, I have a few observations and questions for the readers of this blog:
According to eMarketer, between 9.5% and 9.9% of the internet population is Hispanic. However, between 15% and 20% of the shoppers to the top sites in our graph are Hispanic – more than twice what you would expect to find. Is anyone aware of Hispanic-focused campaigns these companies are running?
Seven of the top ten sites feature auto insurance as their primary product – what is it either about that product or auto insurance marketing that attracts such a high percentage of Hispanics?
Citibank is in the top five for two different products – Citibank's checking product and their mortgage product. What is it about Citibank's advertising (messaging, media placements, or targeted offers) that is resonating so well with the Hispanic segment?