Microsoft makes its entrance in Tablet Computing
Last week, Microsoft (NASDAQ:MSFT) made its way into the tablet computing market with the launch of its tablet, called "Surface". Two models, packing ARM and Intel processors, were introduced, with both running the upcoming Windows 8 OS. The introduction of a fully-blown Windows OS in a tablet computer brings the next level of a technological shift in tablet computing, and puts Microsoft's Surface above other tablets running iOS and Android. The specifications of both tablets are provided at the end of this document.
Microsoft's new tablets are built around a magnesium VaporMg case. The low cost Windows RT model offers balanced performance on top of a body that has a thickness of 9.3 mm. Surface for Windows RT features an HD display, NVIDIA Tegra-based ARM chip, a 31.5Wh battery and comes with 32GB or 64GB of storage.
The more powerful Surface for Windows 8 Pro comes with an Intel Core i5 processor, a full HD 1080p display, USB 3.0, a higher battery of 42Wh and with 64GB or 120GB storage options. Only the Pro model runs full desktop Windows 8, with the cheaper RT model running only metro apps. Microsoft has still not uttered a word on the pricing or battery life of both tablets, but it is expected that the RT model pricing will be closer to current tablet standards, and the Pro model pricing will be nearer to Ultrabooks.
Both tablets were introduced along with some impressive accessories e.g. a magnetic cover that becomes a fully-blown keyboard, a fully-blown detachable physical keyboard and much more. The RT model is expected to launch along with the launch of Windows 8, while the Pro model will come three months after the Windows 8 launch. Surface, the new tablet by Microsoft, definitely looks like a tough contender to Apple's iPad.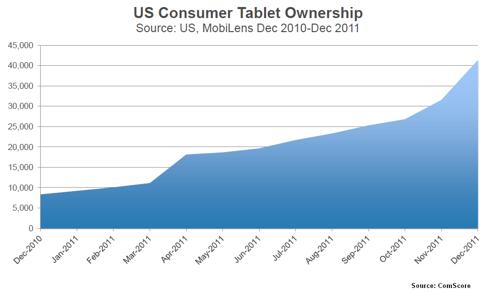 Tablets are growing at a rapid pace, with nearly 40 million devices sold in less than two years, as compared to smartphones, which took seven years to achieve the same level of approval amongst users (ComScore). iOS had captured a commanding share of more than 90% by the end of 2011, but Android's share is now rising at a rapid pace. Furthermore, 2011 saw the release of a large number of tablets by many companies e.g. Apple iPad, Samsung Galaxy Tab, Amazon Kindle Fire, and Barnes & Noble Nook. In addition, Acer and Asus also jumped in, with their models running on Android. ComScore also reported that Tablet sales are not cannibalizing smartphone and computer sales, in fact, consumers are increasingly seeing Tablets as supplementary devices. Tablets are being considered part of the technology ecosystem of devices.
Gartner expects a 98% YOY growth in Tablet Sales in 2012, with Android's share improving from 28.85% in 2011 to 31.9% now. Gartner also commented that very limited success is experienced by Tablet manufactures outside of the iOS ecosystem. A boost in application availability will improve Android's market share in 2012.
Worldwide Sales of Media Tablets (Thousands of Units)

OS

2011

Market Share (2011)

2012E

Market Share (2012E)

iOS

39,998

66.6%

72,988

61.4%

Android

17,292

28.8%

37,878

31.9%

Microsoft

-

0.0%

4,863

4.1%

RIM

807

1.3%

2,643

2.2%

Others

1,919

3.2%

510

0.4%

Total

60,016

100.0%

118,882

100.0%
JP Morgan expects the global tablet computing market to reach $50.8 billion in revenues by 2012.
| | | |
| --- | --- | --- |
| Tablet Sales Forecast |   |   |
| Units in Millions, ASPs in $, $ in Millions | 2012E | 2013E |
| Tablet Shipments | 109,839 | 145,949 |
| Tablet Revenue | 50,772 | 61,189 |
| Tablet ASPs | 462 | 419 |
| Source: JP Morgan & IDC |   |   |
Microsoft's stepping into the PC hardware industry will impact OEM partners e.g. Hewlett-Packard Company (NYSE:HPQ), DELL (DELL), Acer, Asus etc. and Surface sales will definitely have some cannibalizing effects on revenues from Windows license sales. But any success for the new tablet will be considered a success for Windows 8; it will push people to upgrade to Microsoft's latest operating system, thereby boosting Windows' revenues.
Surface revolutionizes PCs and reaffirms Microsoft's point of view that tablet computers are similar to PCs. In our opinion, we are quite optimistic about Microsoft's new tablet, Surface. We believe that Surface has a competitive advantage over other tablets available in the market because of its eye catching metro interface, and the introduction of a fully-blown Windows OS in a tablet. Surface bridges the gap between current notebooks and tablets. We foresee a firm demand for Microsoft's new product in fall if the IT giant plays the pricing and battery cards right.
Based on historical growth, we expect the Tablet Industry to grow by 21% in the next few years, and we also expect Microsoft to reach 20% market share by 2015. We believe that Microsoft's new Surface tablet has the potential to achieve strong positioning in the industry and achieve impressive revenue growth.
MSFT Tablet Forecasts (in millions)

2012E

2013E

2014E

2015E

Tablet Industry Revenue

50,772

61,189

73,743

88,873

Tablet Industry Revenue Growth

21%

21%

21%

21%

Microsoft Tablet Industry % Share

5%

10%

15%

20%

Microsoft Tablet Revenues

2,538

6,118

11,061

17,774

Source: Qineqt's Estimates
Valuation: Microsoft is currently trading at $29.82 and we recommend buying it to capitalize on future rising sales from tablet computing. MSFT is trading at 9.5x its 2013 earnings and its entry into the high growth tablet market will result in valuation expansion as well.
Specifications of Microsoft's new tablets:
Surface for Windows RT tablet
Processor: NVIDIA Tegra-based ARM chip
Weight: 676 grams
Thickness: 9.3 millimeters
Display: 10.6-inch Clear Type HD capacitive touch panel
Battery: 31.5Wh
I/O: microSD, USB 2.0, Micro HD Video, 2x2 MIMO antennae
Software: Windows RT + Office Home & Student 2013 RT
Accessories: Touch Cover, Type Cover, VaporMg Case & Stand
Capacity: 32GB / 64GB
Availability: "Around" the Windows 8 launch (fall 2012)
Pricing: To be determined
Surface for Windows 8 Pro tablet
Processor: Intel Core i5 (Ivy Bridge)
Weight: 903 grams
Thickness: 13.5 millimeters
Display: 10.6-inch ClearType Full HD (1080p) capacitive touchpanel
Battery: 42Wh
I/O: microSDXC, USB 3.0, Mini DisplayPort, 2x2 MIMO antennae
Software: Windows 8 Pro
Accessories: Touch Cover, Type Cover, VaporMg Case & Stand, Pen with Palm Block
Capacity: 64GB / 128GB
Availability: "Three months after" the Windows 8 launch this fall
Pricing: To be determined
Disclosure: I have no positions in any stocks mentioned, and no plans to initiate any positions within the next 72 hours.