Last Thursday, I predicted that silver prices would see a strong move in one direction or the other based on price action near the support line.
Recent price action near the strong support level suggests that silver could be poised to either start another big leg up (like it did in Aug '10) or to take another leg down in the short term before resuming the long term uptrend. - Silver Prices Ready For AMove
After an attempt to break through support on Friday, I predicted that silver would likely hold support and that if confirmed today, we could be at the start of a short-term silver rally. Based on the price action and RSI, I stated that buying near-term calls could result in some profits:
With RSI appearing to have bottomed in the near term, near-dated calls might provide profits on a rally off the support line. - Silver Charts Bullish
The predictions worked out. The iShares Silver Trust ETF (NYSEARCA:SLV) is up 2.26% on the day, and July silver futures closed at $27.52 an ounce, up 3.2%.
(Source: FreeStockCharts.com)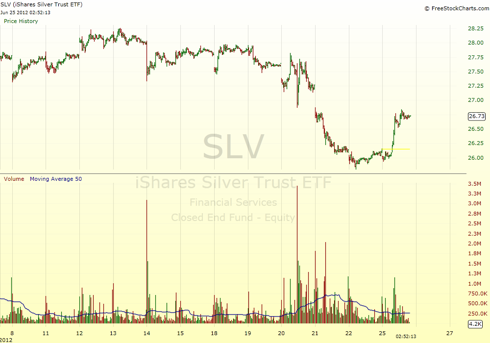 (Click to enlarge)
I Made The Right Call (Option)
Anyone who took my recommendations and purchased near-dated SLV calls for the support bounce is sitting on a significant profit. July $26 calls, for example, logged a solid 30% increase on the day, and another good day for silver could double that gain.
(Source: NASDAQ)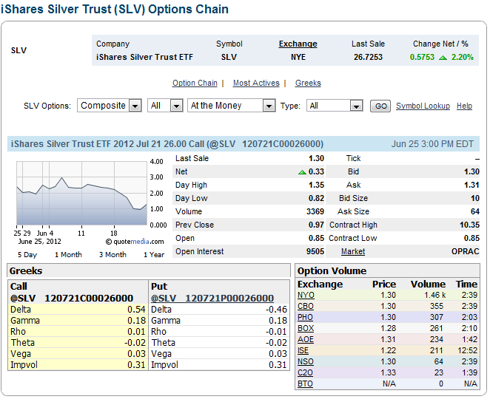 (Click to enlarge)
Support: CONFIRMED
Based on the charts, silver appears to have very strong technical support in the $26-$27 range. It has repeatedly tried to break that level, but has not succeeded. Barring some cataclysmic event in the next few weeks that sends silver plummeting, I believe the confirmation of support levels near current prices makes now a good time to load up on silver for a short-term rally or a resumption of the long term uptrend.
Source: FreeStockCharts.com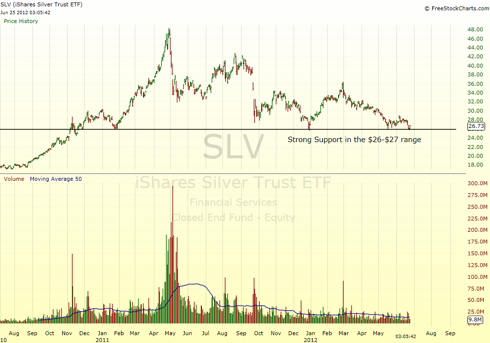 (Click to enlarge)
Gold/Silver Ratio Bullish
It's also interesting to note that at 58.6, the gold/silver ratio is now at the highest it has been since Oct 2010. A quick look at the charts serves as a reminder that silver had a phenomenal rally in the months following October 2010. This is yet another positive sign for silver bulls.
The confirmation of support levels combined with the price ratio makes silver look more attractive than it has in a long time. For a deeper look at the long-term silver scenario, see Silver Forecasts: Truth vs Noise.
Disclosure: I am long SLV.
Disclaimer: I am an individual investor, not a licensed investment advisor or broker dealer. Investors are cautioned to perform their own due diligence. All information contained within this report is presented as-is and has been derived from public sources & management. Always contact a financial professional before making any major financial decisions. All investments have an inherent degree of risk. The future is uncertain, and actual results may be materially different from those expected. Past performance is no guarantee of future results. All views expressed herein are my own, and cannot be interpreted as the views of my employer(s) or any organizations I am affiliated with. Presentation of information does not necessarily constitute a recommendation to buy or sell. Never make any investment without conducting your own research and reading multiple points of view.