Why YELP is Not a Great Buy
We think long-term Yelp is not a great investment and recommend investors to use this rally as an opportunity to sell Yelp for a three major reasons.
We agree with the negative thesis about YELP's business model as a whole and will explain further below on why there are some glaring problems with their current model that are only going to hurt the business in the long-run.
They don't fit into our criteria when it comes to our Rules of Investing. Buy best of breed companies, they are far from the best of breed in their sector. Buy damaged stocks not damaged companies; they are clearly both, which isn't a good sign in the long run.
The lockup in YELP will end in August, which will lead to a major increase in the number of shares of YELP that will be trading. This is not a good indicator as the end of lockups in other social media stocks such as Zynga and Groupon (NYSE: GRPN) has lead to major declines and we see no reason for Yelp not to face a similar fate later in 2012.
Yelp's Flawed Business Model is the Biggest Worry
Yelp is a website and smartphone application that facilitates a marketplace for consumers, advertisers, and small businesses to exchange information. Yelp's business revolves essentially around consumer reviews that come from registered users who post to describe their experiences at local businesses. This is the whole purpose of the site and what the company functions on. Most of their revenue comes from Yelp selling advertising packages to local businesses alongside links and banner ads for larger corporations.
Yelp as a business is quickly degenerating into a train wreck. Many angered small business owners have taken to message boards and forums as ways to go on the attack and slam Yelp as an "extortion scheme." Local businesses believe that Yelp brass purposefully allows negative commentary to pass muster on the site, while filtering out positive feedback. In order to reverse this dynamic, local businesses report that they feel compelled to purchase expensive advertising packages on Yelp. This isn't a small share of businesses claiming 'Foul-Play' there are a significant amount of businesses out there who are on the defensive against Yelp and we think this shouldn't be taken lightly.
The fact is, according to technology consultants Yelp is selling very expensive advertising packages that therefore don't make sense to many small, local businesses. Yelp is selling advertising space to small businesses at $600 per 1,000 impressions, which is 1,000 times higher than the going $0.60 rate. This is the kind of advertising budgets that financial conglomerates and big-time corporations pay not mom-and-pop restaurants selling you dinner at $15 a plate. Yelp supporters, of course, battle back defending the brand, claiming that local merchants should literally mind their own business and excel at customer service to avoid bad reviews and get their dollar's worth. We would argue, however, that the integrity of Yelp's review system and its advertising price points are myopic concerns, at best.
Yelp Struggles to Produce Strong Numbers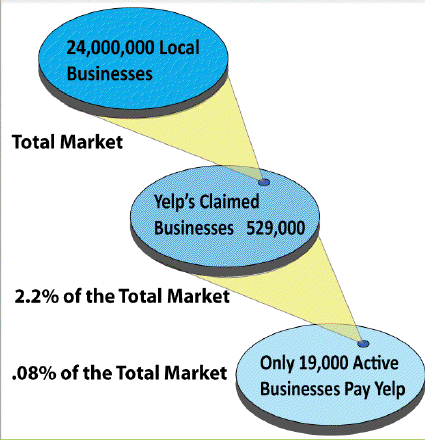 When it comes down to the business as a whole, Yelp struggles in the two biggest aspects they should be dominating. Recruiting new businesses to sign-up and turning current registered businesses into active paying customers. Out of the 24,000,000 local business, Yelp has only managed to turn 529,000 or 2.2% into registered users on the site. Now this is not paying users just registered. When it comes down to actual active paying business, Yelp only has managed to capture 19,000 or 0.08%.
In eight years, Yelp has yet to even capture any significant portion of the market they work in.While supporters will try to sway the facts and point out this as a huge growth opportunity for Yelp, we however see it as a huge failure in their current business model and an inability to offer local businesses a service they want to pay for.
The sector we agree has huge potential but we feel it will be for the taking of new competitors not by Yelp. Just analyze Yelp's most recent quarterly earnings to see the huge disparity. While the business produced strong revenue numbers they were unable to turn it into a profit with huge employees salaries being the key determinant in limiting the business. Yelp has around 300+ employees. While this might not seem like a lot when looking at social media type companies with similar valuations around $1 billion, Instagram only has 11 employees before being bought out by Facebook. You don't see anyone jumping the gun to buy Yelp even after 8 YEARS!
You think with such a large sales force Yelp would excel at signing up new clients and turning them into active paying customers but frankly something is missing and we can't figure it out which is why we don't think this company is a good investment at all going forward. And we haven't even gotten into the debate about how much of Yelp's data is misleading with a large number of reviews coming from services abroad or employees themselves. No, but that's a whole another story.
Yelp is Just Waiting to be Upstaged by a Better Competitor
Just like MySpace opened up the world of opportunities for Facebook, Yelp has done the same exact thing for the next competitor in line. They have developed a great product, in a vastly growing sector; the only problem is their current business model has a major flaw in it limiting them to ever become profitable. For any competitors, this is the stuff that must make them work all night and day as we see this as a great opportunity to capitalize on where Yelp screwed up. So while you can go on and say all you want about the many good things Yelp delivers and the growing opportunities, when it comes down to it the world operates on numbers and unless you are producing a profit investors will not be opportunistic about the future of your company. As a result, we think you should take this as an opportunity to get out of Yelp with the recent rally hopefully cushioning much of the blow. We just know when it comes to our Rules of Investing 'When a Business is Good, the Stock Will Follow.' Well sadly Yelp's business model is not good so the stock will never follow.
Disclosure: I am short YELP.