It's official: Jones Soda (NASDAQ:JSDA) is a train wreck! Take your pick: the Board of Directors, Peter Van Stolk, the list can go on. But for this article I would like to focus on the Board.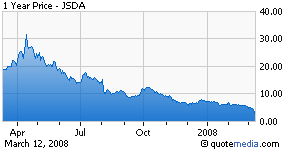 We have seen throughout every macro crisis or company specific issue that sends a company into chaos that the strength of a Board of Directors or lack thereof is revealed in the aftermath. In the case of Jones, I would like to offer some hypotheticals that to me seem very plausible if not completely on point.
First, Steve C. Jones, the interim CEO and board member whom during the (ahem!) CEO search which didn't last very long, failed to identify a charismatic leader that would reenergize the brand. The search appears to have lacked focus and perhaps sincerity (maybe the search committee should have had a few WhoopAss Energy Drinks with Gaba, provided they could have found one).
One of three things appear clear: 1) Jones Soda was unable to identify a qualified candidate to match the needs of the company, employees and shareholders.
2) No qualified candidates that matched the needs of the company, employees and shareholders were willing to sign on.
3) Stephen C. Jones wanted the job.
My vote: #2 and #3 are a horse race. #3 seems to have won. The good news is that they appear to have a 'good' job description on file should they ever need it.
During the latest conference call an analyst asked about the CEO search and Stephen offered an awkward explanation of the process stating "We came to the conclusion that we just worked well together so we opted to suspend the search". Machiavellian? You be the judge. The point here is that Stephen was a member of the board and it was abundantly clear the funky, rock climbing soda maverick Peter Van Stolk was in over his head operationally as you listened to him quarter, after painful quarter.
But what is worse? Actually being in over your head like Peter was, or being indifferent as a colleague drifts into disaster. I think what we have here, and again this is all hypothetical, is that the Board of Directors were disengaged, lacked experience, lacked discipline or worse, purposely allowed Peter to fail.
Sometimes the best coupes are the ones you never hear about. During the call Stephen referenced Peter's appetite for growth, building systems and processes along the way - A strategy that any first year business major would tell you is a recipe for disaster.
Well I doubt the Seahawks, Nets, Wal-Mart or other major retailers signed throughout 2007 were done so without the Board knowing about it. If they did, where were the internal controls? Or the filtering process that all smart companies go through when determining what business makes sense based on the company's ability to execute. The best companies sell internally just as hard as they do externally.
In my opinion this is the real failure, not that Peter was unqualified but that the guidance and wisdom he relied upon didn't support him when he needed it most. Let's not forget, this Board unloaded every free or discounted share for their service prior to the first quarterly miss.
Again, this is all hypothetical but it appears they knew before most of us that the decisions being made would lead to disaster. Peter's resignation, the shareholder lawsuits, the failed conversion to canned soda and the staggering $0.39 loss per share will be the legacy of this Board should the turnaround plan fail. Let's hope Stephen receives better guidance and support.
As a final thought, Monday's call would have gone a whole lot better if Stephen, Hassan and Joth would have put their money were their mouth is by announcing they each made a significant purchase of company shares prior to the call. Note to the boys: By meaningful, I mean north of 100K shares.
Disclosure: Long