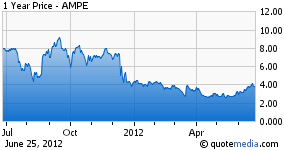 Ampio Pharmaceuticals (NYSEMKT:AMPE), a small company making giant strides in bringing three potential blockbuster drugs to market, unveiled a breakthrough hand-held diagnostic device that has the ability to save millions of lives and billions of dollars.
For decades, there has been very little progress in diagnostics to accurately evaluate a patient when they first present with illness. Current diagnostics for initial assessment provide only minimal information and simply do not work well. An all too common example is the occurrence of patients entering the emergency room with chest pain. According to the National Centers For Disease and Prevention, over 120 million visits are made to the emergency room every year and over half of them are for chest and abdominal pain.
When these emergency patients are first examined, they are usually checked for standard vital signs of blood pressure, heart rate and rhythm, oxygen blood level, body temperature, respiratory rate and are asked a series of questions in the hopes of identifying the problem. Most of them are sent home after the first round of testing but about 16 million are admitted for further diagnostics such as blood tests, EKG's, CT scans, PET CT scans, MRI's, etc., and for observation. A PET/CT scan just by itself costs between five to ten thousand dollars and the typical cost for this short stay is between ten and twenty thousand dollars. Sixteen million patients at ten thousand dollars each translates to $160 billion every year. That number could be cut significantly if better diagnostics existed.
The majority of these emergency patients suffering from chest pain and undergoing additional and extensive testing usually wind up being diagnosed with common heartburn or anxiety and are released and sent home. Conversely, but far worse, thousands of patients every year are misdiagnosed and sent home prematurely with an undetected heart problem only to soon suffer a massive stroke or heart attack and death.
Oxidation Reduction Potential (ORP) Diagnostic
After specializing in emergency medicine for over 30 years, Ampio's Chief Scientific Officer, Dr. David Bar-Or, is well credentialed in this field. He is also the Director of Trauma Research at two of Colorado's Level One Emergency Centers. Dr. Bar-Or is convinced the ORP diagnostic is exactly the breakthrough needed to diagnose patients more accurately.
Ampio's April 12, 2012 press release states, "Ampio has completed the enrollment of over 3,500 patients for their upcoming clinical trials and include patients presenting to the emergency department with chest pain and undergoing clinical evaluation including the performance of Positron Emission Tomography coupled to Computerized Axial Tomography (PET/CT) to detect the presence or absence of myocardial ischemia (523 patients enrolled), patients presenting with stroke symptoms (850 patients enrolled) and in trauma patients including traumatic brain injury where we already published favorable results (more than 3500 patients enrolled). The analysis of the results of these trials will determine the clinical utility of this technology and the company will begin preparing a 510(k) submission upon completion of data analysis, expected in the near future."
What is Oxidation Reduction Potential?

ORP measures the balance of pro oxidants and anti oxidants in the patients' blood. In good health there is an abundance of antioxidants over oxidants so that the balance is in favor of anti-oxidants. In sickness, when free radicals and other oxidative species are formed, the anti-oxidants are consumed and the balance shifts in favor of oxidants that further damage important structures such as proteins, lipids and other cellular and extracellular components.
An ORP measurement has the potential to indicate if a patient is ill enough to warrant further costly and extensive testing or to be sent home due to healthy readings. An ORP measurement can also be a valuable indication of a patient's overall state of health.
About the Ampio ORP System
The platform technology developed at Ampio allows for the rapid measurement of ORP utilizing a point of care, handheld portable, battery-operated instrument (analogous to a glucometer) and disposable electrodes (analogous to the glucose strips) from a single drop of blood. The instrument, the electrode and numerous methods of use are protected by multiple patent filings.
In one of many informal but highly informative early tests, Dr. Bar-Or sampled five random nurses who all appeared healthy and who wanted to try the ORP test. Four of them had normal readings. The fifth had an abnormal reading and when quizzed about her health issues, she stated that she had a heart attack a year ago and was on multiple medications. She was also having chest pains.
Potential Partners and End Users
The ORP diagnostic would be a valuable and complementary fit for the large diagnostic companies such as Laboratory Corp of America (NYSE:LH), Novartis (NYSE:NVS), Abbott Labs (NYSE:ABT), Johnson & Johnson (NYSE:JNJ), Roche (OTCQX:RHHBY) and many others. I believe the new ORP diagnostic device will be standard equipment in doctors' offices, hospitals, emergency vehicles, labs, healthcare facilities and eventually in homes. I also predict the first company to license this product is going to be a very big winner.
Hurdles and Competition
Working models of the ORP diagnostic device are already operational and awaiting the clinical trials of over 3,500 patients. The hurdles that must be overcome are: achieving successful results in clinical trials which management is confident of, gaining approval by the FDA through a 510K submission, and successful licensing to a major diagnostic company or companies.
There are no clinical trials as of this date scheduled overseas for ORP.
Since this is the first known ORP diagnostic device, there is no competing product.
Conclusions
ORP can revolutionize the way patients are first diagnosed as it can be thought of as a very sensitive "Healthometer" with the potential to save millions of lives and billions of dollars.
Ampio is a classic David and Goliath story about a small maverick company in the pharmaceutical industry of giants that has a unique business model and an enviable pipeline of three blockbuster drugs and a revolutionary diagnostic device. I believe Ampio Pharmaceuticals is destined to become an industry leader. Read "Pharma's Untapped Gold Mine" to discover why I am pounding the table so vehemently to share the message that Ampio Pharmaceuticals is a very strong buy and why it should be held for the long term for very large profits and not to be lost to short term trading for a quick small gains.
Risk
While Ampio's model clearly reduces a great deal of risk, there is still a possibility that one or more of their drugs or their diagnostic may encounter difficulty in FDA trials. Even though the company believes it is adequately funded to finance its trials, it may require additional funding and there is no assurance that such funding will be available.
The nature of Ampio's business involves variable factors, such as the timing of launch and market acceptance of products, and the timing of the research, development and regulatory submissions of products in development that could cause operating results to fluctuate. As a result, in some future quarters or years, clinical, financial or operating results may not meet the expectations of securities analysts and investors which could result in a decline in the price of Ampio's stock. Volatility in stock prices of other companies may contribute to volatility in Ampio's stock price.
Disclosure: I have no positions in any stocks mentioned, and no plans to initiate any positions within the next 72 hours.