Market Recap: The market continued to look weak as we near the end of June today on the back of renewed European fears and continued reaction to the Fed's extension of Operation Twist. The marketplace looked fairly weak as it ignored strong numbers from New Home Sales and continued to correct on strengthening dollar and issues in Europe. New Home Sales were strong at their highest level in two years, but uncertainty over what is going to happen in Europe outweighed that. A flight to safety occurred today, and we saw financials, materials, and energy weaken. Without a solution in Europe, it continues to weigh on these markets.
Moving into tomorrow, we really are lacking a catalyst for upside. Data points are being ignored, and the upside days we are seeing seem to be more short covering versus buying. Companies doing well should be examined closely for potential safety plays, but it seems that this market is lacking any real catalyst. Yet, when the market is looking terrible and everyone agrees it is, that seems to be a great time to buy. Keep that in mind.

Two Trades: Two trades we are watching right now are long gold with SPDR Gold (NYSEARCA:GLD) as well as short Kohl's (NYSE:KSS) via bear call spread. Gold seems to have come back into some appeal for safe haven play as those seem to be starting to be appealing again with a lot of uncertainty existing around Europe. Gold, for quite some time, had a very momentum feeling and was following general market. Now, though, it seems to have turned a bit today with some potential as safe haven play again. We like going long GLD to play that with a stop looking like 150.00 and targets of 156.00, 157.50. At the same time, adding bearish positions to your portfolio is important right now. One stock struggling is Kohl's. The company has weak looking earnings for the coming quarter and disappointed in their last quarter. They are breaking a key 43-45 range right now that has shown strong consolidation. They are pushing to the downside for a breakout lower, and if the market weakens more, we look for them to continue to the downside.
Trade #1: GLD, Long
Trade #2: KSS, 45/46 Bear Call Spread, Jul21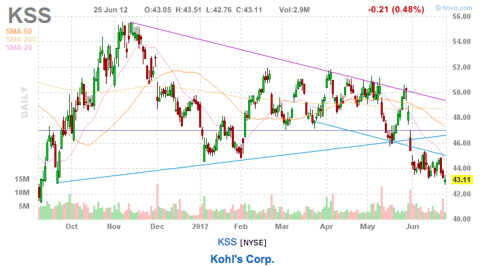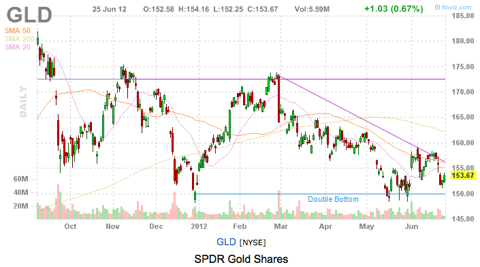 Tomorrow's Outlook: Triple digit days have been somewhat commonplace for the market over the past several weeks. The market was very weak, but it did hold some key levels that was important to see. The DJIA (NYSEARCA:DIA) got back over 12500, and the S&P (NYSEARCA:SPY) held 1300, which are very important levels to hold. A break of those levels would be technically detrimental to the market. Additionally, the market's move seems to be a preemptive move preparing for the worst in Europe. With that out of the way, we may focus more attention to other things tomorrow. For one, we have Consumer Confidence report tomorrow. A good number there could go a long way for this market to complement the New Home Sales. Volume is still pretty light, so we can expect another big move as well. We need to also watch oil (NYSEARCA:USO). If we can get oil back over 80, that would actually provide a lot of stability for the market. Energy has been getting slaughtered, and that is a big part of the DIA and SPY.
Oxen Group Moves: We had a solid day in the market as were able to exit 1/2 of our Schlumberger (NYSE:SLB) bear call spread for 10% gain from our Earnings Alpha Portfolio. We also got a solid 2% gain on our long Monster (NASDAQ:MNST), short Qualcomm (NASDAQ:QCOM) pair trade from our Short-Term Equity Portfolio. We bought longs in 3D Systems (NYSE:DDD) and added the above bear call spread in KSS.
We have the following positions. In our Short-Term Equity Portfolio we are long DDD, Home Depot (NYSE:HD), Apple (NASDAQ:AAPL), MNST and Marathon Petroleum (NYSE:MPC). We are short Advance Auto (NYSE:AAP), SPDR S&P, QCOM, and Home Properties (NYSE:HME). In our Options Portfolio, we are long Dollar General (NYSE:DG), Monster Beverage and AutoZone (NYSE:AZO). We are short Aflac (NYSE:AFL), Garmin (NASDAQ:GRMN), KSS. We have a reverse iron condor on Apple. In our Earnings Alpha portfolio, we are long Vertex (NASDAQ:VRTX), Intuitive Surgical (NASDAQ:ISRG), Marriott (NYSE:MAR). We are short Schlumberger and Walgreen (WAG). We have a reverse iron butterfly in Decker's Outdoor (NASDAQ:DECK).
Charts courtesy of finviz.com.
Disclosure: I am long PNRA.