Apollo Group, Inc. (NASDAQ:APOL) one of the leaders in for-profit education, which subsidiaries include the University of Phoenix, beat earnings for the third quarter by 23 cents, earning $1.20 per share in the quarter. This was however a decrease of about 17% year-over-year, driven by an 8.5% decrease in revenue from the third quarter of 2011. This decrease was largely a result of a 13.1% decrease in enrollment at the University of Phoenix.
The biggest decreases during the quarter came from Associates and Masters Degree revenue. Associate Degree enrollment was down almost 25% year-over-year, while Masters Degree enrollment fell 16%. The fall in Masters enrollment was partially offset by a 4.7% increase in revenue per degreed enrollment. The company sees new degree enrollment turning positive again sometime in 2013 and the company will give full fiscal year 2013 guidance when it reports fiscal year 2012 earnings this October.
In the fall the company will launch a new marketing effort and this with more career focused education programs are among the company's plans to drive increases in new degree enrollment. Apollo is also focused on longer-term improvements of the value proposition of the University of Phoenix. Also the company is working on better graduating students who are in demand by employers and can perform in the workplace. Management believes this more than anything else will drive long term gains in enrollment.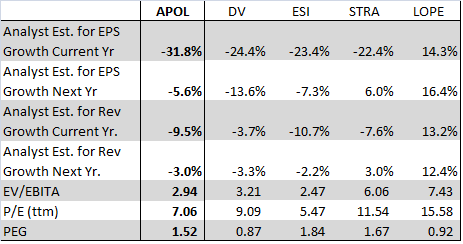 When you look at some of Apollo's competitors, including DeVry, Inc. (NYSE:DV), ITT Educational Services, Inc. (NYSE:ESI), Strayer Education, Inc. (NASDAQ:STRA), and Grand Canyon Education, Inc. (NASDAQ:LOPE), you can see an overall lack of growth. Apollo also appears to be fairly valued compared to its competitors. The for-profit education providers have been under pressure as Sen. Hagan from North Carolina has put forth a bill to stop these companies from using taxpayer-funded financial aid for marketing. Roughly 85% of these companies' revenues come from federally subsidized financial aid. Marketing is very important for these companies, with Apollo spending 14.7% of revenue on marketing in the past nine months, compared with closer to 1% for large public universities.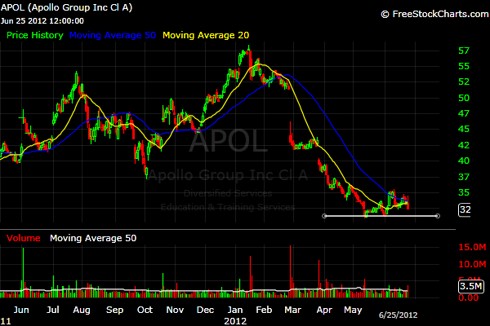 The stock has been a huge disappoint this year, down about 35% year-to-date. However I think Apollo may have put in a bottom around $31 per share. This current run after the strong earnings release this evening could first run into resistance around $40 per share. The stock could be stuck in a range for some time, as business improves some and the company works to get positive growth again, and the threat of action by Congress negatively affecting the business model.
One of the winners in the for profit education space has been Grand Canyon, up about 50% over the past year. The chart of Grand Canyon shows the stock in a strong up channel over the past year. I would consider a long investment in Grand Canyon before investing in Apollo. However I would wait for a move to the lower end of the channel, possibility to the 50 DMA around $17.80.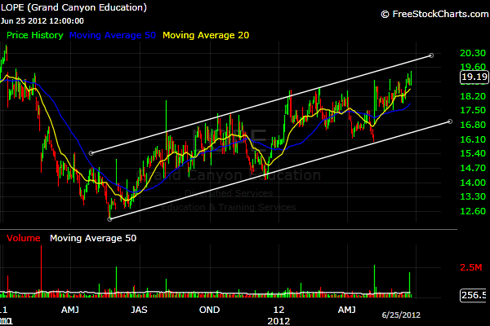 Data sourced from: Company filings, and Yahoo!Finance. Chart from: Freestockcharts.com.
Disclosure: I have no positions in any stocks mentioned, and no plans to initiate any positions within the next 72 hours.