Transportation stocks delivered solid returns in recent weeks despite near-record fuel prices, signs of slowing U.S. economic growth and declines in the broad stock market. iShares Dow Jones Transportation Average ETF (BATS:IYT) as of March 7 had lost just 0.86% in 2008, more than 10 percentage points ahead of the S&P 500 and in the top percentile of funds in the Morningstar's mid-cap blend category. Such stalwart performance helped the fund move up 14 spots on the ETF Momentum Tracker ranking since February 5, to position 16 last week.
The transportation industry's recent strength could be short-lived if a prolonged economic downturn cuts significantly into shipment volumes and steep fuel prices continue to depress profit margins at shipping firms. But the industry has some positive characteristics that could help continue its run: Economic activity in much of the world remains brisk, and transport stocks offer low valuations after two years of lackluster returns.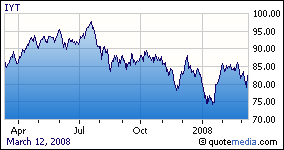 IYT invests in stocks of companies that move goods from one place to another by air, road, rail or water transport. For example, the fund's recent top five holdings included stocks in rail companies Union Pacific (NYSE:UNP) and Burlington Northern Santa Fe (BNI), ocean transportation firm Overseas Shipholding (NYSE:OSG), and diversified air and ground transportation enterprises FedEx (NYSE:FDX) and UPS (NYSE:UPS). The fund concentrates its portfolio heavily among such big players: It recently held more than 71% of assets in its top ten holdings and held a total of just 21 stocks. Most of those stocks fall in the mid-cap range, giving IYT an average market capitalization of about $9.5 billion.
Most shipping firms have suffered decreasing shipment volumes since late 2006, and that trend caused stocks in the industry to perform poorly during most of 2007. Rail companies generally were able to cope with the loss of business through rate increases, but trucking and especially air freight companies struggled. As a result, the transport industry in 2007 experienced a schism between strong-performing rail stocks (shares of major rail firms Union Pacific and Burlington Northern Santa Fe gained 38% and 14%, respectively) and everyone else (FedEx and UPS lost about 17% and 3%, respectively).
The industry overall appears to be in better shape this year. Most firms' fourth-quarter earnings reports met or exceeded expectations, buoying the companies' stocks. About half of the stocks IYT recently held in its portfolio generated gains year to date through March 7—an impressive number considering the widespread losses throughout most of the stock market. Sam Stovall, chief investment strategist at Standard and Poor's, believes large freight companies like UPS and FedEx are ripe with return potential in 2008. "There are good, global growth opportunities for these companies," Stovall told MarketWatch, and he singled out transportation as one of the industries best positioned for growth in 2008.
It may seem puzzling that transportation stocks appear to be on the upswing, given that the U.S. economy appears to have worsened recently while fuel prices have increased. One reason: The global economy is increasingly interconnected, so transport companies are positioned to benefit from ongoing explosive economic growth in many emerging economies. What's more, the weak U.S. dollar boosts exports—U.S. exports rose 12.2% in 2007, providing lots of business for shipping firms. And most analysts predict that oil prices will pull back sometime in the near future, which would boost profit margins for transportation companies.
The transportation industry is often considered a bellwether of the U.S. economy as a whole. That's especially true for the trucking industry, which transports about 70% of retail goods in the United States. Some analysts think strength in transportation stocks augurs an economic recovery. Whether or not that's the case, opportunistic investors believe that the present environment provides a chance to pounce on inexpensive stocks that are likely to benefit when the economy does shift into full gear again. The recovery may be sooner rather than later, if oil prices do decline and lower interest rates and the government's stimulus package succeed in re-igniting the economy. That said, it's impossible to say with any certainty whether the economy and this industry are poised for growth.
IYT had its inception in October 2003. During the three years ending February 29, the fund's standard deviation stood at 15.41, meaning it performed with more than twice the volatility of the S&P 500. That's not unusual for a single-sector fund—particularly one with a small number of holdings.
One statistic that might be especially relevant in current market conditions is the fund's R-squared: 20. That figure means that IYT's performance during the three years through February correlated with movements in the broad market only 20% of the time. That may be good news if the S&P 500 continues its downturn. There's no telling whether IYT's independence in previous years will continue. But for investors who remain bearish on the market as a whole, this fund's contrarian tendencies and building momentum might be appealing.