In the recent past I've used My Mad Method to compare various telecom companies from across the globe, and pitted Hasbro (NASDAQ:HAS) and Mattel (NASDAQ:MAT) against each other in a head-to-head showdown. In this article, I present a three-way battle between the Titans of Consumer Goods Personal Products: Colgate-Palmolive (NYSE:CL), Kimberly-Clark Corporation (NYSE:KMB) and Procter & Gamble (NYSE:PG).
If you're unfamiliar with My Mad Method (or MMM), it is my way of ranking the stocks on my watchlist and, now, in my portfolio against each other to try to help me determine which stock to either add to my portfolio, or to which position in my portfolio I should add more shares. MMM uses 15 metrics that are readily available from a variety of financial sites on the Internet to help me evaluate the stocks I'm watching. I can also weight one or more metrics to skew the results in favor of a particular part of my investment philosophy over another.
For this evaluation, I've left the metrics evenly balanced and unweighted, and used my superlist of 47 stocks that combines my watchlist with my portfolio list. Here's how these three Titans' fared with recent data: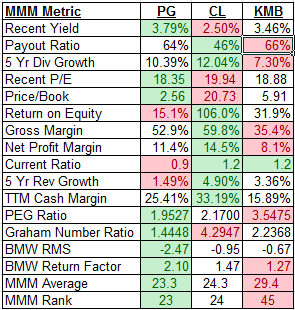 As you can see, PG and CL end up ranked next to each other, and KMB is way down at the bottom of the pack, very close to being in last place out of the 47 overall. It's very close between PG and CL, so to try to call this one I'm going to turn to another part of MMM which looks at recent prices vis-à-vis 52 week highs and lows:

A Delta Ratio Reading of "Holy Cow!" indicates that PG is within 5% of its 52 week low, while "Screaming!" for both CL and KMB indicate that these stocks are much closer to their 52 week highs. Here's a chart of these companies' stock prices over the last six months, compared to the S&P500: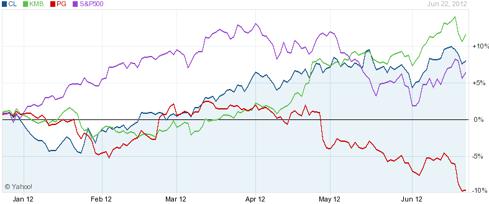 Colgate-Palmolive and Kimberly-Clark track very closely to each other, with KMB pulling out the "win", while Procter & Gamble's stock price has definitely taken a turn for the worse.
But what about The Clorox Company (NYSE:CLX), Unilever plc (NYSE:UL) and Johnson & Johnson (NYSE:JNJ), you ask? Well, strictly speaking, while CLX and UL are Consumer Goods companies like PG, CL and KMB, they are not Personal Products companies. JNJ shows up on Yahoo! Finance listed under Healthcare, even though about a third of its bulk is made up of consumer goods like Band-Aids and Tylenol. So I can't in good conscience include JNJ in this battle, but we can take a look at CLX and UL to see how they would stack up against the three Personal Products Titans: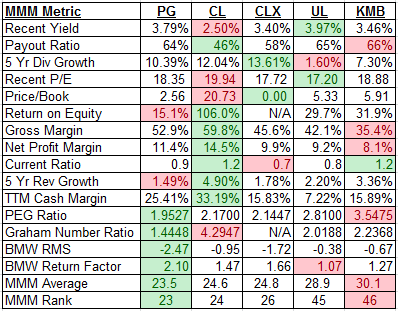 Clorox comes in very close to Colgate-Palmolive, finishing in 26th place, although there are a number of metrics that I couldn't find for it, such as ROE and Book Value Per Share, which is a necessary input to the Graham Number Ratio. Unilever ends up with the best Yield and P/E out of the bunch, while Clorox steals the 5 Year Dividend Growth rate crown from Colgate-Palmolive when I add them to the mix. But otherwise, they don't have too much of an impact on the end result.

Looking at the 52 week high/low averages, UL managed to eke out a "Stable" Delta Ratio Reading today thanks to the big sell-off in the market overall, whereas on Friday it was still Reading "Too High".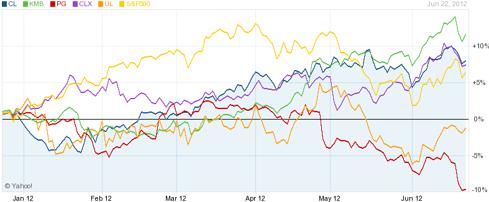 So what does all this information tell me? Firstly, it tells me that I made a good choice eight months ago when I passed up UL, PG and CLX and added KMB to my portfolio instead, as its price has appreciated the most in the last year. That's comforting to know. But does it mean I should add PG to my portfolio next? Possibly…
With an overall ranking of 23 out of 47, I'm not in a huge hurry to add this company to my stable, although it is admittedly a Dividend Champion as per David Fish's list of Dividend Champions, Contenders and Challengers. There have been a few great Seeking Alpha articles about PG lately from David Van Knapp, Tim McAleenan and Valuentum, among other, and it is a great company with an impressive history. However, with the current economic climate getting gloomier by the day, one has to consider whether consumers around the globe will be choosing brand name products over generics and store brands? I know that in my household we have a lot of Kirkland branded products from Costco Wholesale Corporation (NASDAQ:COST), but my wife also still buys Tide laundry soap from Costco and not the Kirkland branded soap. Add to that the obvious fact that PG's price has definitely been beaten down this past year, especially compared to the other Consumer Goods companies we've looked at here, and I'm always in the market for a bargain.
It's hard to know where to invest your cold, hard cash where you will see the best return over time. All of these companies are Dividend Champions, except UL which is a Dividend Contender, which is no shame in and of itself! Any one of these companies would make a great addition to a solid foundation of dividend paying and growing companies in my portfolio. PG below $60 is very enticing, but is it good enough?
I invite you to give your feedback in the Comments section below, and let us all know what you think of PG, and all of these Consumer Goods Titans. Let us know whether you think the long term future for them will reflect their solid past performances, or whether consumer tastes will turn away from brand named products in the coming months and years, and these companies are doomed to lose their status as Dividend Champions and Contenders. The floor is yours...
Disclosure: I am long JNJ, KMB.
Additional disclosure: In addition, I may initiate a long position in PG in the next 72 hours. Also, I am not a professional investment advisor or financial analyst; I'm just a guy who likes to crunch numbers and can make an Excel spreadsheet do pretty much whatever I want it to do, and I'm doing my best to manage my own portfolio. This article is in no way an endorsement of any of the stocks discussed in it, and as always, you need to do your own research and due diligence before you decide to trade any securities or other products.