The market took off on Tuesday, as Gigamedia, Ltd. (NASDAQ:GIGM) released earnings slightly above estimates and the stock was hammered down over 6%. It is always interesting to see the short term reactions to a single number. The bad number was that year over year quarterly earnings were up only 8%, even though the 19¢ per share earnings beat the estimate by 2¢.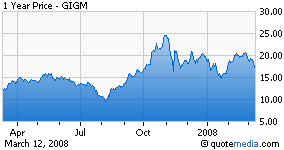 The main reason Q4 earnings were only sightly up on Q4,2006 was that the company spent 45% of revenue on advertising vs. the usual 30%. The extra ads should pump up Q1, 2008 revenues. On an annual basis the company grew revenues and profits at a 60% rate. I expect even stronger growth in the next few years for the following reasons:
The company's core business, Everest Poker, remained strong and the company has several initiatives in the works to boost revenues. Gigamedia has signed a multi-year marketing agreement with the World Series of Poker and is planning to add more gambling options to the Everest Poker experience.
Asian games and gaming is still in the ramp up stage. Beta downloads of Pachinko and other games are taking off. GIGM has 60 million registered users in Asia and expects that to quadruple. Recent agreements and investments with game companies such as Electronic Arts (ERTS) will give Gigamedia the latest games to offer in the Asian market.
GIGM will offer sports betting with in the year. They are looking for a partner to bring sports wagering to their customers. This is a huge market and should bring significant revenues to the company.
Finally, and this is a long shot, the company is preparing for the return of legal online poker in the U.S. Online gambling was outlawed in 2006, but the huge popularity of Poker in the U.S. plus broad TV coverage of poker tournaments could lead to legalization again. If/when this happens, GIGM plans to be an early applicant. As the only U.S. listed, public company, they think they have an inside track on obtaining a license.
I believe revenues and earnings will accelerate for GIGM over the coming quarters and years. With the PE now below 25, the stock value is attractive. I am very tempted to add to my position as the price falls.
Note: I have a long position in GIGM.