The Rural Mainstreet Index (RMI) decreased slightly this month, but remains growth positive, as the global economy continues to slowdown. The farmland price index declined this month to its lowest level since July 2011, but remained above growth neutral for the 29th consecutive month.
The Rural Mainstreet Index decreased to 56.7 from a 58.5 in May and its lowest level since last October. This marks the tenth straight month the RMI has been above growth neutral.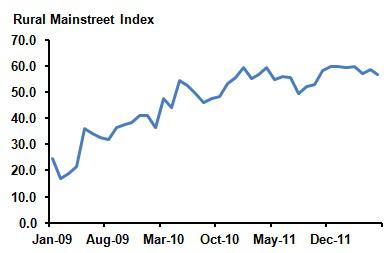 According to Creighton University economist Ernie Goss,
Our surveys point to slower but positive growth for the agriculturally and energy dependent areas of the nation. The global economic slowdown combined with a stronger U.S. dollar has pushed agriculture and energy prices lower. This is weakening overall growth for the Rural Mainstreet economy.
Agriculture
Although the farmland price index decreased, it remains above growth neutral, posting a 60.0 from a 64.6 in May. This marks the 29th straight month the index has been above growth neutral. The farm equipment sales index decreased significantly to 54.7 from May's 65.1.
Said Goss:
Europe's economic turmoil has pushed the value of the U.S. dollar higher and agriculture prices lower. Over the past two months, for example, farm products have declined by 3 percent. This is slowing growth in the farm sector for both farmland and farm-equipment sales.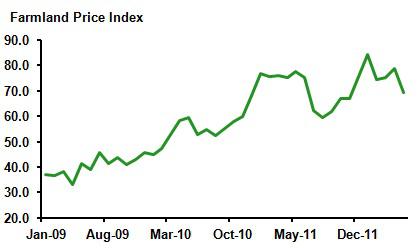 Bankers were asked this month about the new farm bill. An overwhelmingly 87% support separating the food stamps program from the farm bill. The new farm bill also includes spending for research on agriculture and energy, and 64% of bankers support spending on research.
Banking
For the fourth consecutive month the loan volume index has increased to a 64.2 from 56.9 a month prior. The check deposit index decreased to 55.3 from 62.9 in May and the certificate of deposit and savings instruments decreased to 38.9 from 41.7 in May.
Junes hiring index decreased to 59.1 compared to 59.2 in May.
Said Goss:
Job growth across the Rural Mainstreet economy continues to exhibit a great deal of geographic variation with strong growth in Colorado, Iowa, Kansas, Minnesota, and North Dakota. Employment growth was much weaker in rural Illinois, Missouri, Nebraska, South Dakota and Wyoming. Overall government data shows that job growth in urban areas is currently double that in rural areas.
The economic confidence decreased to 58.5 from May's 60.2. "European economic problems, weaker farm prices and slower global economic growth failed to significantly lower optimism among bankers in our survey regarding the outlook for their local economies," said Goss.
Survey
This survey represents an early snapshot of the economy of rural, agriculturally and energy-dependent portions of the nation. The RMI is a unique index covering 10 regional states, focusing on approximately 200 rural communities with an average population of 1,300. It gives the most current real-time analysis of the rural economy.
Disclosure: I have no positions in any stocks mentioned, and no plans to initiate any positions within the next 72 hours.