The shift in market sentiment towards precious metals, and gold in particular, has pushed the share prices of large cap intermediate and senior producers toward all-time highs. But with healthy returns already realized in the bigger names, some investors are looking to smaller cap junior producers and developers for their gold exposure, says Canaccord Adams analyst Wendell Zerb. That's because many of these stocks do not yet reflect the strong move for spot gold prices, which continue to hover below the psychologically significant $1000 per ounce mark.
In Canaccord's Junior Mining Weekly, Mr. Zerb said:
As we have said before, gold producers receive a premium for production growth, exploration upside and superior cost structures among other things. Gold producers are going to be looking to maintain and grow their production portfolios, and junior gold equities are likely to be the source of production growth.
By his estimates, the senior and intermediate gold producers under coverage are trading at an average price/net asset value (P/NAV) multiple of 1.59 times. Junior producers come in at 0.90x, while junior development companies fall in the range of 0.25x to 0.70x.
So while the gold bulls are looking pretty wise these days, the outlook for base metals has deteriorated since they are tied to the global economy. Nonetheless, prices for copper, nickel, lead and zinc have held up, Mr. Zerb noted, while coking coal forecasts are on the rise, iron ore is climbing and crude oil is skyrocketing.
He said:
While commodities priced in U.S. dollars should scale up as the U.S. dollar weakens against other global currencies, it appears that demand for the stuff that fuels global economic growth remains strong...for now.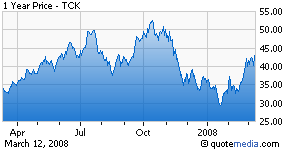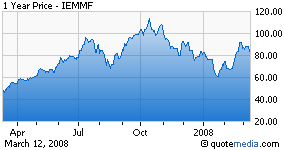 While the team at Canaccord admits that it is concerned about what a U.S. recession might do to base metals prices, they say the strength that metals have demonstrated cannot be discounted. It has also boosted shares of several large producers. Teck Cominco Ltd. (TCK) for example, which closed at C$42.41 in Toronto on Tuesday, is up more than 46% from where it dipped on January 21. At C$86.70 per share, First Quantum Minerals Ltd. [FM/TSX] is up more than 28% in the same period, while Inmet Mining Corp. (OTC:IEMMF) has climbed nearly 35%.
So while the returns for shares of most junior base metal producers and developers have been muted compared to their larger counterparts, Mr. Zerb thinks investor interest is on the rise. And with copper, nickel, zinc and lead all at elevated levels, he sees ample reason for re-examination of junior producers with quality assets and near-term production.