We recently compared, analyzed and evaluated the financial performance of Hewlett-Packard (NYSE:HPQ) and Oracle (NYSE:ORCL) since Mark Hurd was forced out. We have to agree with Oracle CEO and Founder Larry Ellison when he said that "The H.P. board just made the worst personnel decision since the idiots on the Apple board fired Steve Jobs many years ago". Since Larry had co-founded Oracle, we believe he knows what he is talking about when it comes to technology talent. Consider the stock performance of HP and Oracle since Hurd was forced out for the alleged sexual harassment and expense account irregularities, we can see why Oracle snapped up Mark Hurd almost as soon as he left Bill and Dave's Garage.
THE CARLY FIORINA ERA
In 1999, HP CEO Lew Platt decided to retire from the company and the board selected Carly Fiorina to replace him. Fiorina was a highly visible "rock star CEO" from Lucent. Under Carly, HP engaged in the following initiatives to ramp up profits and EPS:
Spending $24.7B worth of company stock to acquire PC maker Compaq
Replacing highly skilled American technology professionals with lower cost H-1B visa holders and offshore outsourcing initiatives
Overseeing the spin-off of Agilent (NYSE:A), HP's former performance testing business.
HP's EPS declined by 23% from 1999-2005 because these initiatives did not work out the way Carly conceived them. At least when Fiorina acquired Compaq, she led the changing of HP's ticker symbol from HWP to HPQ. We think Ann Livermore; a longtime and well-respected HP senior leader should have succeeded Platt instead of Carly. Livermore helped HP, known primarily as a hardware company, bring sharper focus to its services strategy when she took the reins of the newly formed software and services group in 1997. "One of the first things I worked on was to manage some of our services as a business," Livermore says. "At the time, services were given away for free. But there was a business opportunity for us to start selling services." When Hurd was forced out in 2010, maybe she should have gotten that job, instead of hiring Léo Apotheker.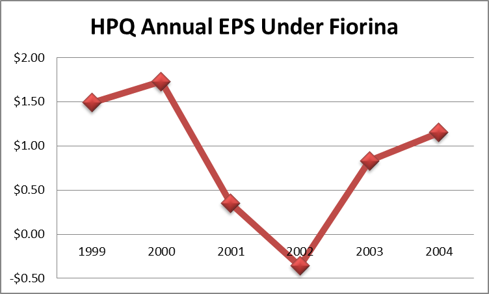 Source: Hewlett-Packard 1999-2004 Annual Reports
HP FIRES CARLY, MARK HURD ERA
After Fiorina resisted the HP board's plan for her to cede some day-to-day authority to the heads of HP's key business units, the board fired her. When the board relieved Fiorina of her duties in February 2005, we believe it eliminated a huge hole as CEO. We also believe that paying her $21M in severance was a good investment as it ensured that she wouldn't be back. Fiorina went on to be a top advisor for John McCain during his presidential run in 2008 and ran for Senate against Barbara Boxer in 2010. We believe that Fiorina is the Bizarro-World equivalent of Steve Jobs as everything she touches ends up ends up being unsuccessful (HP, McCain's campaign and her Senate run).
HP's Board hired Mark Hurd away from NCR in 2005. Hurd started as CEO on March 28th 2005 and became executive chairman in 2006 after Patricia Dunn resigned in the wake of the pretexting controversy. We normally don't agree with The New York Times, but we can't argue with it when it said that Mark Hurd pulled off one of the greatest corporate turnarounds in the history of American business. Under Hurd's leadership, HP grew revenue and EPS in four out of his five years there and HP's stock registered a 121% total return before he was forced out. In addition to overseeing revenue growth from acquisitions and organic growth, he kept a lid on operating expenses and was able to rationalize operations. Such accomplishments included:
Consolidating 85 data centers into 6
Consolidated 6,000 company used software applications into 1500
Reduced HP's corporate IT department from 19,000 employees to 8,000
This enabled Hewlett-Packard to increase its EPS from $.83 in 2005 when Hurd took over to an all-time company record of $3.69 in 2010, when Hurd was forced to resign. Despite Hurd saving HPQ from irrelevance, he was forced to resign when allegations of impropriety relating to expense reports dealing with an alleged relationship with gold-digging E-List porno actress Jodie Fisher. We think the board was concerned
HURD'S DISMISSAL, LÉO APOTHEKER HIRED THEN FIRED
Although we believe that while Mark Hurd's behavior with Jodie Fisher was hardly the conduct of a gentleman, we believe that he shouldn't have been pressured into resigning. Since Hurd has been Co-President of Oracle, Oracle has been able to shake-off declines in hardware sales (mostly legacy Sun Microsystems) through increased revenue growth from software products. Oracle's old marketing slogan was "Software powers the Internet". It certainly powers Oracle's top and bottom line. Oracle has been able to grow organically and through strategic acquisitions that enable it to fill in gaps in its product offering. For FY 2012, it earned $1.96 per share, up from $1.67 in 2011 and $1.21 in 2010.
HP on the hand hasn't been as fortunate. It picked Léo Apotheker off the waiver wire after he resigned from SAP due to ill health. (The SAP board got sick and tired of SAP being a mediocre performer while Léo was leading it). Léo served as HP's CEO for less than a year and in that time HP's shareholders suffered through the indignity of a 45% loss net of dividends on their Hewlett Packard stock. What set Léo's departure in motion was his disasterpiece press release announcing that HP was discontinuing its webOS device business (mobile phones and tablet computers), acquiring the British software firm and broken growth company Autonomy for $12B and considering selling or spinning off its consumer PC division. HP's board replaced him with Meg Whitman one month later. Here are some of the lowlights from the Léo Apotheker era at HP.
HPQ stock registered a negative 45% total return under his watch
EPS declined by 10% even with the benefit from repurchasing 10% of its shares
Revenue growth declined from over 10% to less than 1%
Operating Income declined by 15.6%
The company increased its debt by $8.3B to acquire the growth by acquisition British software company Autonomy PLC. Not long after it was acquired by HP, it saw significant defections amongst its leader
It ended its webOS mobile phone and tablet computer business and considered spinning off its PC business.
We wish we could ask Carly how that $24.7B acquisition of Compaq is working out for everyone. When the phone doesn't ring at Saibus Research, we'll know it is her.
In conclusion, we don't believe that Meg can do any worse running HP than Léo did with HP or SAP or any worse than she did running for Governor of California against Governor Moonbeam. With the exception of the Skype purchase, we believe that Meg Whitman did a great job as CEO of eBay (NASDAQ:EBAY). However she has a much tougher assignment ahead of her in turning around HP in comparison to building a tech start-up. In her first two quarters, HP has seen its revenues steadily erode even with the artificial performance enhancement that comes with adding an acquisition (Autonomy). Worse for HP shareholders is that HP will be taking a $1B restructuring charge for Q3 for layoff restructuring and $1.2B for impairment to the fair value of the Compaq brand name. While we have more hope for Meg Whitman than we did for Léo, we think Ray Lane (HP's chairman and former Oracle President) should write a personal letter to Mark Hurd simply stating "Dear Mark: Please Come Back! All is forgiven! Sincerely, your friend Ray!" Until we see progress from HP in its turnaround, we have to recommend investors buy shares of Oracle instead of HP.
Disclosure: I am long S, AAPL.
Additional disclosure: Saibus Research has not received compensation directly or indirectly for expressing the recommendation in this report. Under no circumstances must this report be considered an offer to buy, sell, subscribe for or trade securities or other instruments.