There will be more bumps along the road for Canada's big banks, but a year from now their stock prices should mostly be trading higher on the back of modest earnings growth, said TD Newcrest analyst Jason Bilodeau in a note.
The global downturn in financial stocks, further credit market problems, and the worsening U.S. economy all overshadowed recent first quarter bank earnings, that were mildly disappointing, the TD analyst said.
But the banks are "fundamentally sound and well positioned businesses." While the market remains sensitive to any potential exposures and negative headlines, the big banks will likely turn in higher earnings in 2008 compared to 2007, and their share prices should rise as a result, Mr. Bilodeau said.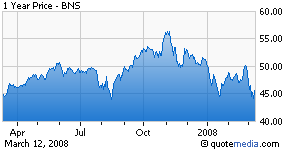 Bank of Nova Scotia (NYSE:BNS) is TD's top pick in the sector, in part because it has lower exposure to those risky areas than some of its competitors. TD has a "buy" rating on Scotiabank, with a C$56.00 target price.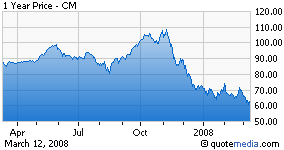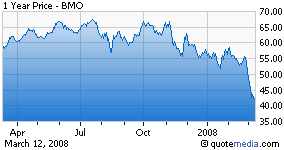 Canadian Imperial Bank of Commerce (NYSE:CM) and National Bank [NB/TSX] are also rated a "buy" thanks to depressed stock prices that offer good value, according to TD. Bank of Montreal (NYSE:BMO) is the negative outlier, because of higher than expected domestic retail banking costs, growing uncertainty around the bank's credit crunch exposures, and higher loan losses.
"The most disappointing recent developments have occurred at BMO, and it remains the bank with the most uncertainty," Mr. Bilodeau said. TD has a "hold" rating on BMO, with a C$53.00 target for BMO stock.