You might have thought that I'd learned my lesson regarding shorting precious metals after I suggested the time had come to short silver 18 months ago. Had I not been stopped out with my trade, I would be proven right….barely….18 months later. Ahem. Cough cough.
So what about gold? I entered into a short trade recently and I'll tell you how that's working out, but first let's look at a few issues regarding gold and see if we can detect a bullish or bearish bias as to what may happen next.
As readers probably know by now, gold moves in the reverse direction of the dollar's strength. The reason gold is considered a hedge is because it is perceived to have intrinsic value as a precious metal whereas the dollar's value decreases due to inflation. So anything that causes inflation reduces the dollar's value and increases gold's.
When the Federal Reserve went nuts printing money out of thin air to buy bonds in the open market, that theoretically is an inflationary move. The more dollars there are, the less each one is worth. Thus, gold has soared partially in response to this. That's also why it got clipped the past few days, as the Fed did not announce another round of quantitative easing. Given that the Fed behaves with an eye towards politics and the economy still stinks, I'd say there's a slight bullish bias that QE3 might happen.
Inflation exists, and is worse than most will admit. That's because of hidden inflation in the form of smaller volumes of packaged goods (anybody else notice that half gallons of liquids are now 59 ounces instead of 64?), and that wages have been stagnant. This provides a bullish bias.
The global economy is weak. Fear will keep people in gold, so that provides a bullish bias, or at least a floor to gold's price.
I find supply and demand to be difficult to predict because everyone seems to have a different opinion depending on whom you ask. So let's consider that to be neutral.
Further European uncertainty may create demand for the relatively safe dollar, so that's a bearish bias.
But the most compelling short case may be the technicals. The weekly chart shows support approaching, and the monthly chart shows gold has breached important support.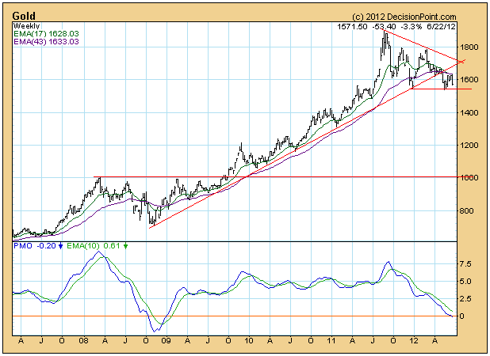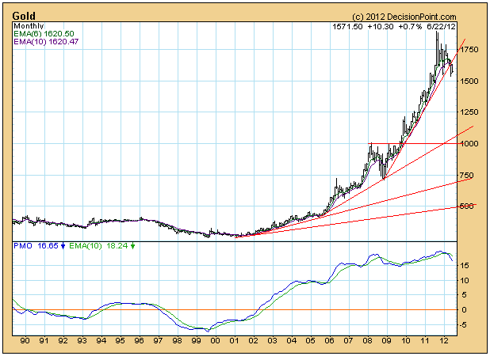 Charts courtesy of Decision Point.
How is this actionable?
The medium-term outlook suggests a bullish bias, but only a slight one. I think some of the bullish bias is baked into the price of the metal. The near-term suggests that opening a short position might be comparatively safer now than at other times. There's some solid overhead resistance and a declining trend line that might limit upside losses, especially if a stop is used. On the downside, gold has quite a ways to potentially fall. I think the best entry point is if support is breached at around $1520.
I think the most efficient way to short is to do so via the SPDR Gold Shares (NYSEARCA:GLD). If you want to be aggressive, do so via the 2x leveraged ProShares Ultrashort Gold ETF (NYSEARCA:GLL). Another way to go is to short the Central Fund of Canada (NYSEMKT:CEF). The interesting thing here is that this closed-end fund actually holds real gold and silver, at a ratio of 1 oz. of gold to ½ oz. of silver. It also trades without regard to the actual NAV of the metals in the fund. The fund rarely trades below its NAV, so when it does, it may suggest a good time to cover. In addition, if you are bearish on silver, you pick up that short as well.
You could hedge these shorts by going long on companies which benefit from the fact that gold is just plain expensive compared to the past. Thus, purchase gold miners via the Market Vectors Gold Mining ETF (NYSEARCA:GDX), or maybe individual gold miners like Newmont Mining (NYSE:NEM) or Barrick Gold (NYSE:ABX).
You could also do my favorite play, which is to buy pawnshops, which profit from gold's high prices. First Cash Financial Services (NASDAQ:FCFS) and EZCORP (NASDAQ:EZPW) take forfeited items and scrap the gold in them, often enjoying 40% margins. In addition, these stocks are undervalued, so not only is it a hedge, it's a great addition to the value part of your portfolio.