Sears Holding (NASDAQ:SHLD), the parent company of Kmart and Sears is not the company it used to be. In 2007, SHLD had over $50B in sales, positive Cash Flow from Operations (CFFO) and over 3,400 domestic stores. Their Kenmore, Craftsman and DieHard brands -- some of the best in the marketplace -- were sold exclusively at Sears. Since this time period, trailing twelve month revenue dropped to $42B, the company announced it will sell its iconic DieHard and Craftsman brands through several of its competitors (Chicago Tribune, "Sears to sell DieHard Batteries through Meijer") and plans store closings in 2012 (Bloomberg, "Sears to Close 62 Stores by July to Reduce Costs"). If that were not enough, net income and CFFO have been on the decline and have recently turned negative as shown in the figure below.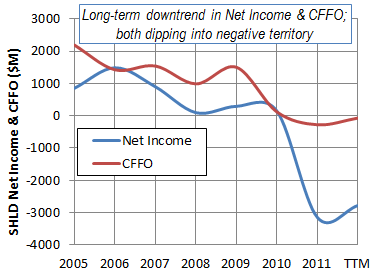 SHLD shares have dropped from over $80 in mid-February to just around $50 at the time of this article. To some, that may indicate that it is time to open a new position. After all, net income was positive in its most recent quarterly statement. SHLD also announced plans for a partial spin-off of its Canada holdings "to best optimize returns on assets employed" (SHLD press release May 17, 2012). I would caution reading too much into these recent developments and will outline several points that don't make the headlines.
Point 1: 1st Quarter Net Income was positive primarily due to asset sales: A detailed look at SHLD's income statement shows this is primarily due to gains from several asset sales. The scale of these sales was much larger than reported in prior periods. When these larger than usual sales are removed, operating income becomes negative.
Point 2: Return on Invested Capital (ROIC) is Negative: This is not a surprising result based on the discussion above, but it is interesting to see how SHLD compares to its peers as shown in the figure below. Firms create value for shareholders when ROIC is above their cost of capital (CFO, "Comparing Performance When Invested Capital Is Low"). This appears to be the case for Dollar Tree (NASDAQ:DLTR), Nordstrom (NYSE:JWN) and Macy's (NYSE:M), but not for SHLD.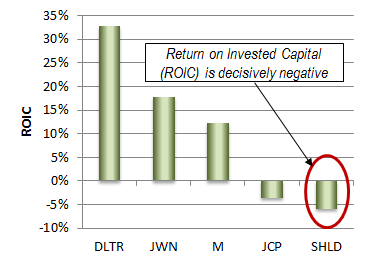 Point 3: High Financial Leverage: A comparison of financial leverage with its industry peers (based on data from Forbes.com) shows that SHLD is well above average. This is a concern in the face of potential rising rates, particularly with a company that has demonstrated many quarters of negative earnings.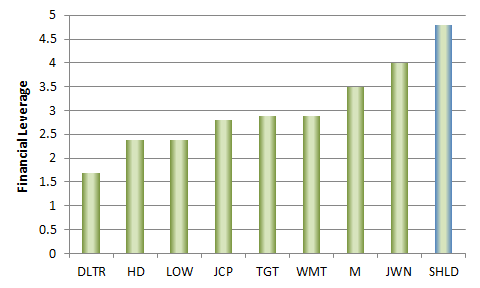 Point 4: Mismatch between Quarterly vs. Annual Earnings Quality: In their paper, "Red Flags in Enron's Reporting of Revenues and Key Financial Measures", Dharan and Bufkins note that consistent discrepancies between quarterly and annual earnings quality may indicate challenges ahead. As recent as 2009, SHLD reported good earnings quality on an annual basis with CFFO greater than net income. (Net income is subject to many accounting adjustments such as depreciation. When CFFO is higher than net income, it signals these adjustments are not inflating net income and that the company is healthier than net income suggests). A review of its quarterly statements showed that during this time frame, quarterly results were not of good quality. A similar trend is also shown for quarterly FY 2010 results. Contrast these results with quarterly results for both DLTR and JWN. Both show consistent and controllable earnings for quarterly as well as annual results.
Point 5: Valuation Allowance: In its most recent annual report, SHLD took a $2.3B non-cash charge in the form of a valuation allowance. This is a bit obscure for those of us who are not CPA's, but it is an important point. A firm is required to reduce its deferred tax assets through a valuation analysis if it is not expected to generate future profits (and hence taxable income) to offset this asset. In his paper entitled, "Does the Deferred Tax Asset Valuation Allowance Signal Firm Creditworthiness," Edwards documents evidence that material increases in the valuation allowance increase a firm's cost of debt and decreases its credit ratings following the reporting of the valuation allowance.
What are the Perils of Shorting SHLD? This proves to be a challenge as well given the low float and currently high short interest ratio of nearly 8 (meaning the number of shares sold short is equal to 8 times the average daily volume). The figure below compares the short interest ratio between SHLD, several industry peers and other stocks that are commonly shorted as reported by FinViz.com.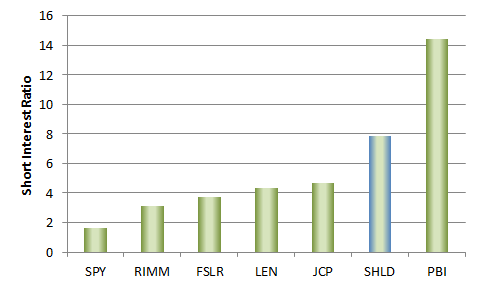 So what is an investor to do with SHLD? The challenging environment going forward makes it a tough investment choice while there are real challenges in shorting the stock as well … sometimes doing nothing is the best answer which I think is what's required here. Interested in your feedback.
Disclosure: I have no positions in any stocks mentioned, and no plans to initiate any positions within the next 72 hours.