Each month David Fish publishes his updated Dividend Contenders profile here in Seeking Alpha. David's dividend contenders are distinguished as companies that have paid higher dividends for 10 to 24 straight years.
Dogs of the Index Metrics Cull Out Current Bargains
Given the Dividend Contenders, this article used two key numbers to rank those stocks: (1) stock price; (2) annual dividend. Dividing the annual dividend by the price declared the percentage yield by which each dog stock was ranked.
Historically, investors utilized this ranking system to select portfolios of five or ten stocks in any one grouping to trade. They optimistically awaited the results from their investments in the lowest priced, highest yielding stocks and prayed that the price of every stock they now owned climbed higher (having locked in a high yield percentage at purchase).
Dogs of the Index strategy, popularized by Michael B. O'Higgins in the book "Beating The Dow" (HarperCollins, 1991), revealed how high yielding stocks whose prices increase (and whose dividend yields therefore decrease) can be sold off once each year to sweep gains to reinvest the seed money into higher yielding stocks in the same index.
Classic Dogs of the Index theory trades selected Dow stocks. Thus, the Dow is used as a standard of comparison to conclude this article.
The top thirty dividend contenders stocks listed below were ranked by yields calculated as of May 31.
Dividend Contenders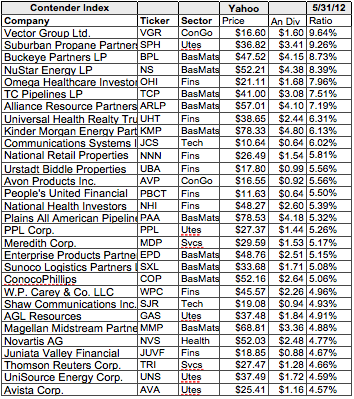 Contender dogs in May lost Inergy (NRGY) the former leader of the pack when the firm sent out a clear sell signal by cutting its dividend in half this quarter. The newly reconstituted top ten contenders included firms representing five of nine market sectors.
The new top dog, Vector Group Ltd. (NYSE:VGR) was the only one from the consumer goods sector. The balance of the top ten included one utility, Suburban Propane Partners LP (NYSE:SPH); five basic materials firms, NuStar Energy LP (NYSE:NS), Buckeye Partners LP (NYSE:BPL), TC Pipelines LP (NYSE:TCP), Alliance Resource Partners LP (NASDAQ:ARLP), and Kinder Morgan Energy Partners (NYSE:KMP); two financial firms, Omega Healthcare Investors (NYSE:OHI), and Universal Health Realty Trust (NYSE:UHT); one technology firm, Communications Systems Inc. (NASDAQ:JCS) representing market sectors.
Up and Down Moves for Dividend Contenders Dogs
Volatility at the top of the contender list threw Inergy LP out of the dog pack. Now as noted, Vector Group is there.
Color code shows: (Yellow) firms listed in first position at least once between February and May; (Cyan Blue) firms listed in tenth position at least once between February and May; (Magenta) firms listed in twentieth position at least once between February and May; (Green) firms listed in thirtieth position at least once between February and May. Duplicates (if any) were depicted in the color for highest rank attained.
Bullish upward price moves since April 27 were made by not one top ten dividend contender stock. They all tanked, led by their (former) leader.
Inergy LP cut its dividend to throw itself out of contention.
Bearish downward price moves for the same period hit the rest of the ten contender dogs: Vector Group Ltd. flicked off a 7.36% decline in price; Suburban Propane Partners spewed a 13.55% drop; Buckeye Partners LP dribbled a 15.73% decline; NuStar Energy LP price fell 3.5%; Omega Healthcare Investors inked a 1.54% decrease; TC Pipelines LP leaked 5.75% in price; Alliance Resource Partners LP swooned 9.98%; Universal Health Realty Trust showed a 3.375% price drop; Kinder Morgan Energy Partners was down 5.83% in price; Communications Systems Inc. disconnected 19.15% to vault itself to number ten from number twenty last month.
Dividend vs. Price Results Pit Contenders vs. Dow
Below relative strength of the dividend contenders top ten stocks by yield was graphed as of May 31, 2012 and compared to those of the Dow. Four months of historic projected annual dividend history from $1000 invested in the ten highest yielding stocks and the total single share prices of those ten stocks created the data points for each month shown in green for price and blue for dividends.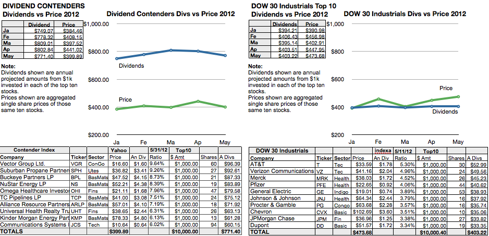 Conclusion: Contenders Drop as Dow Prices Jump
This contenders collection of top ten dogs by yield in May showed dividends from $1k invested in each of the top ten stocks decreased 3.9% as their aggregate single share prices sagged 9.33%. By comparison, Dow dog dividends from $1k invested in each of the top ten held steady at $400 while aggregate total single share price jumped 5.74%.
Ten contenders paid 47.73% higher projected dividends from $1k invested in each stock at a 15.58% lower aggregate single share price than the Dow did in May.
Conclusion II:
Contender Dogs Edge Dow 7.26% to 6.68% in 2011 to 2012 Gains as of June 1 Despite Volatility
Results from annual investments in the lowest priced, highest yielding stocks in these two indices resulted in Contender gains edging out those of the Dow. The box score below shows Contenders net gains exceeding Dow dogs by $57.59 or .58% from $10k invested since June 1, 2011.
The contender index sale of National Retail Properties (NYSE:NNN), Plains All American Pipeline LP (NYSE:AAP) and Northeast Indiana Bancorp (OTCQB:NIDB) at June 1, 2012 closing prices generated a net return large enough to overcome the loss of ($437.70) incurred by the fire sale of Inergy LP. In comparison, Dow dogs only counted two sales of Intel (NASDAQ:INTC) and Kraft (KFT) as of June 1.
Net returns were calculated by adding all the actual dividends paid by the top ten dogs in each index plus stock sale gains minus brokerage fees of $10 per trade for securities sold.
Stay Tuned
At the end of each month, a summary concludes this series of articles showing results of yield and price for the Russell 50, Dividend Achievers, the Carnevale Power 25 and new Super 29 indices, along with David Fish's Champions, Contenders, Challengers, and Composite lists. Stay tuned to follow these intrepid dogs.
Disclaimer: This article is for informational and educational purposes only and shall not be construed to constitute investment advice. Nothing contained herein shall constitute a solicitation, recommendation or endorsement to buy or sell any security. Prices and returns on equities in this article (except as noted) are listed without consideration of fees, commissions, taxes, penalties, or interest payable due to purchasing, holding or selling same.