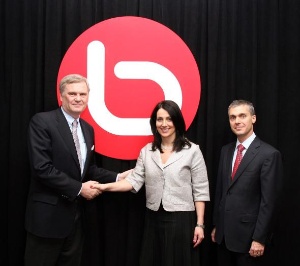 Time Warner's (NYSE:TWX) AOL has acquired social networking site Bebo for $850 million. This is a story we've been tracking closely since early February (here and here), although frankly the leads dried up on who was acquiring them in the last couple of weeks.
Investment bank Allen & Co. has been shopping Bebo for some time. A number of potential buyers passed on the company, including News Corp. and Google, our sources say. Yahoo may have also taken a long look, but recent woes probably prohibit it from doing any large transactions.
AOL's intention, they told press in a briefing call this morning, is to marry AIM and ICQ with a proper social network. At a high level, AOL is saying they are basing much of their go forward social networking strategy around AIM. Layering in Bebo, they say, lets people communicate both synchronously and asynchronously. The goal is to allow people to both express themselves and extend existing relationships. AIM users have 100 buddies on average. Bebo's platform allows those users to share and distribute media as well.
AOL's also talking about their Platform A advertising platform which can blend big brand advertising along with performance. Bebo's page views will be enticing to those brands to the extent they can track how those ads do.
Current President Joanna Shields (middle in picture above) will continue to run Bebo and will report to Ron Grant. Founder and Michael and Birch and Xochi Birch will shortly be leaving the startup, apparently. Rumor has it, though, that Shields has effectively run the company for some time. Bebo was originally launched in 2005.
Bebo is the second largest social network in the U.K. (its largest market) after Facebook. Recent Comscore data says Bebo has 22 million unique visitors and 11 billion page views; In a press briefing, AOL said Bebo users spend an average of 40 minutes a day on the site. The company claims 40 million users.
The deal must clear U.S. and EU antitrust hurdles before it closes. Bebo had raised just a single $15 million round of capital from Balderton Capital (formerly Benchmark Capital Europe) in May 2006.
As an aside, and despite rumors of their possible sale, AOL is clearly putting a massive effort into transforming the company from a dial up broadband provider into a company has the competitive fire. The opening of AIM, mentioned above, is just one indication. The company has been releasing genuinely innovative new products and has also made a number of smaller strategic acquisitions over the last year or so. And there are lots more to come, apparently.