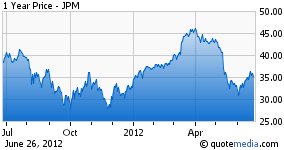 Goldman Sachs just added JP Morgan (NYSE:JPM) to its Conviction Buy list. Other than possible empathy for a fellow congressional committee whipping boy, the firm cited JPM's near term earnings and returns visibility and a favorable risk/reward investing scenario. It also put a short term price target of $42 a share on the stock. I think this is just the latest step in JPM's rehabilitation after its recent infamous trading loss and the shares offer good long term value here.
6 reasons JPM is a bargain at under $36 a share:
The company has one of the best balance sheets among the major banks (A rated at S&P) and sells at just 74% of book value.
The stock yields 3.3%, which could move substantially higher over the next five years as the economy eventually recovers and the housing market improves.
The 29 analysts that cover the stock have a median price target of $47 a share on JPM. Credit Suisse has an "outperform" rating and a $50 price target on the stock.
The stock is selling at the bottom of its five year valuation range based on P/E, P/B and P/CF.
JPM also sells at less than 7 times forward earnings, a discount to its five year average (11.9).
Jamie Dimon's recent testimony provided another example of why he is thought of as one of best managers in the industry and helped diffuse the turmoil around its recent trading loss. The bank could also be one of the biggest beneficiaries by a change of administration in November (A roughly 50/50 proposition).
Disclosure: I am long JPM.