As I wrote previously, Dynavax Technologies Corporation (NASDAQ:DVAX) announced on April 28, 2012 it had submitted a U.S. Biologics License Application, or BLA, to the FDA for Heplisav, its treatment for hepatitis B. The company is pursuing an indication for immunization against infection caused by all known subtypes of hepatitis B virus in adults 18 through 70 years of age. The submission, comprising some 305 volumes, was submitted ahead of schedule, a surprise to some on the Street given that it required revisions to accommodate the expansion of the indicated age group. At the time it submitted its BLA, the company requested priority review. Surprisingly, that request has not been granted. In announcing the FDA's decision, Dynavax President and Chief Medical Officer, Tyler Martin, M.D., said, "The FDA has established February 24, 2013, as the PDUFA action date. We look forward to working with the FDA in moving Heplisav through the regulatory review process over the next few months."
According to the FDA, for a drug product to receive priority review, it must meet the following conditions:
safe and effective therapy where no satisfactory alternative therapy exists; or
a significant improvement compared to marketed products (approved, if approval is required), including nondrug products or therapies.
Significant improvement is illustrated by the following examples:
evidence of increased effectiveness in treatment, prevention, or diagnosis of disease;
elimination or substantial reduction of a treatment-limiting drug reaction;
documented enhancement of patient compliance; or
evidence of safety and effectiveness in a new subpopulation. Although such evidence can come from clinical trials directly comparing a marketed product with the investigational drug, a priority designation can be based on other scientifically valid information.
At the least, I believe Heplisav evidenced increased effectiveness in the treatment of hepatitis B as well as enhancing patient compliance, so I was surprised the FDA did not grant priority review. I'll discuss these two subjects below.
I initiated coverage of DVAX in late February 2012, with the announcement that the results of a pivotal Phase 3 trial for it lead drug Heplisav for hepatitis B had been published in the journal VACCINE. The article was entitled "Comparison of Safety and Immunogenicity of Two Doses of Investigational Hepatitis B Virus Surface Antigen Co-administered with an Immunostimulatory Phosphorothioate Oligodeoxyribonucleotide and Three Doses of a Licensed Hepatitis B Vaccine in Healthy Adults 18-55 Years of Age." In it, Dr. Scott Halperin of Dalhousie University, the principal investigator and lead author, demonstrated how, in a comparison of Heplisav with Engerix-B [from GlaxoSmithKline (NYSE:GSK)] in 2,415 adults randomized in a ratio of 3:1, Heplisav to Engerix-B, the seroprotection rate at the primary endpoint after two doses for Heplisav (91%) was significantly higher than after three doses for Engerix-B (81%).
These data, among others, were the reason the company requested a priority review for Heplisav. Specifically, the company believed, and the data confirm, the new treatment is a significant improvement compared to products currently on the market. Heplisav also is easier to administer. GSK's Engerix-B, according to the manufacturer, is given in a series of three shots, with the booster shots sometimes given 1 month and 6 months after the first shots. Heplisav, on the other hand, is administered as two shots, at 0 and 1 month, offering the patient considerable convenience.
Perhaps the data are easier to understand if presented in a graphical format. Below are graphics selected from among those presented by Dynavax at a recent Analyst & Investor Day presentation prepared September 9, 2011. The first shows the results of the Phase 3 trial for patients in the age range 40 to 70 years old.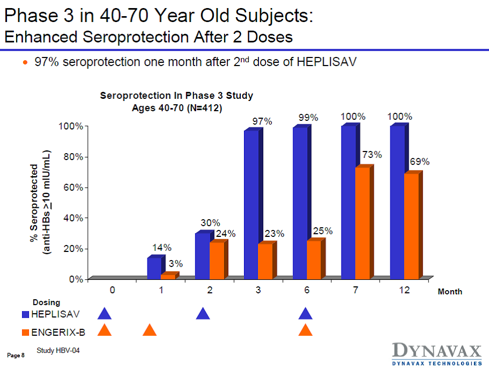 As seen here, Heplisav achieved 97% seroprotection one month after the second dose…something not even achieved with Enerix-B, even after 3 doses of the latter. In fact, Enerix-B never rose above 73% seroprotection.
Similar results are seen in the next slide, which shows the primary endpoints for the pivotal Phase 3 trial. (A 'placebo' was used in the Heplisav cohort to prevent unblinding the study.)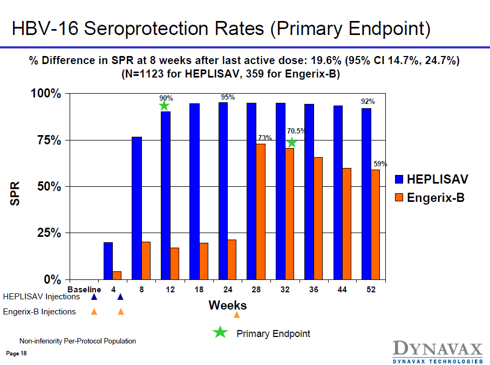 As seen here, the percent difference in seroprotection rates 8 weeks after the last active dose of either treatment was almost 20% (90% vs. a little over 70%). Given that the Heplisav results were achieved more rapidly using only two doses, the results are indeed remarkable. Moreover, not that a year after the study began, seroprotection rates for Heplisav still are above 90% while those of Engerix-B have fallen below 60%.
According to the company, "[T]he worldwide market for adult hepatitis B vaccines at approximately $700 million annually. This market is primarily comprised of GlaxoSmithKline's Engerix-B and Twinrix as well as Merck's (NYSE:MRK) Recombivax-HB. Key market segments, which are persons considered to be at high risk for hepatitis B, include chronic kidney disease patients, people with multiple sexual partners or injection drug use, healthcare workers and first responders, travelers, and chronic liver disease patients."
In October of 2011, based on Work Group findings, the Advisory Committee on Immunization Practices expanded the groups considered to be at increased risk of hepatitis B infections to include adults with diabetes mellitus (see publication here). The Committee recommended that adults with diabetes <60 years of age should be vaccinated, and that adult diabetics 60 years of age and over should be considered for vaccination at the discretion of the treating clinician. There are approximately 19 million people diagnosed with diabetes in the U.S.
Here is a subset analysis showing the performance of Heplisav vs. Engerix-B in patients with diabetics (N=45 for Heplisav, N=17 for Engerix-B). Again, we see the fast ramp-up of seroprotection with Heplisav, achieving 84% 3 months from the date of the first injection and rising to 93 percent at the half-year mark. (A 'placebo' in the Heplisav cohort (under the word "Weeks'), again, was used prevent unblinding the study.) Note that even at the 7th month, Engerix-B never exceeds a level of 35% seroprotection.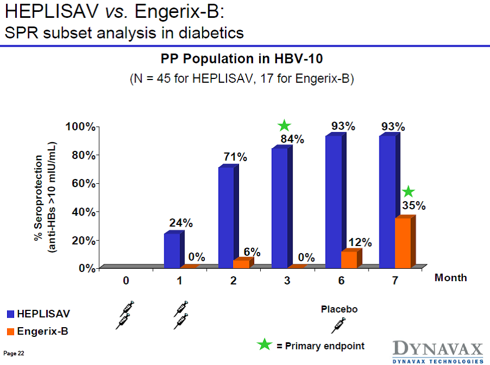 Taking a bit longer view in the next slide, however, shows that 4 weeks after the third administration of Engerix-B, the seroprotection rate jumps to 76%, still below that achieved by Heplisav. And when you compare the rates at equal times following the last injection, Heplisav holds a 19% advantage.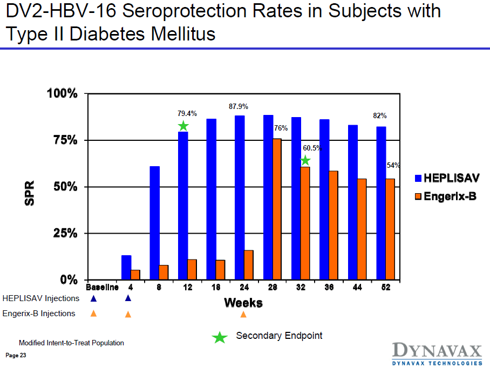 The $700 million hepatitis B market cited above is interesting, because the total market capitalization for Dynavax today is just under that figure, at $665.87 (at the close of business last Friday). Clearly, approval and subsequent ramp-up in HEPLISAV sales will have a significant impact on the market value of the company.
Dynavax anticipates submitting a European Marketing Authorization Application, or MAA, for Heplisav in 3Q12. Under an agreement with the FDA, and upon approval of the initial Heplisav BLA, Dynavax also plans to submit a supplemental BLA in the US with an indication and 3-dose primary vaccination regimen for patients with chronic kidney disease, or CKD. According to the company, "… the chronic kidney disease market is large, growing rapidly, and is widely recommended for vaccination. In 2008, there were approximately 750,000 end-stage renal disease, or ESRD, patients in the United States and major European markets, with approximately 150,000 new patients added annually."
In addition to its Heplisav hepatitis B vaccine, Dynavax has a pipeline comprising clinical programs in a universal flu vaccine (phase 1) and hepatitis B therapy (phase 1) as well as partnered programs in autoimmunity/inflammation (phase 1; GlaxoSmithKline ) and in asthma/COPD (pre-clinical; AstraZeneca; (NYSE:AZN)). Dynavax' first Quarter 2012 financial results can be found here.
Technical Analysis (as of the close, Monday, June 25, 2012)
The Daily chart, courtesy StockChart.com, shows the stock, after touching the 200-day moving average (red line), has recovered and appears to have begun a new uptrend. The Relative Strength and MACD are positive. Resistance will be encountered at the top of the gap opened in early May (around $4.50), when the company announced a public stock offering (it raised $70 million at $4.25) and a proposed change in leadership as it prepares to launch its first product.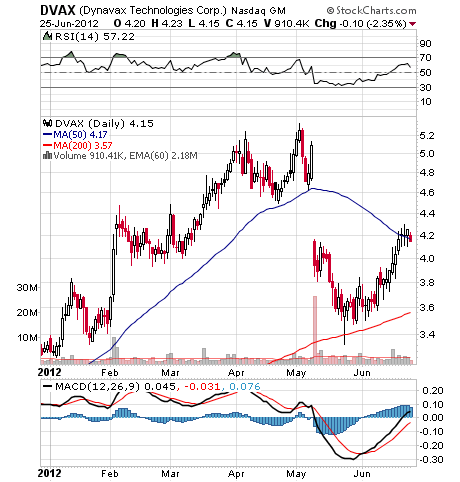 Turning to the Weekly technical data, the stock has bounced off the 50-week moving average, with the Relative Strength now turning up. The MACD appears to be staging a turnaround.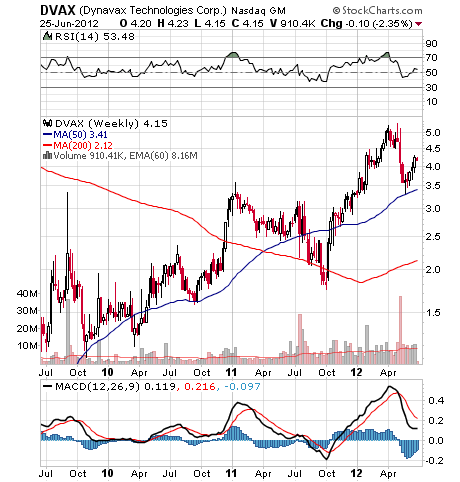 Disclosure: I am long DVAX and will not alter my position within 72 hours of the time of publication of this article.
Additional disclosure: I am not a registered investment advisor and do not provide specific investment advice. The information contained herein is for informational purposes only. Nothing in this article should be taken as a solicitation to purchase or sell securities. Before buying or selling any stock you should do your own research and reach your own conclusion. It is up to investors to make the correct decision after necessary research. Investing includes risks, including loss of principal.