Apollo Group (NASDAQ:APOL) reported its quarterly results on Monday, and saw its shares climb by almost 6% to trade above $34 in after-hours trading. The stock is currently trading near $35.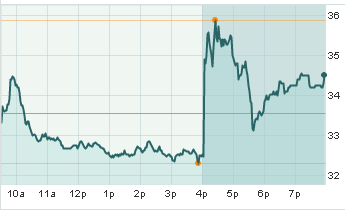 Earnings Beat Estimates But Continue Negative Growth
The company reported an EPS of $1.20 in the third quarter, beating the earnings estimate of $0.97 by 23 cents, and adding a surprise of 24%. However, earnings per share in Q3 2012 dropped almost 25% from the previous quarter's $1.51. The decline in earnings was largely due to a decrease in revenues, which slowed by almost 9% in the third quarter. Revenue was $1.13 billion, down from $1.24 billion in the same period last year, while analysts had been estimating a figure of $1.12 billion.
Click to enlarge images.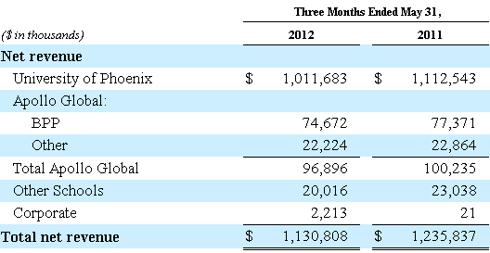 Declining Enrollment
The decrease in revenues was primarily driven by a 9.1% drop in University of Phoenix's revenues, principally due to lower enrollments. Instructional and student advisory costs increased by $12 million, or 2.6%, in the third quarter of 2012 compared to Q3 2011, representing a 4.50% increase as a percentage of net revenues. Revenues from associate and master's degree programs also declined due to poor enrollments for the quarter ended May, decreasing by 24% and 16%, respectively.
Breach Of 90/10 Rule In Sight
The company is subject to the requirements of the Higher Education Act, which lays down provisions for educational institutions, commonly referred to as the "90/10 Rule." Under this rule, the educator will be ineligible to participate in Title IV programs if, for any two consecutive fiscal years, it derives more than 90% of its cash revenue from Title IV programs. The percentage for the company has increased significantly over the last few years and is currently at 86%, which is very close to violating the threshold.
Declining quarterly sales growth of -9% and an earnings growth of -25% point toward a bleak future for the company, and with the decline in enrollments expected to persist, the company's profitability can come under added pressure going forward. The chart below illustrates that the stock lost 23% of its value over a period of one year, underperforming the market benchmark.
The few stocks that have performed well in the industry are ITT Educational Services (NYSE:ESI) and Grand Canyon Education (NASDAQ:LOPE), yielding 2% and 20%, respectively. Shares of Capella Education Company (NASDAQ:CPLA) have performed well in the recent past when compared to its peers, and with a strong balance sheet, stabilizing enrollments, and growing online segment the company stands to see an expansion in margins going forward. For Apollo, the decline in enrollments is expected to continue in the current fiscal year, which will hurt the company's profitability. Moreover, anticipated changes to interest rates on various student loan programs will further bring about declines in Apollo's revenues. With no visible turnaround strategy in place, we are bearish on Apollo.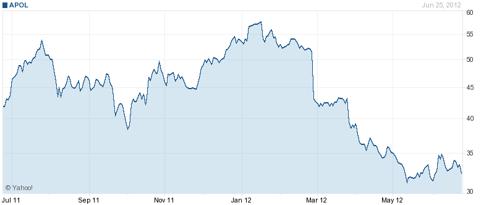 Disclosure: I have no positions in any stocks mentioned, and no plans to initiate any positions within the next 72 hours.