Home Prices Are Rising
According to the Case-Shiller 20-city Index for April 2012, home prices rose 1.3% for the March to April 2012 period. Prior to this report, the index showed seven consecutive months of month over month price losses. For the April 2011 to April 2012 period, home prices decreased -1.9%.
Home builder stocks such as Toll Brothers (NYSE:TOL), Lennar Corp. (NYSE:LEN), PulteGroup, Inc. (NYSE:PHM), KB Home (NYSE:KBH), DR Horton Inc. (NYSE:DHI), Hovnanian Enterprises Inc. (NYSE:HOV), and Beazer Homes USA Inc. (NYSE:BZH) welcomed the news.
Here is a break-down of the 20 cities comprising the index.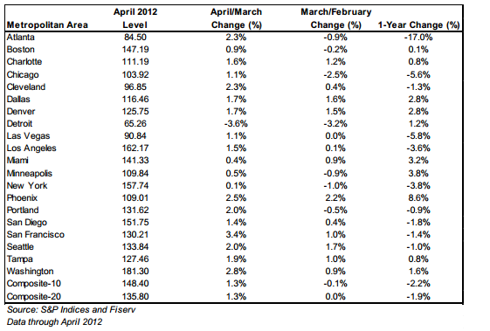 For the month, 19 out of 20 cities saw increases. Only Detroit saw a decrease of -3.6% from March to April. The largest gains came from Washington (2.8%), San Francisco (3.4%), and Phoenix (2.5%). Additionally, Phoenix is up a whopping 8.6% versus the prior year.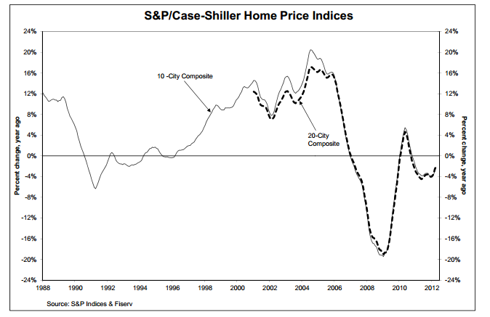 In the prior month's report for March 2012, the index fell -2.6% in a year-over-year comparison of prices. In a February to March 2012 comparison, prices were flat.
Analysts believe that the housing market has bottomed and with continued Federal Reserve support for interest rates, excess housing inventory will be eliminated within the coming months. At today's depressed sales levels, the current supply of homes available for sale stands at 6.6 months.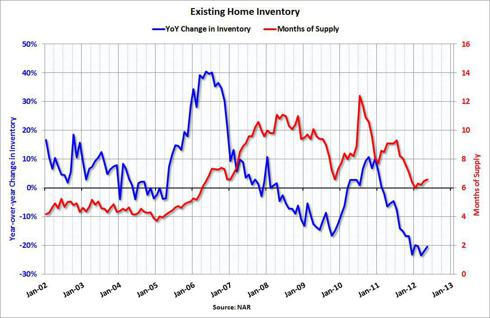 Serious Delinquency Rates Remain Steady
Freddie Mac (OTCQB:FMCC) also released their monthly volume summary. Serious delinquencies dropped to 3.50%. The company's portfolio dropped by an annualized 9.4% to $2.016 trillion.
Disclosure: I am long OTCQB:FMCC.
Additional disclosure: Holdings: FMCKI, FMCKP, FMCCO, FMCKJ, FMCKK, FNMAL, FNMAO, FMCCL, FMCCS, FMCCP, FMCCT, FMCCK