Newmont Mining Corporation
Ticker: NEM
Share Price 6/22/2012: $47.96
Shares Outstanding 12/31/11: 494,000,000
Market Cap: $23.7B
Website: newmont.com
Company Overview:
Newmont (NYSE:NEM) operates as a worldwide gold and copper mining company, with operating projects located in the United States, Australia, Peru, Indonesia, Ghana, New Zealand, and Mexico. Headquartered in Colorado, Newmont is one the largest gold mining companies, with 98.8mm ounces of proven and probable gold reserves, land holdings approximately the size of Austria, and 43,000 employees. In 2011 they became the first company to offer a gold price-linked dividend, which is currently $1.40 per share annually. Additionally, they are the only gold company in the S&P 500 index.
2011 Key Points
5,185,000 Oz of Au produced
206,255,000 Lbs of Cu
Revenue: $10.4B
Net Income: $366mm ($.74 per share)
Cash: $1.8B ($3.56 per share)
Debt: $4.3B
Liquidity: Cash + $2.5B undrawn revolver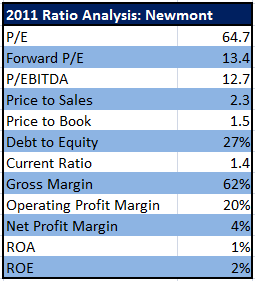 Analyst Estimates: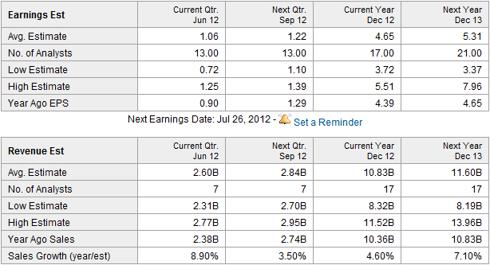 Source: Yahoo Fnance.
Analysis of Reserves: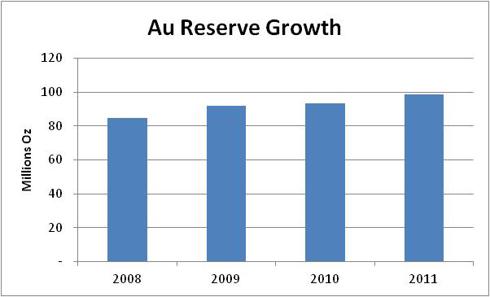 Newmont has grown proven and probable gold reserves at a respectable CAGR of 5.1% since 2008. Reserve growth is average compared to peers like Barrick (NYSE:ABX) which has had no P&P Au reserve growth since 2008, while Goldcorp (NYSE:GG) has grown P&P reserves at a CAGR of 11.8% since 2008.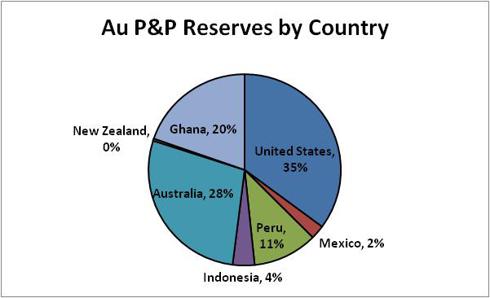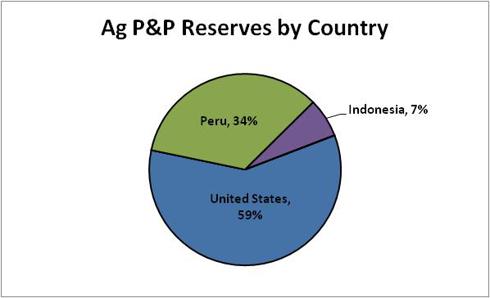 Newmont's reserves are well diversified, with the majority in miner-friendly countries. By diversifying, Newmont reduced its production exposure to issues encountered at any given mine, and helped stem political risk. Although Newmont's operations are well diversified, two of its projects in Peru (Yanacocha and Conga) have come under significant political risk, resulting in the suspension of construction at its Conga project. If the environmental changes proposed at Conga prove economically unfeasible, Newmont will likely stop allocating capital to explorations in Peru.
Forecasted Production and CAPEX: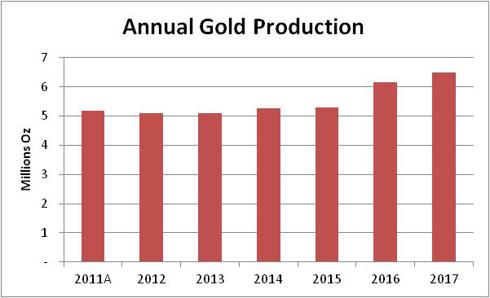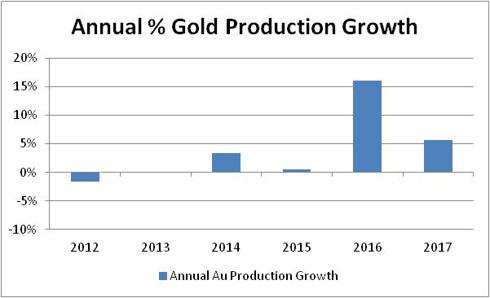 Gold production is projected to grow at a moderate CAGR of 3.8% from 2011-2017.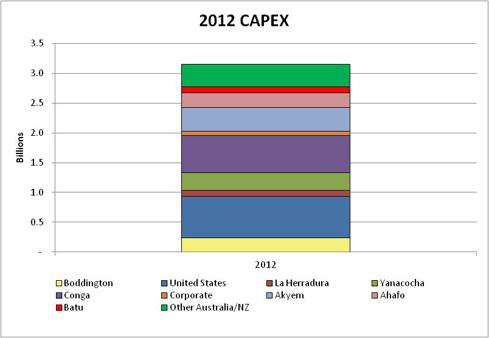 Newmont is growing investment in CAPEX is typical of most senior miners. To be able to grow annual gold production above the 5.2mm ounces in 2011 requires large capital investments. As precious metal miners become more mature they require larger projects to "move the needle."
Analysis of Mines: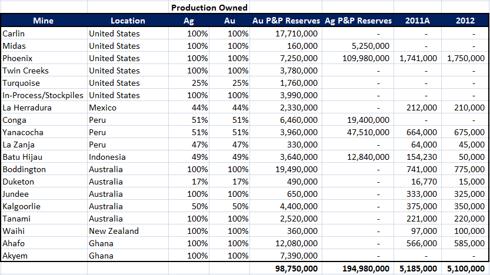 The current mine agreements detailed above provide insight into estimated future production by mine and geographic location. Newmont projects 6-7mm ounces of gold will be produced in 2017 vs. the 5.2mm ounces produced in 2011. The bulk of Newmont's growth is expected to come from Africa, and to a lesser extent North America. Although production forecasts seem reasonable, the company does face political risk in Peru. With 10.6% of Newmont's P&P Au reserves coming from Yanacocha and Conga (an area where they encountered significant political push-back) their future production growth in this area could face further setbacks.
Valuation of Reserves:


Precious Metal Miners as a Whole:
Precious metal miners are extremely undervalued relative to the price of gold as depicted by the Gold/XAU ratio, which is currently at 10.05:1.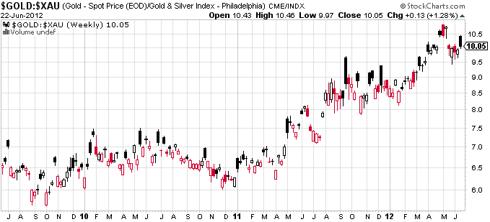 Source: StockCharts.com
Projected 6 Year Income Statement: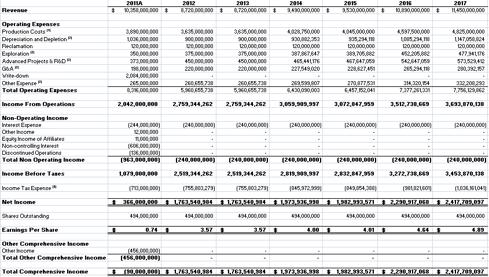 EPS Based on Gold Price:

Comments on 2011 Earnings:
In 2011 Newmont had a one-time write-down of $2.1b related primarily to the Hope Bay project in Canada. Excluding write-downs would have resulted in a net income of $2.45B and EPS of $4.96 vs. the $.74 reported.
Projected 6 Year Common Size Income Statement: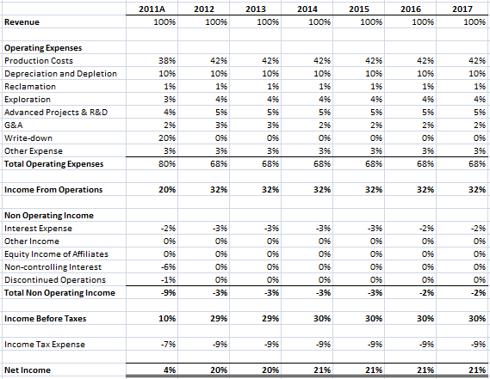 Coming in Part II:
In Part II of my analysis I estimate Newmont's value per share using multiple valuation methods and provide a detailed investment hypothesis.
Related Research:
Disclosure: I have no positions in any stocks mentioned, and no plans to initiate any positions within the next 72 hours.