Barrick Gold Corporation
Ticker: ABX
Share Price 6/22/2012: $37.92
Shares Outstanding 12/31/11: 1,000,000,000
Market Cap: $37.9B
Website: barrick.com
Company Overview:
Barrick (ABX) operates as a worldwide gold and copper mining company, with 26 operating projects located primarily in North America, South America, and the Australia Pacific. Headquartered in Canada, Barrick is the largest gold mining company with 139.9mm ounces of proven and probable gold reserves. Barrick also has the gold industries only "A" rated balance sheet. In May the company increased its annual dividend by 33% to $0.80 per share.
2011 Key Points
7,676,000 Oz of Au produced
3,400,000 Oz of Ag produced
451,000,000 Lbs of Cu
Revenue: $14.3B
Net Income: $4.5B ($4.48 per share)
Cash: $2.7B ($2.75 per share)
Debt: $13.4B
Liquidity: Cash + $3B undrawn revolver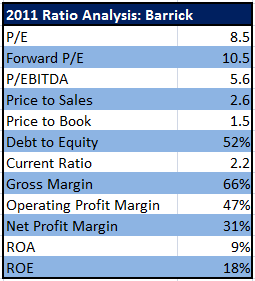 Analyst Estimates: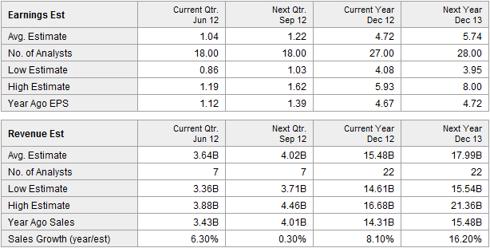 Source: Yahoo finance
Analysis of Reserves: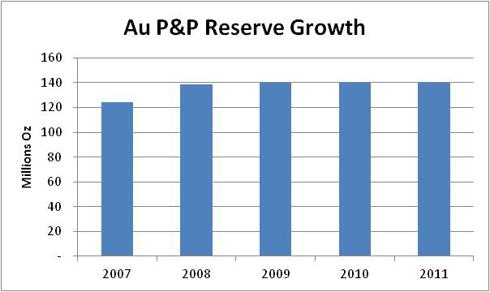 Since 2008 Barrick has not been able to grow P&P reserves. Competitors like Newmont (NEM) and Goldcorp (GG) have grown P&P reserves by a CAGR of 5.1% and 11.8% over the same period.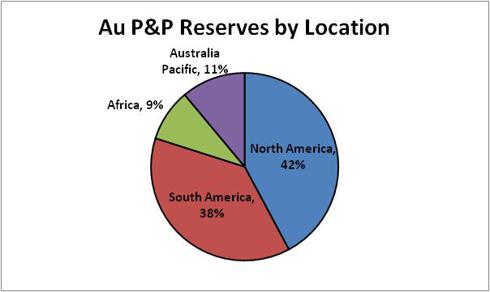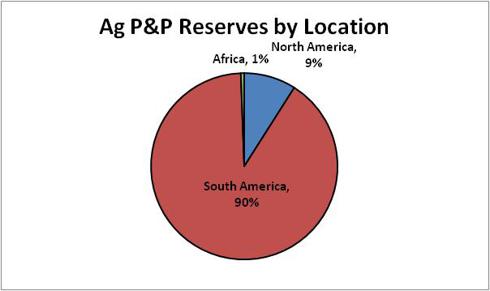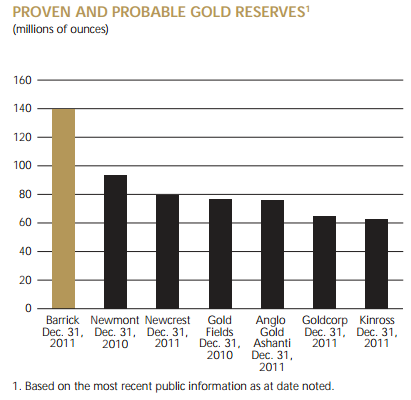 Source: barrick.com
Forecasted Production and CAPEX: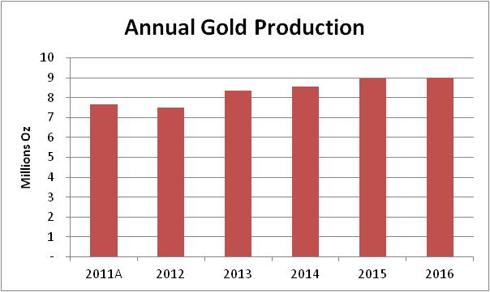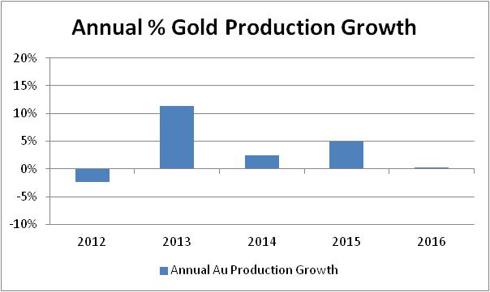 Barrick's increased production through 2016 is attributable to Pueblo Viejo and Pascua-Lama. Pueblo Viejo is currently 93% complete, and expected to come on-line this year, with annual production of 650,000 ounces of gold. Pascua-Lama is only 30% complete, but expect to begin production in the latter half of 2013. Annual gold production is projected to be 825,000 ounces, with silver production to average 35mm ounces. 25% of Pascua-Lama's silver production has been sold to Silver Wheaton (SLW) for upfront capital, and $3.90 per ounce of silver delivered.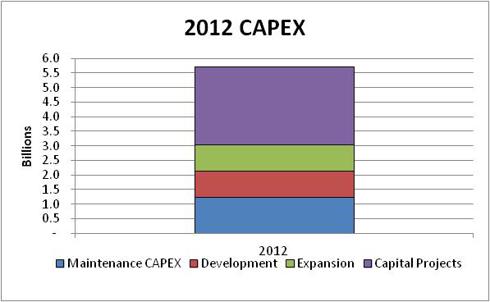 As the largest gold miner Barrick must invest heavily in CAPEX to be able to significantly grow annual gold production above the 7.7mm ounces in 2011.
Analysis of Mines: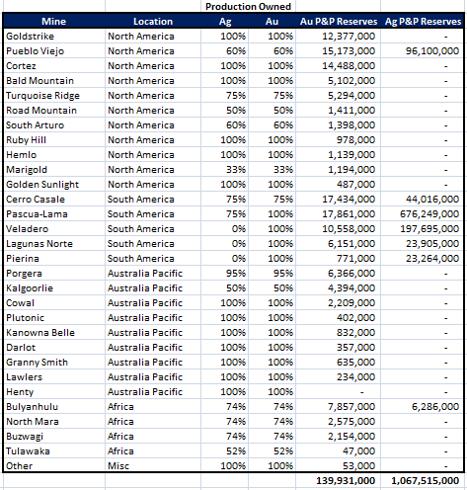 The current mine agreements detailed above provide insight into estimated future production by geographic location. Barrick projects 9mm ounces of gold will be produced in 2016 vs. the 7.7mm ounces produced in 2011. The bulk of Barrick's growth is expected to come from Pueblo Viejo in North America and Pascua-Lama in Chile/Argentina. The risk of problems at Pueblo Viejo appear relatively small with pre-production already 93% complete, but Pascua-Lama is only 30% complete, and currently having problems with local governments due to glacier and water issues. Pascua-Lama represents 12.8% of Barrick's P&P gold reserves, and 170-200mm ounces of silver have already been guaranteed to Silver Wheaton. If production at Pascua-Lama is not running at a minimum of 75% of capacity, silver production to Silver Wheaton is guaranteed by three other Barrick mines through 2015. Any significant delay would cause Barrick to suffer greatly due to: 1) lost production, 2) sunk capital expenditure costs, and 3) required payments to Silver Wheaton.
Valuation of Reserves:


Precious Metal Miners as a Whole:
Precious metal miners are extremely undervalued relative to the price of gold as depicted by the Gold/XAU ratio, which is currently at 10.05:1.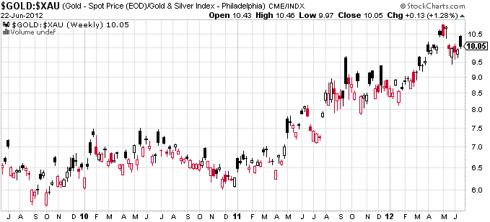 Source: StockCharts.com
Projected 5 Year Income Statement: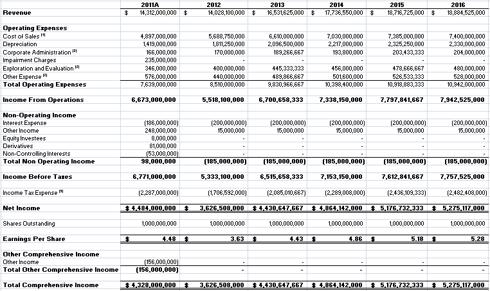 EPS Based on Gold Price:

Projected 5 Year Common Size Income Statement: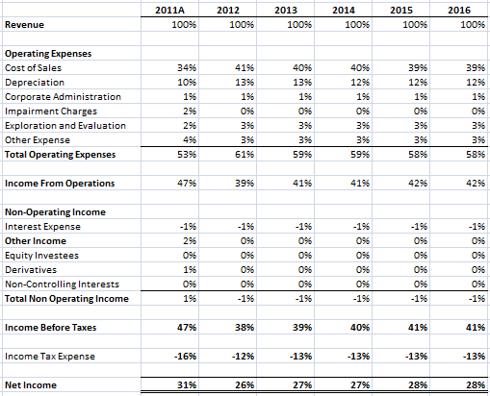 Coming in Part II:
In Part II of my analysis I estimate Barrick's value per share using multiple valuation methods which indicate the stock is fundamentally undervalued.
Related Research:
Disclosure: I have no positions in any stocks mentioned, and no plans to initiate any positions within the next 72 hours.