Every few months I take a road trip from my base in Dallas to our little spread in northern New Mexico. I have made this trip dozens of times, but the trip last week was different. I noticed on the way to New Mexico that I was passing long caravans of trucks. It appeared to me that the truck transportation industry is busier than I can remember -- perhaps a good sign for trucking-related stocks.
On the monotonous stretch of West Texas interstate, we play road games. My "better half" wrote down the names on the trucks we passed from Tucumcari, N.M., until the GPS told me to exit in Amarillo to Famous Dave's Barbeque (NASDAQ:DAVE) for some "hands on" research into a portfolio holding. In that 112-mile stretch, we noted 47 different trucking companies and several carriers with multiple rigs on the highway. When I got back to Big D, I decided to investigate these companies and the trucking industry in general. This article focuses on a few of the most intriguing investments in this sector.
Click to enlarge images.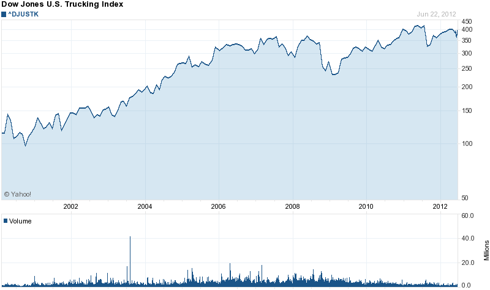 Trucking Industry
The chart above indicates that the trucking industry stocks have been steadily rising in value since 2000. FTR Associates produces an index of U.S. truck loadings, which has increased 3% in April from a year earlier, the highest since 2008. This may explain the number of 18-wheelers on the interstate.
The American Trucking Association has reported that the tonnage has dropped in the past two months, which is a concern. However, the trend is upward, and in the past three years there have been several occasions of two-month contraction. The tonnage correlates closely to the economic activity, and so we have to determine if this is temporary or seasonal contraction or a new trend.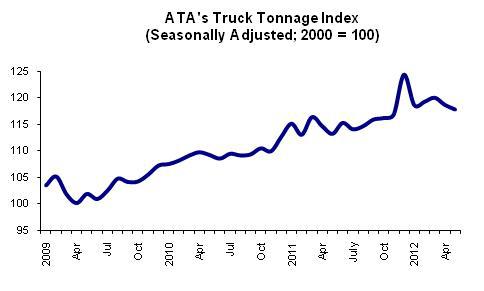 According to the ATA spokesman and Chief Economist Bob Costello:
Two straight months of contractions is disappointing. The drops in tonnage are reflective of the broader economy, which has slowed. The good news is that the decrease in fuel prices will help support retail sales going forward, which is a big part of truck tonnage.
As a negative, Costello said he's concerned about businesses sitting on cash instead of hiring more workers or spending it on capital, both of which would give the economy and tonnage a shot in the arm, as they are worried about Europe and the so-called U.S. fiscal cliff at the end of the year. He also reiterated last month's comment: "Annualized tonnage growth should be in the 3% to 3.9% range this year."
This is not a high growth rate, but there are segments within the industry that may have room for higher growth, and some traditional truckers may be undervalued fundamentally. For instance, the need for fracking water supply and disposal has created a new market for liquids haulers, and technology has created logistics tracking systems that are in the early stage of market penetration.
Traditional Truckers
First, let's look at the traditional truckers and how some compare:
| Direct Competitor Comparison | |
| --- | --- |
| | SWFT | JBHT | LSTR | WERN | Industry |
| --- | --- | --- | --- | --- | --- |
| Market Cap: | 1.28B | 6.66B | 2.30B | 1.69B | 462.24M |
| Employees: | 17,400 | 15,631 | 1,351 | 11,383 | 4.81K |
| Qtrly Rev Growth (yoy): | 0.09 | 0.17 | 0.13 | 0.06 | 0.04 |
| Revenue: | 3.40B | 4.69B | 2.73B | 2.03B | 759.96M |
| Gross Margin : | 0.20 | 0.17 | 0.23 | 0.24 | 0.18 |
| EBITDA : | 529.68M | 689.71M | 218.46M | 319.96M | 82.70M |
| Operating Margin : | 0.09 | 0.10 | 0.07 | 0.08 | 0.05 |
| Net Income : | 93.53M | 274.60M | 119.24M | 107.71M | N/A |
| EPS : | 0.67 | 2.28 | 2.52 | 1.47 | 0.58 |
| P/E : | 13.71 | 24.91 | 19.43 | 15.76 | 18.50 |
| PEG (5 yr expected): | 0.33 | 1.13 | 1.06 | 0.96 | 0.90 |
| P/S : | 0.40 | 1.43 | 0.86 | 0.84 | 0.63 |
JBHT = JB Hunt Transport Services Inc.
LSTR = Landstar System Inc.
WERN = Werner Enterprises Inc.
Industry = Trucking
Source: Yahoo
The above truckers all are growing faster than the industry, with JB Hunt leading the pack. JBHT is also the priciest, with a PE much higher than the others. Swift Transportation has similar operating margin percentage as JBHT, and it stands out in the value metrics of PE, PEG and Price to Sales. Of 18 analysts following this stock, 14 consider SWFT a "Buy" or "Strong Buy" and the rest call it a "Hold." The average target price is $14.10 vs. the current price of $9.17.
Our view of Swift Transportation is that it is a journeyman trucker, with capable management. It also does not appear overpriced from a fundamental perspective. Other than increasing its presence in Mexico, other initiatives to increase growth are generic to all truckers: better fuel prices, improved logistics, lower interest payments on debt. As a long-term holding, SWFT is likely to outperform the general market in our opinion. After a 25% drop from $12.50 during the past three months, the effect of the slowing economy seems to be priced into SWFT.
Liquids Truckers
On Interstate 40 in West Texas, we saw lots of oil pumps but very few tanker trucks. I thought that it was obvious that the liquids segment was not as active as the dry shippers. However, upon investigation, at least one of the liquid haulers looks interesting.
Quality Distribution, Inc. (NASDAQ:QLTY) is involved in the bulk transportation of liquid and dry bulk chemicals, including plastics, as well as bulk dry and liquid food-grade products. It also engages in the transportation of fresh water, disposal water, and oil for the energy logistics markets. QLTY has been beaten down, partly due to the perception that it is over-dependent on the oil market. The graph below better illustrates the end-market breakdown of QLTY revenue: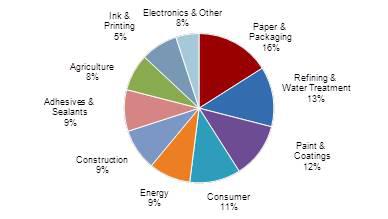 Quality Distribution has a P/E of about 10, and it is growing revenue at about 15% annually. The most interesting growth driver for QLTY may be the need for water supply and disposal for shale gas producers, which does provide extra exposure to that industry. However, QLTY believes that the lower cost of oil and the shale gas phenomenon has already created additional multi-billion dollar expansion projects for its chemical customers. It specifically cites projects by Dow, Shell, Formosa, Chevron and Bayer. QLTY contends that the low price of natural gas and the desirability of Liquid Natural Gas has created a larger market for LNG transportation. Right now the energy segment represents less than 10% of QLTY business, but recent acquisitions indicate a definite initiative to move deeper into that growth market.
Although QLTY has a market cap of only $263 million, it has revenue triple that amount and it is the largest transporter of liquids in this fragmented market. The company has $77 million of tax-loss carryovers and no debt maturities until 2016, so cash flow should facilitate disciplined acquisitions. We think that the current concern about the price of oil may restrain QLTY short term, but long term it should be a "quality" holding.
Logistics and Tracking
It was recently announced that Swift Transportation Company has entered into a contract with I.D. Systems (IDSY), a leading provider of wireless solutions for securing, tracking and managing high-value enterprise assets, to deploy the company's VeriWise transportation asset management system on domestic intermodal containers. The contract is valued at approximately $3.1 million over five years.
IDSY is one of several companies that are helping trucking companies to monitor the location of tractors and trailers with wireless GPS-based systems. Another of our old favorites that is in this business is Telular Corp. (NASDAQ:WRLS), which completed in February the purchase of SkyBitz, which complements its other security-based wireless services. Another is Israel-based Ituran Location & Control Ltd. (NASDAQ:ITRN), which provides its monitoring system primarily for stolen vehicle recovery and counts Brazil and Israel as major markets. The table below compares some financial measures for these systems.
Direct Competitor Comparison
| | | | | |
| --- | --- | --- | --- | --- |
| -- | IDSY | WRLS | ITRN | Industry |
| Market Cap: | 50.59M | 148.89M | 230.44M | 177.89M |
| Employees: | 101 | 92 | 1,300 | 612.00 |
| Qtrly Rev Growth (yoy): | 0.25 | 0.59 | -0.07 | 0.11 |
| Revenue: | 41.27M | 59.42M | 157.51M | 164.07M |
| Gross Margin : | 0.52 | 0.53 | 0.49 | 0.35 |
| EBITDA : | -3.17M | 12.00M | 50.14M | 5.29M |
| Operating Margin : | -0.12 | 0.15 | 0.22 | 0.01 |
| Net Income : | -3.92M | 6.45M | 19.90M | N/A |
| EPS : | -0.35 | 0.40 | 0.94 | 0.01 |
| P/E : | N/A | 22.56 | 11.69 | 15.56 |
| Dividend Yield | .00 | 4.90% | 3.40% | N/A |
| P/S : | 1.33 | 2.51 | 1.49 | 0.96 |
The market penetration for wireless monitoring of trucks is less than 10% in the US and probably less than 3% internationally, according to Telular. The benefits of these systems are:
Determine in real time the location, status, and identity of assets
Suite of sensors to monitor and control conditions of assets
Improves fleet utilization
Security and protection of assets
Supply chain efficiencies
We will not judge the technical pros and cons of each system, but we think the growth in the sales of these systems indicates that WRLS and IDSY are taking market share in the U.S. truck segment, so we will focus on those companies. IDSY is essentially a pure play on vehicle logistics and monitoring, while WRLS also sells subscriptions for its wireless home security system and tank-level monitoring. Both are focusing on research and development to provide the latest in this technology, and sales appear to be about even for both in the truck monitoring market. WRLS was also featured in our article about growth stocks with 5% dividend yields. Both companies generate recurring revenue, which allows for good dividend growth.
At the present, IDSY is still operating in the red, but the single analyst following that company is predicting $.50 EPS in 2013, which is about the same as the WRLS projection of $.52 for 2013. WRLS sells for $8.98 and IDSY has a stock price of $4.32, so, if analysts are correct, IDSY has more room for P/E expansion once it breaks into the black. Impatient investors dumped IDSY when it announced a loss in May, and it lost 33% of its value in a week. It has no debt and a Book Value of $3.78, which is similar to WRLS BV of $4.28.
Of these two companies in the logistics monitoring business, WRLS is the more conservative and proven investment candidate. We like the 4.8% yield and steady growth, and management has proven to be shareholder friendly. It has 23 quarters of profits, while it is still questionable when IDSY will be solidly profitable. IDSY and WRLS both enjoy recurring revenue from their services, so we think that it is likely that both companies will continue to increase revenue as they add customers. IDSY will likely break into the black as a result, and we will find out if management chooses to reward shareholders or themselves. The top 5 executives of both companies earn a combined $2 million in salaries, but the difference is that WRLS is returning some of the profit to stockholders. As stated before, IDSY is a speculative buy as it has more room for capital appreciation, and the stock may explode when profitable.
Conclusion
The trucking industry is operating at the highest levels since 2008, but growth is moderate and dependent on future economic activity. Many of the stocks in this segment appear fully valued due to the mature industry and doubts about continued economic growth. Investment opportunities are limited to truckers that appear to be undervalued in comparison to peers, such as Swift Transportation.
Otherwise, niche markets associated with the trucking industry offer some opportunities. Quality Distribution has additional growth drivers in the tanker market for LNG hauling and water requirements for energy exploration. The trucking logistics and monitoring niche has room for growth, and the players are mostly small growth-oriented companies, such as I.D. Systems and Telular Corporation.
There has been a contraction of tonnage loading in the past two months, but in each of the past three years, July and the last half of the year have been positive for tonnage growth. It may be prudent to wait for the next couple months to determine if this economic trend has turned negative. In the meantime, long-term investors may want to look at the special situations in this article.