LDK Solar Co., Ltd. (NYSE:LDK), the large Chinese solar panel maker, reported first quarter of fiscal year 2012 earnings before the bell on June 26 of negative $1.46 per American Depository Share compared to analyst estimates calling for a loss of $1.14 per share. The company reported first quarter revenue of $200.1 million versus estimates for $225 million, and revenue was off about 74% year-over-year. LDK also gave guidance for second quarter revenue of $220 to $270 million compared to current estimates for $370 million. The stock was only trading down about 7.5% on this earnings release however it is down more than 50% over the past quarter and 22% over the past month. Oversupply and rapidly falling prices have been faced by all solar manufactures that have not been able to cut costs to keep up with prices that fell another 15% in the quarter.
Hanwha Chemical of South Korea recently said they expect oversupply of polysilicon, a raw material used for solar panels, to persist until at least 2014. Spot prices on June 11th for polysilicon dropped to $22.63 per kilogram. Hanwha estimates that top producers have costs of $25 to $30 per kilogram. LDK has costs near $40 per kilogram and is trying to cut $8 of cost this year, and longer term is hoping to reduce costs to $20 per kilogram.
On the positive side low prices has increased demand. In 2011 solar installations in the U.S. more than doubled over the previous year. Furthermore for the first half of this year installations are up 85% as prices have dropped in half over that time. Increased demand from Japan could help the industry use some of the excess supply as that country seeks to reduce nuclear dependence.
The Chinese manufactures face additional downward pressure as they are more dependent on sales from Europe where governments have been scaling back subsidies for solar panels. Almost half of LDK's sales in the quarter came from Europe. Also the US Commerce Department, at the urging of American solar panel manufactures, has placed tariffs on imported panels.
LDK also presents additional risk over many other solar companies because of its very high levels of short-term debt. The current ratio of LDK solar currently stands around .5, and many of those assets, such as inventory, could continue to fall in value. The company is attempting to convert this debt to somewhat longer term borrowing. The company is also receiving some funding from local government to fund various aspects of the business including research and development. Government support of the company might allow the company to hold on longer than they otherwise could with the current capital structure.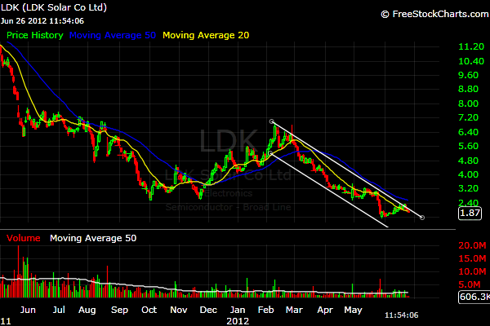 The chart of LDK shows a downward channel that has defined the stock's price action for most of this year. It shows no signs of reversing this downward trend. Moves higher like this seen in the beginning of this year may present opportunities to short LDK.
If you are going to speculate in solar stocks here, I would consider a company with a strong balance sheet. Speculation in First Solar, Inc (NASDAQ:FSLR), SunPower Corporation (NASDAQ:SPWR) or Trina Solar Limited (NYSE:TSL) may prove more rewarding than investing in LDK. These companies have far less short-term liquidity problems, all carrying current ratios above 1.
Data sourced from: Company filings, and Yahoo!Finance. Chart from: Freestockcharts.com.
Disclosure: I have no positions in any stocks mentioned, and no plans to initiate any positions within the next 72 hours.