Introduction
Crude oil is one of the most widely used and demanded commodities in the world today when it comes to energy consumption. It is historically known to have a high correlation with global economic activity, as in times of growth, the demand for oil increases and vice versa.
There are different types of oil, depending on the source of extraction, and they can be differentiated based on API gravity and sulfur content. The more popular benchmarks for oil are the West Texas Intermediate (WTI), produced in the U.S., and the Brent, produced in the North Sea.
Oil Prices
Oil prices have plunged almost 24% since March 2012 to $79 per barrel. This drop was triggered by excess global supply, which in turn was due to the increase in unconventional U.S. shale production and the Canadian oil sands.
Global Oil Demand
The demand for oil is driven by its price, the price and availability of substitutes, climatic conditions, government regulations, and the growth in Gross Domestic Product (GDP). The most important of these factors is the growth in GDP, since each additional output of economic unit requires some input of energy, while each country uses different amounts of energy depending on their economic output and their energy efficiency.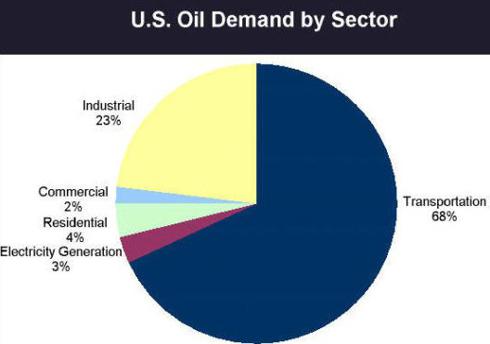 Following is the regional breakup of the global oil demand:
The demand for oil is stronger from emerging markets and is expected to surpass the demand for oil from OPEC countries by 2Q 2013. This increased demand for oil from emerging markets is expected due to the increased per capita income in emerging markets, and a major use of oil remains in transportation. China and India are considered among the strongest contributors for oil demand in the future
Demand Factors Affecting Oil in the Global Industry
China
China, the world's second-largest economy, has been witnessing a strong growth of approximately 9% over the past few years, and is one of the major consumers of oil with a consumption of 9.5 million barrels per day. However, recently there have been fears that the economy may witness a slowdown in the near term, which will have a significant impact on oil demand.
U.S.
There are fears that the U.S. may witness a slowdown in economic activity going forward due to recent economic data. The U.S. accounts for about 22% of global consumption, and any slowdown in the economy will adversely affect oil prices.
Europe
Europe has been the center of attention with its debt crisis, which plunged the continent into a recession and has also threatened the existence of the European Union. It is widely anticipated that any negative development will be detrimental for the economy of the European Union and the world economy, which will affect oil prices adversely. Europe accounts for almost 17% of global oil demand.
Global Supply
An increase in the short term supply of oil is limited by available excess capacity, and by the oil that is stored in strategic reserves, company reserves and tankers.
The supply of oil has witnessed an increase due to the shift from unconventional gas to liquid plays in shale production, which was in turn triggered by low natural gas prices prevalent in the U.S., and an increase in the activity in the Canadian oil sands.
Major Oil Producers
The major oil producers in the world include Saudi Arabia, Russia, U.S., Iraq, Iran, Kuwait, Venezuela, Canada, Mexico and the U.K. (North Sea).
Following is a production breakup
| | | | | | |
| --- | --- | --- | --- | --- | --- |
| Thousand barrels per day | 2007 | 2008 | 2009 | 2010 | 2011 |
| Canada | 3,449 | 3,348 | 3,319 | 3,486 | 3,665 |
| China | 3,926 | 3,987 | 4,026 | 4,306 | 4,303 |
| Iran | 4,039 | 4,180 | 4,177 | 4,252 | 4,234 |
| Iraq | 2,097 | 2,386 | 2,400 | 2,408 | 2,635 |
| Russia | 9,878 | 9,794 | 9,934 | 10,146 | 10,229 |
| Saudi Arabia | 10,249 | 10,783 | 9,760 | 10,521 | 11,153 |
| United States | 8,457 | 8,514 | 9,141 | 9,695 | 10,071 |
Supply Factors Affecting Oil in the Global Industry
Iran
The economic sanctions imposed on Iran due to its continued nuclear activities have decreased the country's output, which has disrupted supply. It is expected to remain depressed in the near future and is expected to fall to 2.4 million barrels per day.
Iraq
The production of crude oil is expected to be between 3.4 million barrels per day and 3.6 million barrels per day by the end of 2012, suggesting that by beginning in 2013, production will have rebounded to levels witnessed before the first Gulf War of around 3.5 million barrels per day.
Saudi Arabia
Saudi Arabia increased its oil output to 10 million barrels per day to compensate for the reduced output by Iran.
U.S.
The recent record low prices of natural gas in the U.S. due to increased supply of unconventional natural gas have shifted production towards oil and liquid plays in the U.S, which has increased the supply of oil.
Canada
There has been an increase in the production of oil from the Canadian sands.
China
China recently held a presentation on its potential shale gas and oil production. The total shale reserves are estimated at 36 trillion cubic meters, which is much higher than the 24.4 trillion cubic meters reserves held by the U.S.
Oil Inventories
Oil inventories have been on the rise with OECD inventories reaching 2,643 million barrels in April, while preliminary data indicates an increase of 20.1 million barrels for May. China has also been building its oil inventories, which acts as a support for demand.
Refinery Demand
The world refinery demand is expected to surge by 2.8 million barrels between April and August due to maintenance wind downs. The new and returning capacity in Europe and Asia will contribute to the refinery demand. Nevertheless the ramp at Motiva's expanded U.S. plant could be delayed.
Outlook
Based on the factors mentioned above, we have witnessed the price of crude oil contract by 24% in 2Q 2012. Excess supply and the slowing growth of oil will play a crucial role in directing oil prices in the future.
Auto manufacturers and consumers have shown a sluggish response to the newer energy efficient cars with lower fuel requirements, and if any progress is made on this front, which may direct a significant portion of the consumers to these cars, it will be detrimental to oil prices going forward.
Natural gas prices have dropped to record lows in the U.S. due to excess supply of unconventional natural gas, which has increased the disparity between the prices of oil and natural gas, and the crude oil-natural gas ratio has reversed to 31.8 for WTI from a historic high of 52:1. If consumers are seen switching toward the cheaper fuel, it will affect the demand for oil, which will adversely affect its price.
Oil Price Forecast
The general forecast in the market is that oil prices will reverse back to trading at over a $100/barrel, and a case for this reversal is a very strong one, provided the debt crisis in the European Union is resolved, and the U.S. and Chinese economies start to show signs of growth.
However, prices can remain depressed due to cheaper natural gas being available in the U.S., development regarding Chinese shale gas, continued slowdown in the U.S. and Chinese economies, and the continuation of the debt crisis and recession in the European Union.
How to Play Oil:
Investing in oil futures is a tricky process. We recommend that retail investors who are bullish on oil prices should buy Exxon Mobil Corporation (NYSE:XOM), ConocoPhillips (NYSE:COP) and Chevron Corporation (NYSE:CVX), as these stocks have significant exposure to oil exploration and production. These stocks also offer high dividend yields. Read our analysis on XOM here. You can find our bullish thesis on COP here. The investors who are bearish on oil prices can short sell the Oil ETF, United States Oil Fund LP (NYSEARCA:USO).
Disclosure: I have no positions in any stocks mentioned, and no plans to initiate any positions within the next 72 hours.