The Midwest drought watch is on right now and a situation is getting as bad as the infamous 1988 La Nina-based drought. This could create a multi-billion dollar nightmare for Midwest farmers and adversely affect the poultry and grain processing industry but benefit certain beverage stocks. Natural gas prices will also likely see at least "a base in prices" and could try to stage a modest summer rally if the heat spreads east.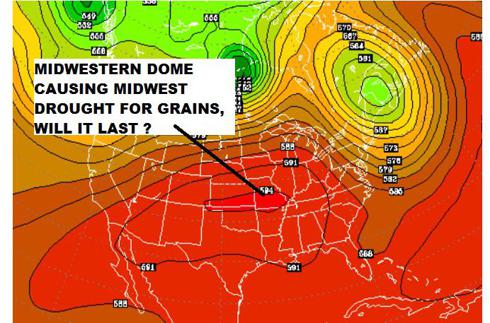 The large circle above represents 100 degree heat in parts of Illinois, and Iowa, this week and if it stays around for most of July it could mean corn and soybean prices at least 5% higher by mid summer than they are now.
SOURCE: WSI
Midwest Drought. This is not suppose to happen before EL Nino?
Many people have asked me why the present near record dry top soil moisture situation is comparable more to the La Nina-based 1988, 1954 and mid 1930s drought and should not be occurring prior to an El Nino event.
My answer as to why this summer heat and dryness may stay around is because of the following reasons: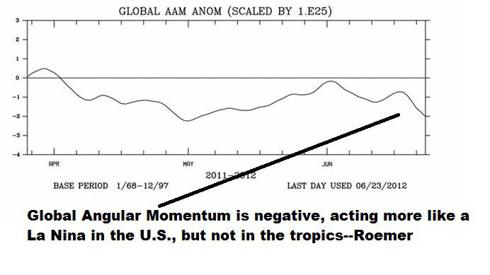 SOURCE:NOAA
Even though El Nino should form this Fall and the tropics are having some EL Nino-based weather events, the U.S. weather is acting more like La Nina due to the negative Global Angular Momentum of the earth.
Global Warming & trends of the implications of historically warm winters and springs (like we had this year).
Dry Midwest soils from the warm, snow-less winter that is helping to feed the hotter weather.
The MJO (Madden-Julian-Oscillation)---A 40-60 day wave cycle moving into Phase 1 (below)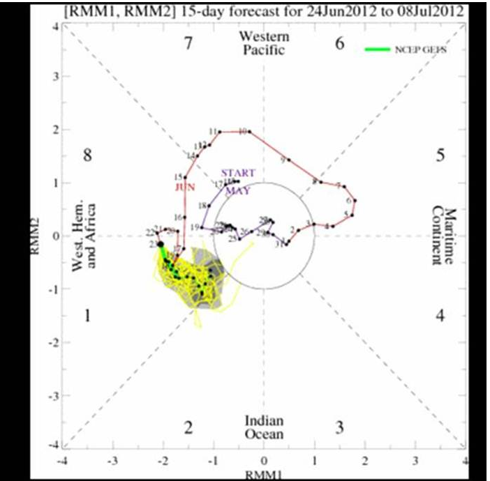 MJO:SOURCE NOAA
So what does this mean for grain prices and what are some of the stocks that might be hurt, or helped if corn and soybean prices continue higher? Could it take the negativity out of the natural gas market and some beaten up natural gas stocks?
Still Large Supplies for Natural Gas but Prices Could Rally Some
NATURAL GAS-------While we have a glut of natural gas on hand, the market knows this. We are slowing eating into the 5-year average of stocks. Though I don't expect a major upward move in price, at the very least, the increasing chances of a hot summer should keep natural as prices well above $2.00. There is even a chance that prices will get above $3.00-$3.50. UNG is already up some 20% from its April, 2012 low, following the record warm winter we forecast. But it may have more upside, barring any unexpected major turn to a cool summer.
While a bit risky, I think selling August or September natural gas puts, 30-50 cents out of the market, is a way to make a small bullish bet for higher natural gas prices, or at least, them not falling much more.
A Long Hot Summer Could Benefit Corn Prices, Fertilizer and Some Beverage Companies
CORN-- The Teucrium Corn Fund (NYSEARCA:CORN), still has another 5-10% up this summer, if the Midwest drought gets stronger these next 4-6 weeks. This is a critical time for the U.S. crop, and after becoming bullish last week, prices have staged a 10% rally. I would put the chances of this around 60%
So what are just a few of the stocks that may be helped or hurt by higher corn prices?
Archer Daniels Midland Co. (NYSE:ADM) could see its corn profit margins squeezed, as well as for oil seeds. If ethanol makers feel the pinch of a hot summer and higher grain prices, then ADM could see further pressure in the stock.
Longer term , however, a rebound in global corn supplies in 2013, brought on by El Nino, could have some positive effect on their stock price next year.
ADM's share price partly hurt by the rise in corn prices .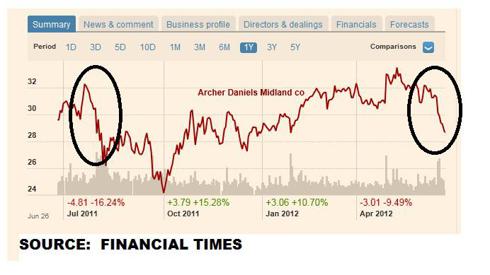 Fertilizer stocks such as Agrium (NYSE:AGU), Mosaic (NYSE:MOS) and Potash Corp (NYSE:POT) have all gotten a boost by recent positive ratings and strong earnings. A hot summer and higher grain prices would be another shot in the arm for these stocks. Also, historically when it is hot, beer companies such as Molson (NYSE:TAP) have seen higher 3rd-quarter earnings. Combine this with its 3.2% dividend and the fact its P/E price-to-sales ratio is better than most other beer companies, and this may be a smart play.
Disclosure: I have no positions in any stocks mentioned, and no plans to initiate any positions within the next 72 hours.