On October 19th, 1987 the stock market dropped 22%. On that same day I turned one and took my very first steps. While I did not know it at the time my spirit was telling the market, "no matter what you throw at me I will still be here standing tall." Sixteen years later I made my first investment, Hormel Foods Corporation (NYSE:HRL), which I proudly own to this day.
Fear has been flowing through the market over the last few years. European debt, rising inflation, global currency issues and an unpredictable government create an opportunity to buy companies that have stood tall even in the worst of times. The following is a list of companies that investors can feel secure investing in and not worry about the fear driven ebb and flow of the market.
Hormel Foods Corporation
As you might have guessed Hormel is on the list. The company's brands include SPAM, Chi-Chi's, Mary Kitchen and a handful of other products. Earnings steadily rose over the last fifteen years, along with a dividend that has quadrupled. HRL has low debt (8% of Capital), an assets to liabilities ratio of 2.8 to 1, and a P/E of 15.4, below its trailing and median both of which are 17.0.
The company's products are cheap. People are trying to save money on their food bills. If the economy remains depressed this will increase Hormel's bottom line. Even if the economy recovers, many people will remember this recession and look to build savings.
Hormel is being hurt by rising pork and grain prices. This does not worry me. They have dealt with commodity increases in the past and they have overcome those challenges. The company stands tall and do not cower when the going gets tough.
The chart income oriented investors' dreams are made of.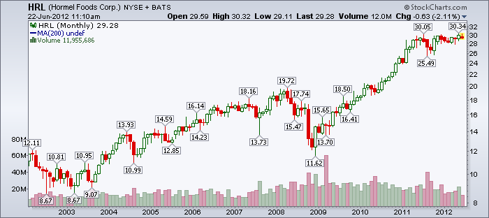 Church & Dwight
Church & Dwight (NYSE:CHD) is a producer of many consumer non-durables such as Arm & Hammer Baking Soda, laundry detergent, deodorant, toothpaste, Trojan condoms, and First Response pregnancy tests. The goodwill on Arm & Hammer and Trojan is paying off as the company uses those brand names to branch off into different areas of the market successfully.
The company has not failed to produce a year over year increase in earnings, cash flow and book value for the last fifteen years. The dividend has more than tripled since 2010, currently yielding 2.0%. Its ten year compound annual growth rates in operating income and stock total return are 18% and 17% respectively, outperforming the industry by 10%.
Like a rocket shooting towards the sky.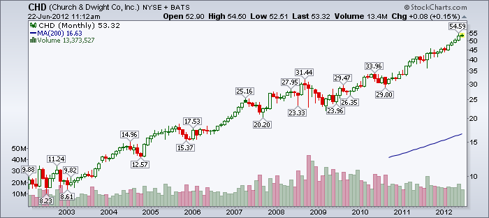 CHD will be known to me as the one that got away. I have been waiting for a pullback for years and unfortunately never had the opportunity to invest. However, once more I am going to wait as the stock price significantly increased over the last two years. I may yet again miss an opportunity, but my philosophy is patience. My price target is around $38.
Illinois Tool Works Inc.
Illinois Tool Works (NYSE:ITW) is a solid, dividend oriented company with a bright future. While it is more cyclical than HRL or CHD it has shown stability in dividend payouts and earnings generation. The company manufactures tools, packaging, food machinery and other items through its 800 units in 58 different countries.
While earnings took a significant hit in 2009, dividends were increased during that difficult time. This shows dedication towards the stock holders.
A little bumpy, but growth over the long term.
ITW has had a bumpy ride, but the regression line shows it has been able to bounce back from choppy markets and continue a steady uptrend. Due to its more cyclical nature investors can put in a dream order and wait for a major pullback in the market. Those dividend checks will keep coming in as the market does its dance.
McCormick & Company, Inc.
McCormick (NYSE:MKC), the largest spice and seasoning producer in North America, has a command in its market. Continuous growth in earnings, cash flow, sales and dividends extend back many years. MKC is on the acquisition front, expanding its presence in other similar related food enhancers. Its solid financial strength allows MCK to spend money on these acquisitions without incurring significant debt.
Another beautiful chart.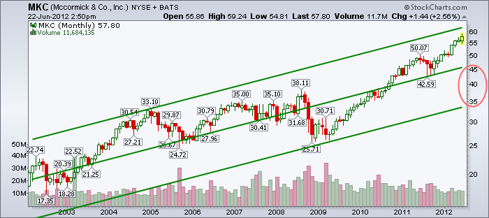 My dad told me he does not remember the market crash. All he remembers is his son's birthday party and watching him struggle to maintain his balance as he stood up and slowly shuffled his feet towards him. This is the most important lesson of all. While we spend our energies focusing on the market, we should always remember what is truly important in life.