Our recent analysis has shown that the 5 main asset markets - equities, commodities, real estate, bonds and the hedge fund index - are becoming increasingly correlated at an ever increasing speed. The "carry trade" is also highly correlated to these asset markets in the new world of binary "risk on/risk off," but the Australian dollar in particular is fundamentally too high and due for a correction of at least 10%. The US dollar has potential to move significantly higher from here.
Click to enlarge.

Even though the Reserve Bank of Australia (RBA) has already cut rates from 4.75% to 3.50% since October 2011, the Overnight Index Swap market (OIS) is still pricing another 70 basis points of further cuts from the central bank over the next 12 months. Suddenly the "carry trade" which locked in 460 basis points of premium less than a year ago, now only generates 265 basis points of premium if the cuts materialize. This reduced premium is immaterial to the currency fluctuations that have seen a range of 1.1076 high to 0.9388 lows over the last 12 months (and much volatility in between). The carry trade is definitely no longer a "win-win" trade.
Inflation is rapidly falling: CPI was 3.5% in mid 2011 and is now down to 1.6% yoy, but more concerning to the RBA (with its inflation mandate), is its trimmed mean measure of CPI at 2.2% yoy is heading lower and close to breaking multi-year lows.
All charts courtesy of Bloomberg.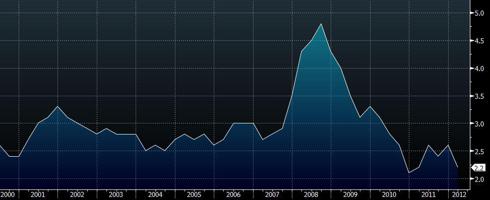 The house price boom now also appears to be over, with the House Price Index -4.5% yoy, recently falling as aggressively as during the global financial crisis.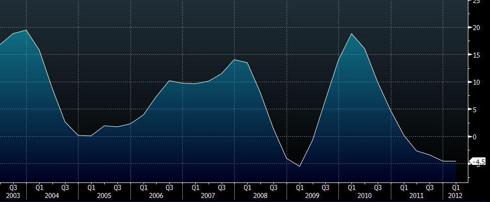 Commodities, particularly copper, are now well into bear market territory. In fact copper, seen as a leading indicator to the health of the financial markets due to it's importance in the whole industrial process is at very threatening levels. A break of 319, its "head and shoulders" neckline level could add to its downside momentum, with obvious repercussions for the global equity markets and commodity currencies.
All all this while global economic data, particularly China, U.S. and Euroland, is beginning to slow at an alarming rate, and Europe's sovereign debt crisis continues to bump and roll down the road.
However, with bonds yields now at, or near record lows, this safe haven "risk off" demand is not being reflected in the "carry trade," where some investors are still seeking enhanced yield. Long term charts show the Australian dollar is still at elevated levels.
Firstly on a multi-year chart going back to 1970 (which is of course impossible to trade off) the AUD/USD clearly peaked at 1.1080, EXACTLY the 61.8% Fibonacci retracement level, and is now trending lower in the medium term.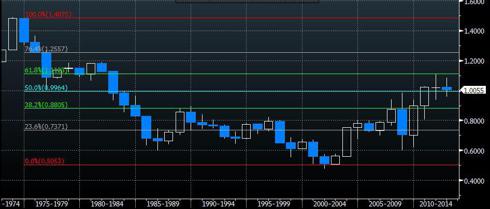 Secondly, the 25 year trend channel shows the AUD/USD is still close to the upper range. Although the trend is definitely higher, the mean level is closer to 0.9100.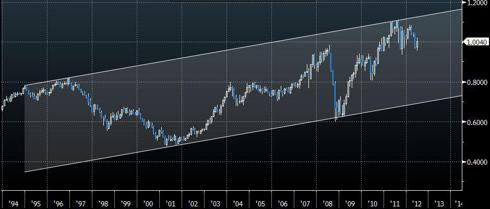 Now on the shorter-term charts. The correlation between the AUD/USD against the 2 year AUD/USD interest rate differential, has broken down. The aggressive cuts by the RBA, and future cuts priced by the OIS market, are indicating the currency much lower even towards the 0.8000 level.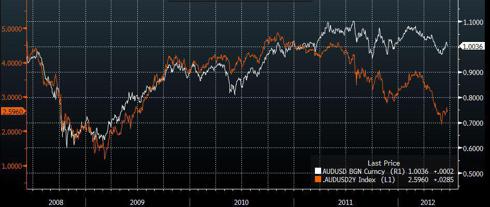 Some will argue the USD here is undervalued due to 2 rounds of Quantitative Easing (QE), with possibly more to come. But this is incorrect. AUD is also over-valued against the NZD, a major trading partner, fellow commodity currency and strengthening economy (after last Thursday's exceptionally strong GDP number, +1.1% QoQ). The 2 year AUD/NZD interest rate differential, again highly correlated to the currency cross due to obvious arbitrage opportunities, suggests the cross should be trading nearer 7 big figures lower at 1.2050.
The correlation of AUDUSD (a key "commodity currency") against the Commodity Base index also appears to have broken down. This suggests the AUD/USD trading as low as 0.8750.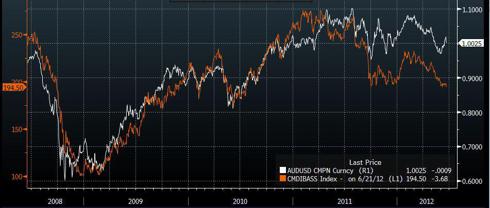 The AUD is already moving lower against the USD in the short and medium term from its high 1.1080 in July 2010, but it still has plenty of room to fall another 10% from today's current levels. A break of 1.0000, further bad news from Europe and deteriorating economic data globally will cause the currency will fall even faster. Of course, with every trade, take into account volatility and position sizing, which our analysis has proved to be critical to long-term profitability (but so often over-looked by individual traders).
For completeness, I should highlight that our FX program trading model is short AUD/USD and AUD/CAD initiated by our mean reverting rule, but this is much shorter-term in nature and will last a maximum of 2 months.
Disclosure: I have no positions in any stocks mentioned, and no plans to initiate any positions within the next 72 hours.