Zynga (NASDAQ:ZNGA) shares led the social networks higher for the majority of the day in anticipation of Zynga "Unleashed," a major announcement regarding new games and infrastructure. This was the first major announcement since the IPO, and many underwater investors were hoping for a catalysts after seeing shares lower about 40% since the IPO. The most important question on the minds of investors has been whether or not new titles will allow Zynga to successfully separate itself from Facebook (NASDAQ:FB). Slow growth at Facebook has many spooked about Zynga's future prospects, despite Zynga's attempt at separation from Facebook. Only 5% of Zynga users pay anything, and Zynga is finding it hard to improve that number. Recent news about Facebook ads on Zynga and other forms of monetization including apparel and goods related to Zynga games have helped the stock rise from $5 to over $6.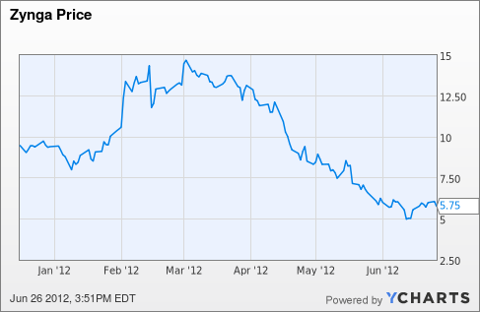 ZNGA data by YCharts
However, shares slid over 10% from the highs of the day as the conference came to an end, a sign that investors were very disappointed.
Here are the major updates from Zynga Unleashed.
Zynga With Friends - This platforms connects all users on every platform including mobile, allowing head-to-head multi-player gaming, live chat, zFriends, and Social Stream. This sounds like a Facebook for gamers, but CEO Mark Pincus stated on a CNBC interview that it is not meant to be competition for Facebook. Multi-player games will allow Zynga to create experiences that are very popular these days. Tetris Battle is a multi-player game on Facebook with over 15 million active monthly users. Zynga will be able to create new experiences, especially on the mobile phone and attract a more general audience. As a college student, I know firsthand how popular Tetris Battle is in the library and computer labs. Students play across each other while taking breaks from work. Multi-player games are also seen as more socially acceptable than playing something like FarmVille in public. If Zynga can create fun, multi-player games, I see huge growth for the company.
zCloud infrastructure - Faster infrastructure allows users to play multi-player games with "optimized game mechanics" like the new fast-action arcade shooter called Bubble Safari. The technology will also be available to third-party developers. This also helps cut the cost of infrastructure, as Zynga has moved from Amazon Web Services to its own private servers. Zynga announced new partners and its first third-party game, "Rubber Tacos."
Zynga launched its fifth "With Friends" game called Matching With Friends. The game challenges players to compete against each other by matching color blocks on a game board. Zynga also announced many other games including The Ville, with similar game play to Electronic Arts (ERTS) Sims franchise, ChefVille, and Rube Blast. Zynga also announced FarmVille 2, an update to the popular franchise.
Zynga recognized the success of casino games, launching Zynga Elite Slots. I like the move into casino games and believe this holds huge potential, especially if online gambling is legalized in the future. It may be able to turn Zynga Poker, which has 35 million players a month and 55 million played hands a day, into a real-money platform. This could be huge, especially when you look at the previous success of Full Tilt Poker and Party Poker. However, I would not currently include this in any valuation of the stock, as this is too far away to even speculate on.
Personally, I believe that many of the announcements are a step forward for the company. I welcome the multi-player gaming and casino games. Both of these will be solid catalysts for the company going forward. However, I am not sure if the Zynga With Friends platform will be successful in signing up active users. Most players still use their Facebook accounts to log in, thus eliminating the need for a second account with Zynga. Nevertheless, I believe that investors overreacted with the selling today and believe the stock is a good value at current levels.
When it comes to revenue, Zynga is moving to apparel and other products, similar to what Angry Birds did. Zynga also continues to create new brands that are successful. It also has the flexibility to do what it did with Draw Something. It can acquire potential competitors before it becomes large. Zynga has also laid the groundwork for third-party developers to create games as well, which will help it launch more diverse games. Overall, I believe that shares are a good value at these level.
Disclosure: I am long ZNGA Jul 21 $6 Calls