Most dividend stocks have seen a strong demand that has driven the rally in this group for a few years now. However, several stocks paying generous dividends have sunk to new 52-week lows. Whether because of the poor macroeconomic environment or the company-level problems and competitive repositioning, some stocks have been dumped en masse by investors despite the stocks' attractive yields. This is currently the case with Pengrowth Energy Corporation (PGH), Companhia Siderurgica Nacional (NYSE:SID), Exelon Corporation (NYSE:EXC), Walgreen Co. (WAG), and Hewlett-Packard Company (NYSE:HPQ). Although hovering around 52-week lows, some of these companies, like Walgreen and Hewlett-Packard Co., are undertaking transformations that could make these companies more attractive in the future.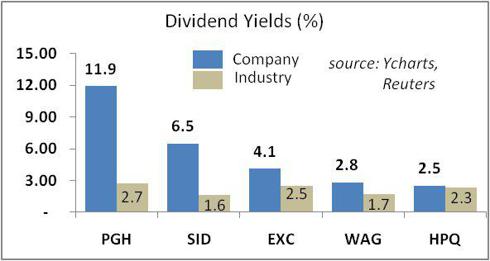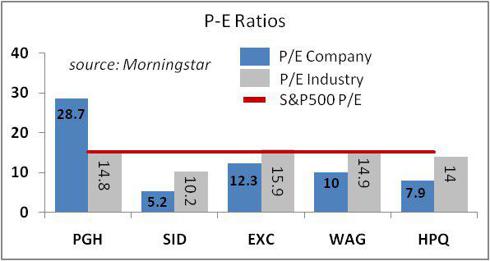 Pengrowth Energy Corporation is a $2.4 billion company engaged in the exploration and production of oil and natural gas in Canada. The company pays monthly dividends in Canadian dollars. Its stock has plummeted by 46.7% in a year to the current $6.54 a share. The stock is currently trading at a fresh 52-week low. The company completed acquisition of NAL Energy Corporation on May 31. By acquiring NAL, Pengrowth became the second-largest intermediate oil producer in Canada. Pengrowth acquired all NAL shares for $1.6 billion in stock. The company also assumed NAL'S obligations. Barclay's analysts have voiced their concern about Pengrowth's "declining production per share through 2014." Over the past five years, Pengrowth's EPS contracted at an average annual rate of 23.7%; this year, EPS is projected to plunge 49% year-over-year. Despite the notable decline in the company's stock price, this energy company is still significantly overvalued.
Pengrowth Energy pays a dividend yield of 11.9% on a payout ratio of 377%. It is likely that the payout will be trimmed, although the company rejects that possibility in the near future. Still, Pengrowth Energy is expected to have a funding shortfall for the next few years due to large capex associated with its Lindbergh Project. The company will likely sell non-core assets to close the funding gap. The company's competitors Enerplus Corporation (NYSE:ERF), Penn West Petroleum (PWE), and Canadian Natural Resources Limited (NYSE:CNQ) pay dividend yields of 16.3%, 7.9%, and 1.4%, respectively. George Soros, who held a minor stake in the company, sold out of it last year.
Companhia Siderurgica Nacional, with market capitalization of $8.4 billion, is Brazil's second largest integrated steel producer. It has seen its stock drop to $5.76 a share, down 52% in a year. This downward momentum contradicts the favorable steel demand outlook for Brazil compared with other regions, given the country's need to build new stadiums and tansport infrastructure for the 2014 World Cup and 2016 Summer Olympics. The company's EPS grew at 19.3% a year over the past half decade, while it is forecast to expand 14% per year for the next five years. Still, revenue from the U.S. and EU, which account for the lion's share of foreign sales (40% of total revenue), could remain weak for a while amid a slowing economic expansion abroad. The company has been struggling with free cash flow, which has caused fluctuations in its dividend payouts. Companhia Siderurgica Nacional has become attractive based on its valuation. Its forward P/E is now only 5.5, well below the industry's average and the company's own historical ratios. This steelmarker pays an attractive dividend yielding 6.5% on a payout ratio of 36%. Its competitors ArcelorMittal (NYSE:MT) and Gerdau S.A. (NYSE:GGB) pay dividend yields of 4.1% and 1.3%, respectively. Billionaire Ken Fisher sold out his stake in the company last year.
Walgreen is the largest U.S. drugstore selling prescription and non-prescription drugs and general merchandise. It has market capitalization of $25 billion. Walgreen's stock trades at $29.15 a share, 2.2% away from its 52-week low. The stock is down 33% in a year. The company's same-store sales have been declining, while those at competitor CVS Caremark Corporation (NYSE:CVS) have shown positive growth trends. Walgreens has also seen a loss of volume due to a feud with Express Scripts (NASDAQ:ESRX), a pharmacy benefit management (PBM) services company with which it ended a contract in January 2012, due to a standoff over low reimbursements. Moreover, recently, Walgreen's stock has also been dumped because of a purchase of a 45% equity stake in British drugstore chain Alliance Boots. Walgreen has an option to buy out the rest of Alliance Boots in a combination of cash and stock, including assumption of Alliance Boots' outstanding liabilities.
The company is a dividend aristocrat that has been raising dividends for 36 consecutive years. It currently yields 2.8% on a payout ratio of 31%. For comparison, CVS Caremark Corporation is yielding 1.4%, while Rite Aid (NYSE:RAD) is not paying any dividends. The drugstore chain operator has an attractive forward P/E multiple, well below that of its peers on average and its own five-year average ratio. Despite the negative performance over the past year, the stock is still popular with George Soros, who purchased a small stake in it in the previous quarter.
Exelon is a $31.4 billion utility holding company, supplying electricity to 5.4 million customers in northern Illinois, and southeastern Pennsylvania, and natural gas to some 494,000 customers in Philadelphia. It is also the largest U.S. nuclear-power utility. The company has seen its stock price drop to a new 52-week low of $36.34 a share, down 13% in a year. Its EPS has grown at nearly 10% a year over the past five years. However, analysts project that Exelon's EPS will plunge almost 27% in 2012. In the subsequent years, EPS growth is expected to average a mere 4% per year for the next half decade. As regards the forward valuation, the stock is undervalued relative to its industry. Exelon pays a dividend yield of 4.1% on a payout ratio of 51%. Its main competitors, including Ameren Corporation (NYSE:AEE) and PPL Corporation (NYSE:PPL) pay yields of 4.8% and 5.1%, respectively. Fund manager D.E. Shaw (D.E. Shaw-check out its holdings) purchased a stake in the company last quarter.
Hewlett-Packard sells computer systems, including computer products, technologies, software, solutions, and services. It has market capitalization of $40 billion. The company's stock has dived 42.5% within a year to the current $20.3 a share. It is trading at its new 52-week low. Hewlett-Packard has found it difficult to compete against an ingenious Apple (NASDAQ:AAPL) whose product sales have been rising at astronomical rates. Sales and net income at Hewlett-Packard have declined in recent quarters. The company is trying to reinvent itself through a restructuring process that will result in 27,000 layoffs and savings being redirected to boost investments in cloud, big data, and security segments. However, without factoring any major turnaround, analysts forecast that HP's EPS will expand at a slow 4.7% average annual rate for the next half decade. This is almost half the average annual EPS growth rate achieved over the past five years. Nevertheless, in a vote of confidence about the company's future, two of HP directors recently made significant purchases of the company's stock.
HP pays a dividend yield of 2.5% on a low payout ratio of 21%. Competitor International Business Machines (NYSE:IBM) pays a dividend yield of 1.7%. Rivals Apple and Dell Inc. (DELL) will start paying dividends in their fiscal third quarters; Apple's dividend yield will be 1.9%, while Dell's yield is projected at 2.7%. Despite the stock's underperformance, Seth Klarman of The Baupost Group (see the fund's top holdings) is a major investor in the company.
Disclosure: I have no positions in any stocks mentioned, and no plans to initiate any positions within the next 72 hours.