With the NCAA tournament's selection fast approaching, I need to speak about a different type of March Madness. WiMax leader Alvarion (NASDAQ:ALVR) has gotten absolutely crushed, and that's is pure and utter madness. Alvarion is trading at $5.65 a share, and the stock has shed 25% since the beginning of the month. Why? What has so dramatically changed in 13 days? The stock is almost 40% down YTD. Yikes.
Colleague Zack Miller had a great post about Alvarion last month, and yesterday he screamed, in a voice heard throughout IOI corporate headquarters, "They just did a deal in Kenya, what's going on?"
While I don't think it's accountable for all the recent losses in the stock, the impact that the Israel shekel has on Alvarion shouldn't be dismissed. The greenback getting slammed this week against the shekel coincided with Alvarion stock falling sharply as well. In fact, we highlighted this fact in our last issue of the newsletter. In a recent earnings call, the company admitted that it is hurt by the weak U.S. dollar compared with the Israeli shekel.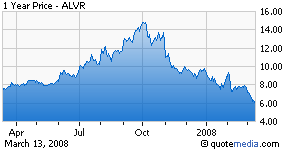 If you ask me, whether or not WiMax takes hold in the U.S. is not so relevant. Alvarion is executing its business model quite well in developing nations, and this is a nice little growth business, which I think the market has completely forgotten about.
If you are long-term investor, it may pay to have a look at Alvarion at these levels.
Disclosure: The author's fund holds a position in ALVR. He has no position in any other stock mentioned as of March 13, 2008.