Looking at my clients' portfolio it had suddenly occurred to me that Spanish government bonds are too good to be true.
At a whopping 6.36% yield it's no surprise that the Spanish government is going into a state of shock, and I don't believe the bailout plan will help in the long run. Even more so can be said about Greek government bonds now indicating an incredible 27% yield. Given the alarming state of affairs the Spanish and Greek economies are in, I have dumped all GSPG 10 Year bonds, and have proceeded to act similarly with Greek government bonds.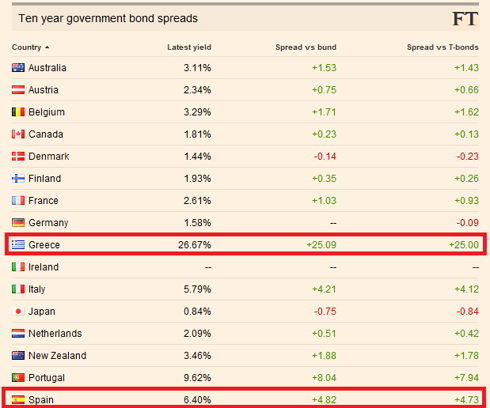 This is the basic drill down:
The market considers the generic mark to be a benchmark issue. The price is based on averages of minimum three market maker bid-side quotes, all of which have apparently priced the bond during the last few days. The chart above represents the generic price which is updated on the hour throughout the trading day. Calculated type: Spain: Annual Yield. Day count: ACT/365 NON-EOM.
These rates are comprised of Generic Spanish government bonds. These yields are based on the bid side of the market and are updated intraday. Pricing source for the bond: BGN. The generic will not update if there are no rates for the underlying benchmark bonds, or if there are no underlying terms on the curve.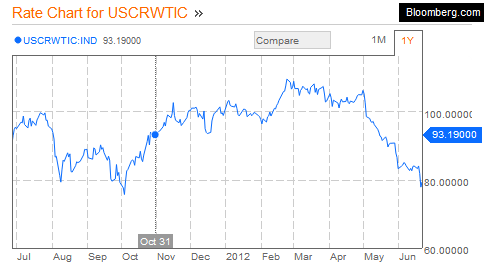 The Greek economy is heading towards the same direction. The government's lack of leadership has caused yields to increase at an illogical pace, and I'm beginning to get the feeling that these two governments will default on their commitments to the investment community. The sovereign debt of both nations will send both economies into a financial abyss and this will have a ripple effect on Europe primarily, but will also cause a global recession.
This situation has now been amplified when the Cypriot authorities asked for a bailout from the eurozone partners. I would like to see my colleagues act in a more responsible fashion and purchase German government bonds, which have a much lower yield, but I have no doubt the Germans will pay out their bonds when they mature.
The debt crisis in the eurozone has caused severe damage to investors, particularly commodities have taken a hit. Comex Gold has taken a hit with significant dips compared to previous July figures.
Disclosure: I have no positions in any stocks mentioned, and no plans to initiate any positions within the next 72 hours.