For investors, it is mostly enough just to imitate guru portfolios to collect sizeable profits, as it often leads to significant profit returns. Professionals of this world are skilled at calculating risks, foreseeing dangers and making decent money out of them. I have written a few articles regarding the top dividend stock picks of the most successful hedge fund managers.
As one of the best holdings in the world, Berkshire Hathaway (NYSE:BRK.B) is chosen as the eighth largest public company according to the Forbes Global 2000 List. Berkshire owes most of its success to its renowned CEO& Chairman, Warren Buffett. Imitating Buffett's picks would be quite helpful as he has a reputable success in picking profitable stocks. Therefore, I have listed some of Berkshire's biggest stock holdings and explained my opinion about them. I have investigated these stocks from a fundamental perspective, adding my O-Metrix Grading System where possible. The following are the biggest stock holdings of Berkshire Hathaway:
| | | | | |
| --- | --- | --- | --- | --- |
| Stock Name | Ticker | Shares Held | O-Metrix Score | My Take |
| Coca-Cola | (NYSE:KO) | 200.000.000 | 3.00 | Buy After Pullback |
| International Business Machines | (NYSE:IBM) | 64.395.700 | 4.88 | Long-Term Buy |
| Wells Fargo | (NYSE:WFC) | 394.334.928 | 5.50 | Buy |
| American Express | (NYSE:AXP) | 151.610.700 | 5.04 | Buy |
Source: Data are taken from Finviz/Morningstar. You can download the O-Metrix calculator here.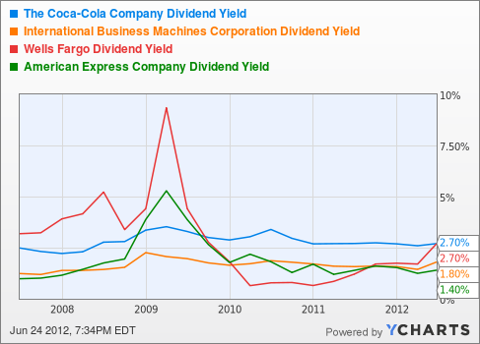 KO Dividend Yield data by YCharts
Coca-Cola
Berkshire holds the biggest stake of Coca-Cola (200 million shares), outrunning the second largest shareholder (Vanguard Group) by more than 100 million shares. Coca-Cola recently announced that it will start making investments in Myanmar right after the U.S. government gives the green light, which will leave only North Korea and Cuba out of its business. Experiencing a correction after reaching its 52-week high of $77.29, the beverage maker is again trying to climb upside. Since the beginning of this month, Coca-Cola is up by nearly 3%.
Although it is capable of reaching new 52-week highs, a more bitter correction is unavoidable as long as the stock tries pushing upside under these circumstances. While Coca-Cola crushes down its closest competitor PepsiCo. (NYSE:PEP) in terms of market share, the company needs to settle down its share price issues. With such marvelous dividend background, stability and certainty, Coca-Cola can do far better than this. Balance sheet and most of the metrics are quite healthy, providing a proper atmosphere for growth. Buy some as soon as it experiences a major correction, I'd say. Coca-Cola has an O-Metrix score of 3.00.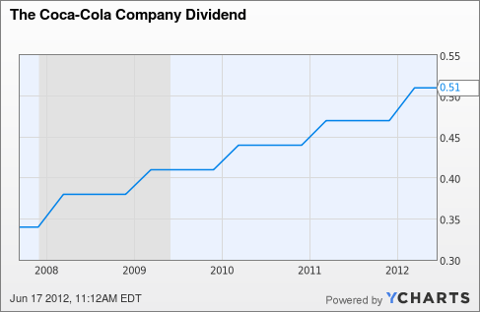 KO Dividend data by YCharts
International Business Machine
Buying about 500.000 more shares since the last reporting period, Berkshire holds a 5.36% stake in IBM worth nearly $13 billion. IBM deserves credit for maintaining its performance and overall stability as it rose its quarterly dividend by 13%, making it up to 17th consecutive years. Since the beginning of the year, the stock returned 5.3%. No wonder why Buffett has so much faith in IBM.
The company has also managed to grow its free cash flow at grand scales, as well as earnings per share. Doubling its presence in Russia and CIS (Commonwealth of Independent States), IBM is making a significant investment to its future. Given the current Relative Strength Index of 44.49% and forward P/E ratio of 11.6, the stock has plenty of room to grow. Debt-to equity ratio is 1.2, way below the industry average of 6.7. The macroeconomic outlook is quite convenient for its industry, and IBM seems to have positioned itself for delivering satisfactory returns. IBM has a C Grade O-Metrix score of 4.88.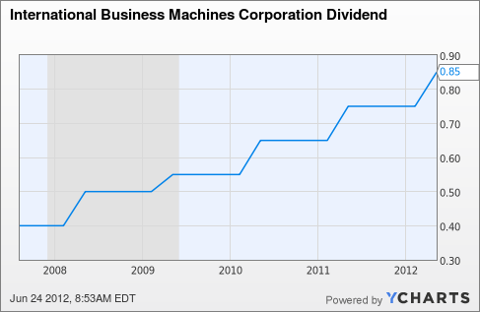 IBM Dividend data by YCharts
Wells Fargo
According to an analysis, Wells Fargo and U.S. Bank hold the biggest customer satisfaction rates. Berkshire has bought more than 10 million Wells Fargo shares since the latest reporting period, increasing its stake in the company to 7.44%. After going down for some time, Wells Fargo found itself an upwards momentum again, returning around 9% since the beginning of July.
While 2011 was a horrible year for Wells Fargo as well as all other financials, the stock looks quite promising this year. Moreover, Wells Fargo is among the top stocks in iShares S&P 500 Value Index (NYSEARCA:IVE). Debts and assets are in a healthy shape over the last three years. Massive amount of mortgages were surely a pain for the company in 2008, but as the default rate balancing, the company is going for a 40% share of all U.S. home lending, turning much of the situation to its advantage. This will bring relatively low-risk profits to shareholders for sure. Wells Fargo seems to have had its lesson from 2008, as can be seen by looking at its dividend chart given below. Insider transactions for the last six months have increased by 88.84%. Moreover, its forward P/E ratio of 8.7 will bring more than 40% discount to the stock's five-year average. As Morningstar states, Wells Fargo "stands out from its peers not only due to its long history of superb management, but also because of its relatively simple business model, making it our favorite of the "Big 4" American banks." Based on its indicators, Wells Fargo has an average O-Metrix score of 5.50.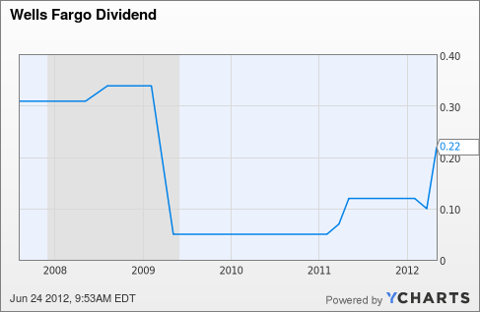 WFC Dividend data by YCharts
American Express
Owning a 13.02% stake worth $8.8 billion, American Express is another company Buffett counts on. Justifying Buffett, American Express has grown dramatically since October 2011, nearly one- third of its size. That was the time when I rated AmEx as a buy, which would lead to a 30% gain had you bought it that time. Moreover, Cramer's TheStreet just reiterated its Buy recommendation with a rating score of A.
The company sails quite unaffected by the European uncertainty and keeps showing solid performance in Europe, growing by 5% in the last eight weeks in the region. This, I believe, comes from the company's policy of addressing to higher income groups, leading AmEx to survive almost any crisis without major losses. Moreover, it owns its full economic value due to its closed-loop network. I can say that American Express is fairly valued for its size with a price-to earnings ratio of 13.4. You may want to wait for a lower level, but this level seems OK, as well. American Express has a C Grade O-Metrix score of 5.04.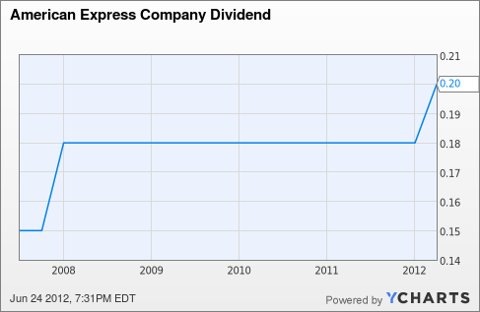 AXP Dividend data by YCharts
Disclosure: I have no positions in any stocks mentioned, and no plans to initiate any positions within the next 72 hours.