AeroVironment, Inc. (NASDAQ:AVAV) is primarily a defense contractor that produces small unmanned aircraft, but also has a business line that produces electric vehicle charging stations and also manages billing for use of public charging stations. AeroVironment reported earnings after the market closed today, June 26th, of $0.80 per share, versus analyst estimates for 72 cents per share and also a penny ahead of last year's earnings. Revenue for the quarter came in at $110.7 million, compared to sales a year ago of $106.1 million and analyst forecasts for $111.3 million. The company also gave fiscal year 2013 EPS guidance that was largely in line with estimates and revenue guidance that at the midpoint of the range was about $10 million ahead of forecasts. The company's order backlog at quarter end increased 12.4% from the same time a year ago. The stock moved about 5.5% higher on the initially on the news of an earnings beat, and strong guidance for next year and at the end of conference call the stock was at $27.70.
In the quarter about 88% of revenue came from unmanned aircraft systems, with electric car recharging systems accounting for the other 12%. This was a shift towards aircraft systems compared with 86% for the same quarter a year ago, and 84% for the fiscal year 2012. The company sees a promising future for charging systems, and is working now to install charges along I-5 in Oregon and Washington State. The company also won a contract to install systems at SeaTac Airport in Seattle, and is working with the state of Hawaii to install chargers throughout the islands. The company is also patterned with BMW, Nissan and Mitsubishi to provide EV charging systems. With that said for the near term the UAS sales are key to driving growth at the company. The EV charging system has potential to become important business line overtime, but that is depended on adoption of electric cars that so far has not materialized.
The company is very depended on government spending on its products, and while they believe their products offer great value spending cuts could affect sales. The company has developed a range of systems, both in aircraft and charging, that are finding uses by a range of customers. For example there are a host of uses for unmanned aircraft including monitoring wildlife to helping fight fires. The company also has no debt, and trades at about 18 times earnings. The company currently has a PEG ratio of just .84.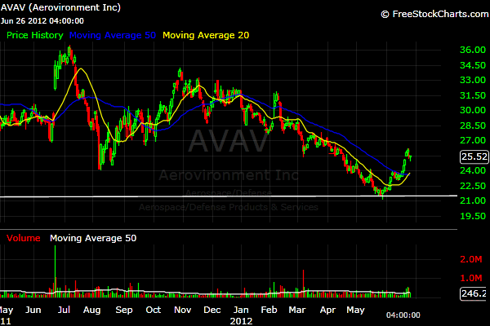 Support around $21.50 was testing again most recently in the last week May, and since the stock has rebounded some 25% with the after-hours move today. While the chart appears to bottoming here, given this strong move higher, I would prefer to the see the stock come down and test the 50 DMA and then move higher from there. This is because this stock has seen a number of moves higher that quickly reversed and it is important to confirm up trends before jumping in this stock.
Data sourced from: Company filings, and Yahoo Finance. Chart from: Freestockcharts.com.
Disclosure: I have no positions in any stocks mentioned, and no plans to initiate any positions within the next 72 hours.