First, I know I am defending my position in a stock I have been accumulating over some time. And worse yet, its a pink sheet listed company. Clarus Corporation (CLRS) is basically a shell which has been controlled by Warren Kanders (and company) for several years without doing a deal which would allow the shell to purchase an entity and utilize its public structure and other assets to create value for shareholders.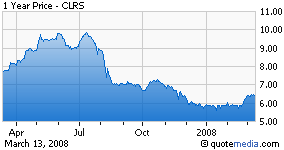 What other assets does the company own? It currently has 17mm shares outstanding and roughly 86mm dollars in cash. It has zero operations at this time, and as of the past year, is running itself at just under its interest revenue annually. What else? Well, it also has NOLs (Net Operating Losses) that have been inherited from the former enterprise to the tune of 2.40 to 2.60 per share depending on the calculation.
Looking at the current stock price of 6.35, it's hard to understand how the entity could trade this cheap. It has traded between 5.55 and 9.90 in the past 52 weeks... 9.90 while private equity transactions were seemingly announced every morning, and 5.55 this winter when the worm turned a bit. The risk in this is clear.. these guys don't find a deal and get something done, and your money is dead cash for awhile.
This is a clear risk. This management team has not found a deal for 4 years and counting. Additionally, is there a conflict of interest? HIA (Highland Acquisition Corp) is also a Kanders controlled unit - same CFO etc. Should investors be looking at how the interest revenue is being used? This is not a company that chooses to share information and communicate with investors and one who invests is a little in the dark.
However, this is the same management team which took Armor Holdings and developed the firm, adding several acquisitions over the years. After adding to the company several times from 1996 through 2005, Kanders' management team sold the firm to BAE systems for 4.5 billion dollars in 2007.
Story stocks are challenging in the current market conditions. However, with management incented to do a deal and raise the stock price through various option and stock grants, plus their substantial holdings, currently it would seem likely a deal would get done in the near term. And patience may have paid off, while credit conditions have tightened, valuations are far more attractive, and their pristine balance sheet and stock currency/upside should allow them to make an appealing deal and provide significant appreciation to the stock. A $6.50 stock trading a dollar or so over cash (with no burn), and a dollar or so under cash plus NOLs, seems appealing at a time when the market is rather up for grabs. But as I said... it is possible I am talking my book.
Disclosure: Author has a long position in Clarus Corp.