After making gains on the strength of $1000 gold prices on Thursday, Gammon Gold Inc. (GRS) shares were down 9% in early trading on Friday morning. On Thursday night, the company that it has been named as a defendant in a statement of claim.
According to Gammon, the plaintiff alleges that Gammon's 2007 prospectus contained misstatements with respect to production run rates and the adequacy of Gammon's internal controls. The plaintiff also alleges inappropriate option granting and is seeking an order certifying the action as a class proceeding and C$80-million in damages.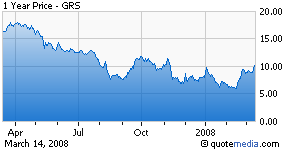 Gammon Gold said the allegations are without merit.
Rene Marion, CEO of Gammon Gold stated:
The company has brought a motion asking the court to dismiss that claim as groundless and lacking merit and is awaiting a hearing on that issue. The company denies the plaintiff's allegations that it misled investors with respect to production run rates and considers the allegations in this claim to be without merit and intends to vigorously defend its position.