Lately, I have heard a lot of speculations on a possible Patriot Coal (PCX) bankruptcy. Some fellow SA authors urged me to sell my PCX positions immediately, but I am sticking with PCX and buying more.
Working Capital Deficit Is Not The Real Issue
Why would even those who are bullish on coal not want to touch PCX? This company is in bad financial shape, as described by Junc Bond. I will not elaborate. As Paulo Santos put it, PCX has a problem of working capital deficit. If PCX could not resolve the capital deficit via a new loan or asset sells, it is doomed. Others argued that should there be bankruptcies in the coal sector, and PCX looks like the most likely candidate.
However, every person or company who needs to borrow money has working capital deficit to begin with. If I went shopping and I did not have enough cash, then I had a working capital deficit and I needed to use my credit card to borrow money. The entire banking industry is about lending money to those who need the money, and being paid back more as the borrowers get better off.
The issue is not whether a company has working capital deficit, but whether it could find willing lenders, or sell assets to raise capital. If PCX could do neither, it will go bankrupt. I find it hard to believe that knowing the cyclic nature of the coal sector, no one in the world would lend money to PCX, or would purchase its assets.
How A Coal Company Went Bankrupt
It is possible for a coal company to go bankrupt during low cycles of the sector. James River Coal (JRCC), another coal stock I hold, filed for bankruptcy 9 years ago. So knowing that the coal sector would turn around, why banks were not willing to help JRCC at the time?
The file for bankruptcy explained why, which I summarize below:
Rising mining costs combined with fixed-pricing contracts
Heavy reliance on bank financing and high debt to equity ratio (JRCC had a ratio of 30:1 while the industry norm was 1:1).
The industry chose cutting costs and tightening belts instead of cutting productions amid weaker coal demands.
All three points were fatal. Mining costs were rising due to inflation. The banks hoped that as the coal sector rebounded and prices recovered, the coal company could be better off. But the fixed pricing contracts dashed that hope. Why would banks lend to you if you had no hope of recovering financially, even if coal rebounded?
The 30:1 debt to equity ratio was too risky for banks. I did not know how JRCC allowed itself to run into such a risky position. This alone might not be fatal, but combined with fixed pricing contracts amid rising costs, it was fatal to JRCC.
The most interesting point was the third one. Commodity prices are decided by supply and demand. If the demand was weaker, the right thing to do is to cut supply to balance the two. But at that time, amid weaker demands, the coal industry favored mechanization to reduce labor costs. This did not solve the problem of over-supply.
The free market will always balance supply and demand, either by producers cutting supply on their own, or by eliminating some of the competitors. Since the industry was not willing to cut production at the time, JRCC, the weaker competitor, was driven out of business.
Given those three fatal issues, I can see why JRCC got no help from banks and ultimately filed bankruptcy. But things are very different for PCX this time.
Why Things Are Different Today
When JRCC went bankrupt last time, the U.S. coal industry was reluctant to cut production to balance supply and demand. Instead they used mechanization in order to reduce costs. That means that the rebalancing of supply and demand must be done involuntarily by eliminating some competitors. So JRCC became the victim.
Today, the coal industry took immediate action to cut productions: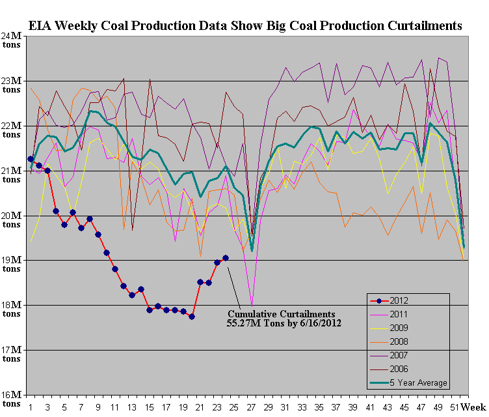 Such massive production cuts were unprecedented. In the last four weeks the production did rise dramatically. I took it as a positive sign that producers must have good reasons to boost productions.
Raising costs and fixed-pricing contracts killed JRCC 9 years ago. I reviewed Patriot's annual reports-- there was no similar fixed-pricing contract. PCX is fully prepared to leverage on higher coal prices once the sector rebounds. That's good news.
In Q1 of 2012, PCX had a total liability of $3.124B and shareholder equity of $0.539B. So the debt/equity ratio was 5.8. It was not a good number, but not fatal, either. The bulk of the liabilities were pension related liabilities. Counting only debts and account payables, the debt/equity ratio was only 0.58.
After eliminating those three factors that killed JRCC 9 years ago, I see no reason to be pessimistic in PCX today. I am buying more PCX shares against advices from Paulo Santos and others.
No Reason to be Pessimistic
As I said, there is nothing unusual for a company to run into working capital deficit. The entire banking industry is built on lending money to people or company in immediate need of cash, and getting paid back more than they lend. Banks know how to evaluate risks, and are aware of how different industry sectors have economic cycles.
The risk of PCX is not on how bad a financial shape it is in today, but on how the banks would perceive Patriot's risks tomorrow. As stated in Patriot's Letter to Employees, the company entered into a commitment letter on new revolving credit facility for $625M. There was no sign of any party backing off that commitment.
Recent news on Eagle Shipping (NASDAQ:EGLE) gave me more confidence. The shipping sector could not be in a more miserable shape. Look at the BDI chart below: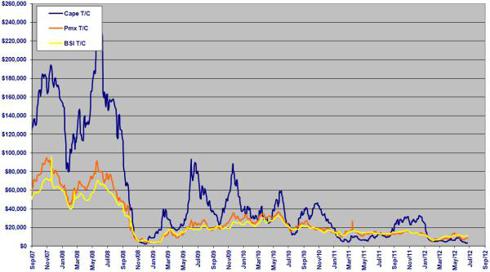 The shipping sector has a very long turn around cycle. When there is an over-supply of ships, the ships stay in service for a very long time before they would be dismantled. Yet EGLE could get a new loan that bought it more time to wait for a sector rebound. If banks were willing to work with a shipping company, knowing how long the sector could stay depressed, why would they be unwilling to work with a coal company knowing that the coal sector has a much quicker turn around cycle?
I am sticking with PCX. Investment is about taking calculated risks for high rewards. In my calculation, the potential gain out-weighs the risks. Losing a great investment opportunity is the real risk here. If you are a risk taker, consider PCX and JRCC here. But if you do not have the stomach to take the daily on-slaughter of bankruptcy rumors, you may take a look at other great values in coal:
Arch Coal Inc. (ACI)
Cloud Peak Energy (NYSE:CLD)
Alpha Natural Resources (ANR)
Consol Energy (NYSE:CNX)
Black Hills Corp. (NYSE:BKH)
Walter Energy (NYSE:WLT)
Westmoreland Coal (NASDAQ:WLB)
Peabody Energy (NYSE:BTU)
Nacco Industries (NYSE:NC)
Alliance Resource Partners LP (NASDAQ:ARLP)
Market Vectors Coal ETF (NYSEARCA:KOL)
Disclosure: I am long JRCC, PCX, ACI, ANR, BTU.