Recently, I was reviewing the foreign developed-market holdings in my portfolio, for which I use the Vanguard MSCI EAFE ETF (NYSEARCA:VEA). Since originally purchasing VEA in mid-January 2012 at $32.01, I had watched the fund rise to a peak of about $34.29 in early March, then twice drop a dollar or two, and peak again at around $34.30 both times - followed by a long, gradual decline to a low of $28.77 on June 1:
Click to enlarge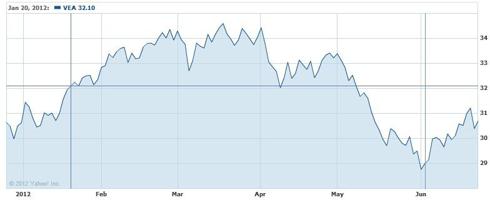 Like everyone else, I have heard all the nasty news from Europe regarding several imperiled economies there and figured it was a good time to take some of these losses to offset all of my long U.S. Treasury gains for the year. I sold all VEA holdings at about $29.00 on June 4, but now needed a replacement ETF for the foreign developed-market portion of my portfolio. My primary factors in seeking a replacement fund were:
Low expense ratio,
Sufficient liquidity (average daily trading volume),
Correlation to VEA's returns (which tracks a broad foreign developed market index),
Sufficient diversification of holdings, and
Dividend yield (so that I can continue buying periodically on down days).
After consulting an article from Michael Johnston at ETFdb.com and a shorter, but well-written article by Tom Lydon, the WisdomTree DEFA ETF (NYSEARCA:DWM) kept reappearing and caught my eye. I had previously read several articles about WisdomTree's weighting method - which uses dividend payouts and yield to determine each holding's weight in the portfolio, whereas other indices such as the S&P 500 use market capitalization. To do some comparison shopping, I scoured the Yahoo! Finance ETF database and determined that the following international funds meet my desired criteria (sorted by dividend yield):

As shown, there are several attractive options. However, the trend is that the more well-diversified ETFs have a lower yield; this makes sense because not every single company held in a broad index fund pays a dividend. While attractive with a higher yield and similar holdings to DWM, I chose to exclude another WisdomTree fund, WisdomTree DEFA Equity Income ETF (DTH), due its smaller amount of holdings. This ETF actually tracks the same index as DWM, but holds the top 30% of securities from the index as its components. Additionally, the extra expense ratio of 0.1% when picking a fewer amount of funds did not justify the additional 0.81% of yield to me.
DWM was right at the sweet spot of several factors. While not large, its 711 holdings provides sufficient coverage of the index tracked (about 1/3 of the 2,166-component WisdomTree DEFA Index); it provides about 128 basis points more in yield than VEA; and, while understandably much higher than the broad-index ETFs shown, its expense ratio is the 2nd lowest of the 5 dividend-focused ETFs (first 5 funds on the list). It is also closely correlated with VEA, as shown on the following 3-month chart: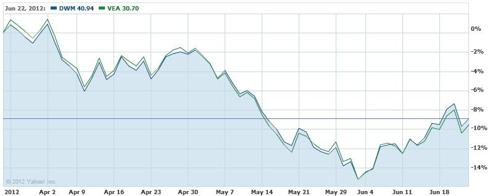 In comparison to the other funds researched, my only negative mark for DWM was liquidity. At an average daily trading volume of only about 57,000 shares, this ETF is at the bottom of the pack. While it just recently celebrated its 6th birthday, it is still relatively small compared to the broad-based funds, with a net asset size of only about $360 million. However, the liquidity is sufficient enough to ensure that the ETF can be traded, which in the end is the primary concern. DWM's Yahoo! chart also shows steady trading throughout the day.
To summarize from its website, the WisdomTree DEFA Fund is an ETF that "seeks investment results that closely correspond to the price and yield performance, before fees and expenses, of the WisdomTree Dividend Index of Europe, Far East Asia, and Australasia", abbreviated as DEFA. The fund's principal country weightings include: the United Kingdom (19.98%), Japan (14.32%), Australia (11.87%), France (9.75%), and Germany (7.36%), and the fund specifically excludes Canada and the United States.
If you're looking for a replacement for your foreign developed market holdings and desire some yield to weather the current economic crisis in several of these countries, DWM is acceptable as a higher-yielding substitute for a broad-market fund and might be a smart addition to your ETF lineup.
Disclosure: I am long DWM.
Additional disclosure: This is merely an analysis of my own investment activity and is not meant as a recommendation to purchase any security. Consult with your investment advisor and do your own research before buying any type of investment.