VeraSun Energy (VSE) has released 4th quarter and year end results and the verdict is mixed. Results were better than estimates, with the company coming out with a positive 4¢ per share vs. the estimated loss of -2¢. It is to the company's credit that they can stay profitable in this difficult market, but as revenues grow, earnings per share need to turn upwards soon.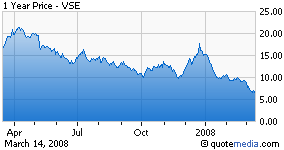 Revenue growth remains strong, 2007 revenues were 52% higher than 2006 and ethanol shipped increased 57% to 353 million gallons. The management's philosophy is to become the largest, low cost producer of ethanol in the country, giving them the ability to ride out tight markets profitably. So far they are doing that.
Of course, as investors we want to know what the future will bring. During the conference call management highlighted some interesting facts. Here are a few, shorter term and long term:
Short term:
For Q1, 2008 (which is almost over, so the numbers should be accurate), its average corn price is about $4.50, 90¢ higher than Q4, 2007 and the average received for a gallon of ethanol about 50¢ higher. Since you get about 2.8 gallons per bushel of corn, the spread will be improved. Also, the company will ship 35 million gallons more product in this quarter, so I see net profits increasing.
The merger with US BioEnergy (USBE) should close in the second quarter. This will give the company over 1.6 billion gallons of annual production by the end of 2008.
For 2007, sales of VeraSun's own branded VE85 grew at a 62% rate, showing growing acceptance.
Longer term:
Construction of new ethanol plants basically ends at the end of 2008, early 2009. Production will level off at around 13.5 million gallons per year.
Ethanol production is now about 4% of gasoline use. If most of the country adopts the E10 standard (and it appears it will), the production increase from today's 7.5 million gallon capacity will handily be absorbed.
Corn production is projected to increase 2.5 billion bushels in 2008. Ethanol production will only take 1 billion bushels of the increase. The pressure on corn prices should ease. Future (10-15 years) increases in corn yields will more than exceed the increase required by ethanol production.
VSE will start producing corn oil, to become biodiesel, at some of its plants this year. The corn oil will add about 10-15¢ EBITA to each gallon of ethanol.
VeraSun is actively investigating ethanol from cellulose technology. It will add that technology when it becomes economically feasible. Who do you think will do a better job: A company with years of ethanol production experience or a startup without a record?
The bottom line for me is, the company has a long term plan to reduce expenses and increase production. As the low cost producer, VSE will stay profitable even in tight times. Longer term looks positive for increased profitability and hopefully share prices. When that will be is the question. I think it is a good time to think about acquiring a position in VSE.
Note: I currently do not have a position in VSE.