Rising platinum prices due to ongoing power shortages in South Africa is good news for miners of the precious metal, but with lower expected production and higher power and production costs also expected, some platinum equities won't receive full benefit, says Raymond James analsyt Bart Jaworski.
Mr. Jaworski told clients in a note that platinum prices have risen 30% since early January due primarily to the power shortages but also because of increasingly stringent mine safety controls imposed by the South African government and a weakening U.S. dollar.
Noting that South Africa is home to 80% of the world's platinum production, the analyst said platinum prices will keep rising as power shortages in the country are expected to continue until 2012. He revised his price forecast from $1,450 to $2,125 per ounce in 2008, and also increased his 2009, 2010 and long term estimates to $2,000, $1,900 and $1,000, respectively.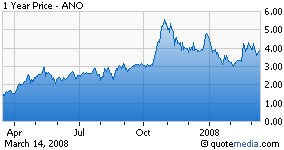 Mr. Jaworski raised his rating on Anooraq Resources Inc. (ANO) from "market perform" to "outperform," and increased his price target from C$4.60 to C$5. He said Anooraq aims to increase production at the Lebowa platinum mine, which it will soon own 51% interest in upon successful completion of its agreement with Anglo Platinum next month. The two stage expansion plan will boost production by up to 700,000 ounces per year, he said.
The Raymond James analyst also increased his price target on Eastern Platinum Ltd. (OTCPK:ELRFF) from C$3.30 to C$4.20 and maintained his "market perform" rating. While the company's Crocodile River mine production is up 50% since early February, Mr. Jaworski said the power shortage will decrease production expansion from 2008-2012 by 18% from his previous estimates and cash costs will be 24% higher over the same period. He added that Eastern Platinum is the most likely takeover target in the platinum industry.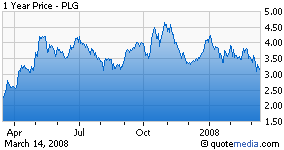 Mr. Jaworski, meanwhile, decreased his price target on Platinum Group Metals Ltd. (NYSEMKT:PLG), from C$5 to C$4.40. He left his "outperform" rating unchanged. "Due to its distant start-up date, Platinum Group will not benefit as much as its producing peers from the current high platinum metal prices," he wrote.